Centre accused of subduing states
Bengal had been able to cope with the situation better than many; it has paid salaries to the employees and pension to the retirees in April and May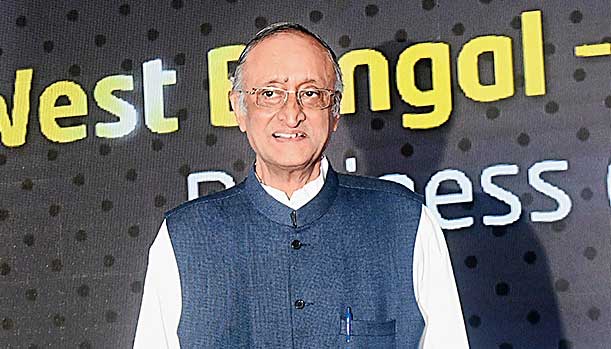 ---
|
Calcutta
|
Published 14.05.20, 10:02 PM
---
Bengal finance minister Amit Mitra lashed out at the Centre for "strategically" undermining the efforts of the states in the fight against the pandemic,which is wrecking the fragile finances of every state of the country.
Shortly after Union finance minister Nirmala Sitharaman presented the second part of the stimulus package from Delhi, her Bengal counterpart posted a scathing post on Twitter, accusing the Modi government of being "blind to the collapsing finance of the states and strategically undermining federalist polity of India".
Later in the evening, Mitra spoke to The Telegraph, underlining how the Centre's actions are squeezing out states, both BJP ruled and non-BJP ones such as Bengal, by neither providing money owed to them (states) under various heads nor allowing them to borrow from the market.
"The finance minister's press conferences on Wednesday and Thursday give the impression that there are no state governments and only the Centre, which I find dangerous," Mitra said.
"The truth is all the action on the ground is taking place in the states whether it is fighting Covid, providing livelihood or reviving the economy — all that are being done by the states," Mitra said.
He said Bengal had been able to cope with the situation better than many. It has paid salaries to the employees and pension to the retirees in April and May, apart from funding huge unforeseen expenditure on the pandemic.
"We have got revenue of Rs 600 crore in April, which is about 13.3 per cent. This is better than most. We have been able to tide over thanks to better advance planning. But how long can we sustain like this?" A livid Mitra asked.
There are several heads under which states, such as Bengal, are expecting money from the Centre. Apart from making up shortfalls on account of GST collection and revenue deficit as per 15th Finance Commission formula, the Centre is liable to provide money to implement central schemes and centrally sponsored schemes (which are partially funded by the states).
On top of that, Bengal chief minister Mamata Banerjee had asked the Centre for a Rs 25,000 crore grant to fight the pandemic as the entire healthcare infrastructure is being provided by the state.
"They want to run the country from Lutyen's Delhi, on their own. Where is the federal polity in it?What is the point of having the CMs meeting the PM for 7 hours over video conference, then?" Mitra questioned.
Mitral had written at least eight letters to Sitharaman asking her to release GST compensation and front load revenue deficit transfer (Rs 5,011 crore) of the full year in the first quarter. However, the Centre has so far paid monthly dues of the revenue deficit.
He also asked states to increase borrowing limit from under FRBM Act from 3 per cent to 5 per cent, which will let Bengal borrow additional Rs 24,000 crore more in 2020-21.