Axis Bank back in black
The bottomline came below Street estimates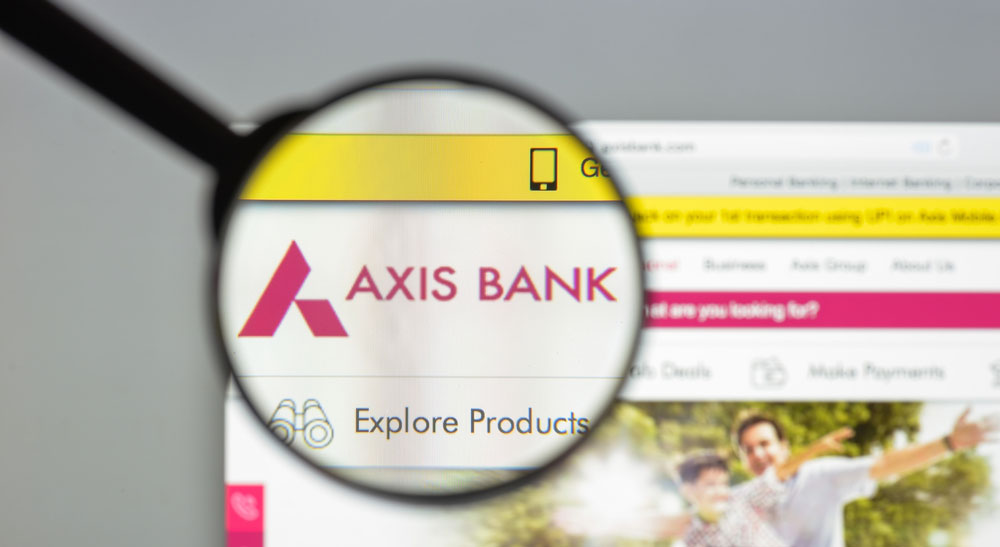 The bank's net interest income grew 21 per cent to Rs 5,706 crore from Rs 4,730 crore
Picture by Shutterstock
---
Mumbai
|
Published 25.04.19, 07:24 PM
|
---
A drop in provisions saw Axis Bank reporting a net profit of Rs 1,505.06 crore in the March quarter against a loss of Rs 2,188.74 crore a year ago.
The country's third largest private sector bank came back into the black in the quarter, but the bottomline came below Street estimates. Analysts had expected Axis Bank to post a net profit of around Rs 1,600 crore.
Provisions fell by more than 62 per cent to Rs 2,711.43 crore from Rs 7,179.53 crore in the year-ago period.
During the quarter, the bank's net interest income (NII — interest earned minus interest paid) grew 21 per cent to Rs 5,706 crore from Rs 4,730 crore.
Moreover, the bank's non-interest income showed a rise of 26 per cent over the corresponding period last year to Rs 3,526 crore. Of this, fee income at Rs 3,020 crore showed a growth of 23 per cent.
There was some good news on asset quality, as well. On a sequential basis, gross non-performing assets (NPAs) in absolute terms came down to Rs 29,789.44 crore from Rs 30,854.67 crore in the preceding quarter and Rs 34,248.64 crore in the year-ago period.
Similarly, the percentage of gross NPAs declined to 5.26 per cent of total assets from 5.75 per cent in the preceding three months.
The percentage of net NPAs declined to 2.06 per cent from 2.36 per cent over the same period.
Axis Bank said it had recognised slippages of Rs 3,012 crore during the fourth quarter compared with Rs 3,746 crore in the previous quarter. It further disclosed the recoveries and upgrades from NPAs during the quarter were Rs 2,376 crore, while write-offs stood at Rs 1,701 crore.
During the quarter, the lender made various changes to bring in more "conservatism" in provisioning. It made higher levels of standard asset provisioning against certain self-identified stressed sectors. It also made provisions against its holding of certain non-banking assets.
Speaking to reporters, Amitabh Chaudhry, MD & CEO of Axis Bank, said the bank was making progress towards its target to grow at a sustainable pace.
He added that deposit growth was a challenge for banks, The lender has created a separate vertical on the retail banking side with one focusing on existing bank customers and the other focusing on acquiring new customers.
Similarly, in retail lending, the team is organised into a product focused structure.
The bank's balance sheet grew 16 per cent over last year and stood at Rs 8,00,997 crore as on March 31, 2019. Its advances grew 13 per cent to Rs 4,94,798 crore. While domestic loans grew 18 per cent, the overseas book de-grew by 29 per cent.