Search for boy who fell into sewer in Patna flounders
Divers finding it difficult to move inside the manholes due to poisonous gases, darkness and silt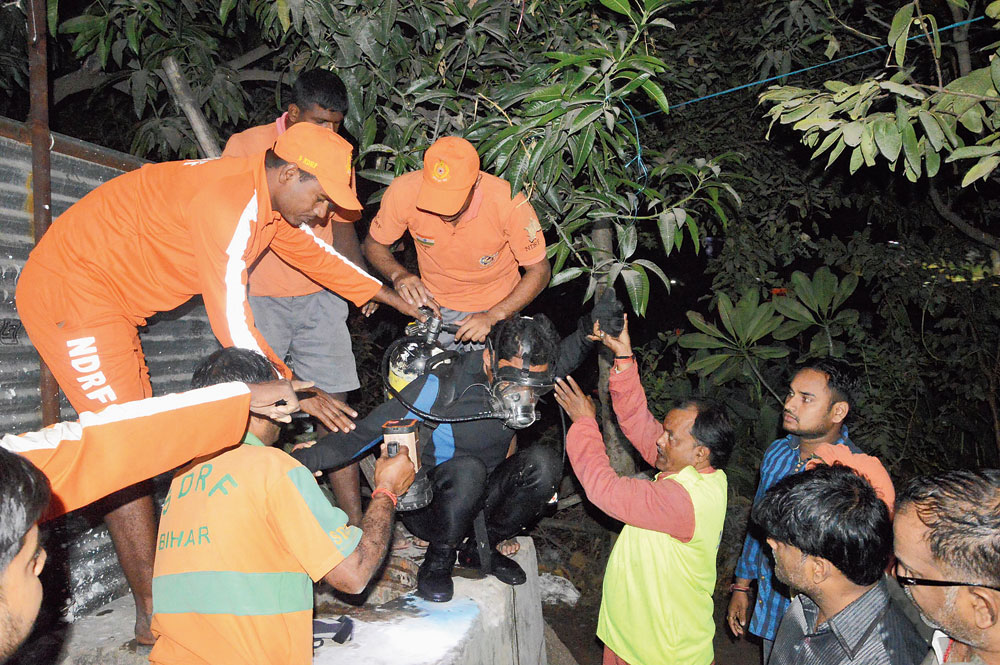 An NDRF diver during the rescue operation on Sunday night.
Picture by Manoj Kumar
---
Patna
|
Published 19.11.18, 06:35 PM
|
---
Rescue team divers on Monday descended into one manhole after another, braving poisonous gases and the darkness below, but could not find 10-year-old Dipak Kumar who had fallen into the Mohanpur sump house drain on Saturday afternoon.
On Monday, the authorities blocked out the sump house drain on both ends with the help of bamboo poles to prevent local residents using the narrow sump house drain wall as a shortcut to reach the other end.
Dipak had fallen into the drain while taking this "alternative" route.
Since Saturday, teams of the National Disaster Response Force (NDRF), the State Disaster Response Force (SDRF) and Patna Municipal Corporation (PMC) workers have been searching for Dipak. Till 8pm on Monday, there was no trace of the boy.
The rescue teams on Monday opted for new strategies, including the manhole-to-manhole hunt. "Right now, the rescue team is getting into one manhole and coming out of another manhole and then they get into the third manhole and are getting out of the fourth," said National Disaster Response Force (NDRF) commandant Vijay Sinha. "The idea is to cover the path properly. If anything is stuck, can be brought out and we can trace Dipak."
The job, Sinha said, was quite tedious as divers were finding extremely difficult to move inside the manholes due to poisonous gases, darkness and a lot of silt.
Earlier, high pressure was created in the sump house's motor pump to flush out anything stuck inside but that did not work.
"As of now, nothing has worked," Sinha said. "We don't know from which source we can find Dipak. We are just moving ahead on the basis of information made available to us by PMC engineers as they have the idea about the drain."
The rescue operations will continue on Tuesday.
"We have decided to conduct operations up to Anandpuri drain, with which this Mohanpur sump house drain is connected," Sinha said. "After Anandpuri drain there is an open drain but before it the drain is underground. All manholes up to Anandpuri drain will be checked. The SDRF and NDRF personnel have been deployed at various points. After we are done with our exercise up to Anandpuri drain, we will inform the district administration. It is up to district administration whether to stop the rescue operation after that or to continue. We will not take a call on this."
Former chief minister and Opposition leader Rabri Devi on Monday took potshots at the government over Dipak's disappearance, claiming that the boy fell into the drain due to the administration's neglect. She ridiculed the government for not being able to locate the boy even after so many hours.