Nitish invited to Patel statue launch
People of Bihar contributing to economic development of Gujarat, says Nitish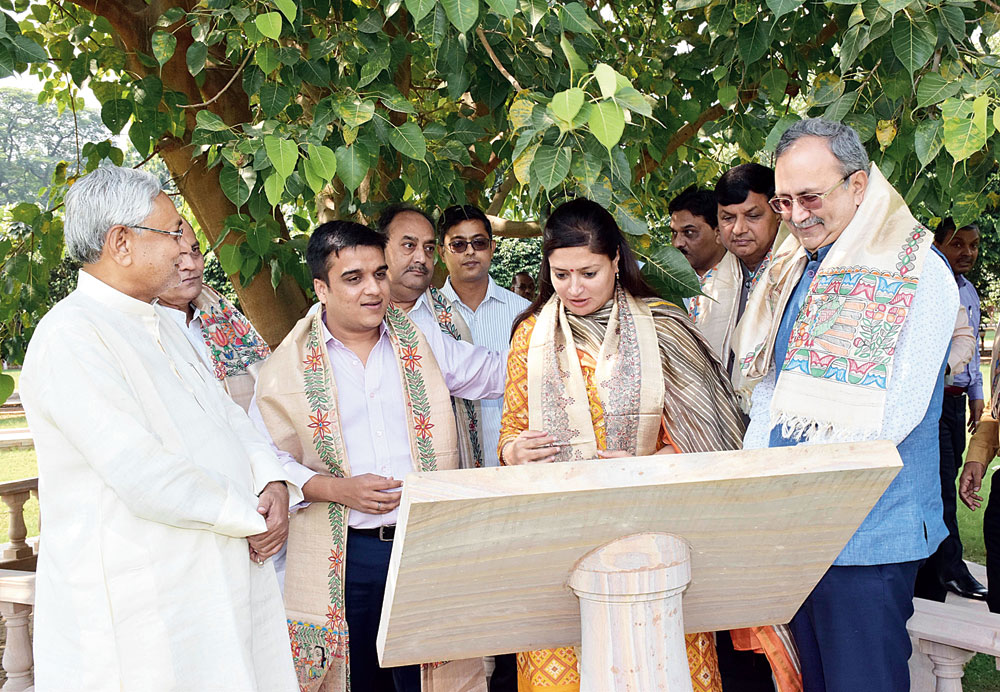 Chief minister Nitish Kumar takes the delegates from Gujarat to the Bodhi tree at his residence on Monday
Telegraph picture
---
Patna
|
Published 22.10.18, 05:38 PM
|
---
After weeks of violence against the natives of Bihar residing and working in Gujarat, a delegation of politicians and officials from the coastal state came here to pacify chief minister Nitish Kumar and invite him to the inauguration of Sardar Vallabhbhai Patel's Statue of Unity on his 143rd birth anniversary on October 31.
It met Nitish at his 1 Aney Marg official residence here and invited him on behalf of the Gujarat government.
Conversing with the delegation led by Gujarat energy minister Saurabh Bhai Patel, Nitish said: "People of Bihar were present in every corner of the state (Gujarat) and were contributing to economic development there."
The delegation concurred with Nitish over this and said workers from Bihar were present in large numbers in big cities of Gujarat and were "pillars of progress". Incidentally, Nitish hails from Kurmi caste, which identifies itself with Sardar Patel.
Jamnagar MP Poonamben Maadam, legislators Arvind Bhai Patel, Vallabh Bhai Kakadiya, Piyush Desai, Kishore Chauhan and several senior officials were part of the team.
Nitish told the Gujarat delegation that the people of Bihar have much respect towards Sardar Patel and several programmes are organised for 15 days in different parts of the state as a tribute to him around his birth anniversary.
The chief minister said the newly built and inaugurated police building in Patna has been named Sardar Patel Bhavan and it will be able to withstand earthquakes of up to 9 on the Richter scale. The building will also be used for disaster management in emergencies.
Nitish revealed that he had learnt much from the 2002 Gujarat earthquake while he was Union agriculture minister.
The Gujarat delegation later met deputy chief minister Sushil Kumar Modi and invited him to attend the inaugural function of the Statue of Unity.
The 182m-tall "Statue of Unity" is a tribute to Sardar Patel, the first deputy Prime Minister of independent India, who is hailed as the "Iron Man" for his stellar role in ensuring the unity and integrity of the country as the British had allowed 565 princely states to choose between Independence or accession to either India or Pakistan.
Around 25,000 tonnes of iron and 90,000 tonnes of cement has been used in building the statue, whose height is almost double the 93m-tall Statue of Liberty in New York and around four times than that of the Christ the Redeemer in Rio de Janerio in Brazil.
Iron collected from various parts of the country has been used in the statue to emphasise its unity aspect.
Nitish also discussed prohibition, electricity and solar energy with the visiting delegation. The visitors were honoured by Nitish with angavastram and mementos. They were also taken to the Bodhi tree, which happens to be a descendant of the tree under which Gautam Buddha received enlightenment.