Nitish caught and bowled by Lohia
The Bihar chief minister has announced a cricket tournament named after Lohia, but he seems to have forgotten that his idol hated the game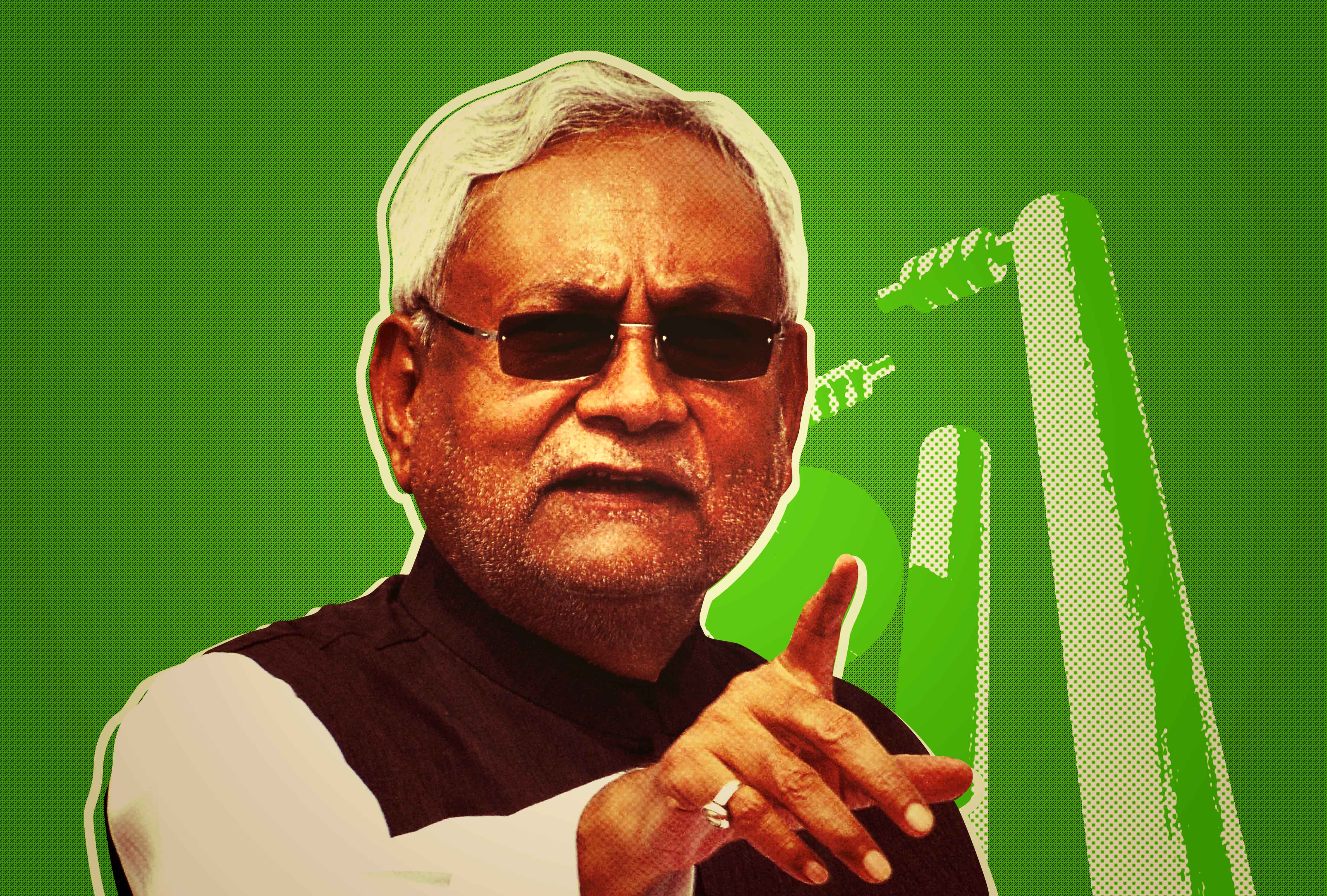 HOWZZAT! The RJD might have caught out Nitish Kumar, but the Bihar chief minister could still find a line of defence in Ramachandra Guha's book, A Corner Of A Foreign Field: The Indian History Of A Foreign Sport.
Graphic by Rahul Awasthi
---
Patna
|
Published 26.09.18, 09:40 PM
|
---
Socialist icon Ram Manohar Lohia and RSS ideologue M.S. Golwalkar, representing opposing poles of political ideology, had one common desire: banish the game of cricket — the symbol of continuing colonisation and imperial slavery.
Now, the Janata Dal United, whose president Nitish Kumar is an avowed follower of Lohia, has announced as part of its youth outreach programme a cricket tournament named after the socialist mascot.
"Very soon, the JDU will organise cricket, football, volleyball and kabaddi tournaments in Bihar. The tournaments will be named after Mahatma Gandhi, Jayaprakash Narayan and Ram Manohar Lohia. To start with, the party will first organise a cricket tournament in the name of Lohia in which separate teams of men and women will take part," JDU Rajya Sabha member R.C.P. Singh said at a party meeting on Tuesday.
The tournaments would be organised across the state by the JDU's Samaj Sudhar Vahini (social reforms squad). Tuesday's meeting was attended by several senior leaders such as Rajya Sabha members Bashishtha Narayan Singh and Kahkashan Parveen, MLA Lesi Singh, state women's commission chairperson Dilmani Devi and MLA Kavita Singh.
The Opposition RJD was quick to pounce on the JDU for what they said was another example of Nitish's disregard for icons and his distancing from socialist ideals.
RJD national vice-president Shivanand Tiwari quoted Ramachandra Guha's book A Corner Of A Foreign Field: The Indian History Of A Foreign Sport to cite Lohia's distaste for cricket.
"I think Nitishji has forgotten that Lohiaji was against cricket and he used to hate the game. Announcing a cricket tournament in the name of Lohiaji is an insult to the great man. If you read Ramachandra Guha's book, you will find that Lohia had three pet hates: Jawaharlal Nehruji, the English language and cricket. Lohiaji was a supporter of our country's own sports like kabbadi. If Nitish really wants to start a sports tournament named after Lohia, he should do one on kabbadi," Tiwari said.
"Nitish is in the company of people who have completely forgotten Lohia and that's the reason the JDU keeps repeating its mistakes on social justice," the veteran leader added.
Tiwari pointed to a news conference that Lohia had held at an Irani café opposite Mumbai (then Bombay)'s Brabourne Stadium while India was playing Pakistan in the first Test match held between December 2 and 7, 1960.
On the second morning of the match, Tiwari said quoting Guha's book, Lohia, in his inimitable way, explained to the assembled journalists how the game of cricket symbolised our continuing colonialism, and how the last Englishman to rule India was complicit in this. "Throw out Nehru," the book quotes Lohia as saying, "and we can all happily start playing kabaddi."
Lohia's apathy for anything colonial was such that after graduating from Vidyasagar College, under the University of Calcutta in 1929, he chose for his higher studies Friedrich Wilhelm University (today's Humboldt University of Berlin) in Germany, over all prestigious educational institutions in Britain. He wrote his PhD thesis paper on the subject Salt Taxation in India.
There was no immediate reaction from the JDU, but if Nitish is looking for a defence, he can get it in the pages of Guha's book.
As the scribes left the Irani eatery, Lohia, according to one of his associates who witnessed the event and spoke of it to Guha, walked across to the nearest paan shop, asked for his favourite paan, and, chewing it, asked: "Kya Hanif out ho gaya kya?" The answer came back, "No, Hanif Mohammed is still batting." The great Pakistani opener would bat on through the day, only to be run out for 160.
Even a cricket-baiter could not always ignore cricket.