JDU slams Upendra Kushwaha's casteist charge on Nitish
Kushwaha has alleged that the Bihar chief minister had called him neech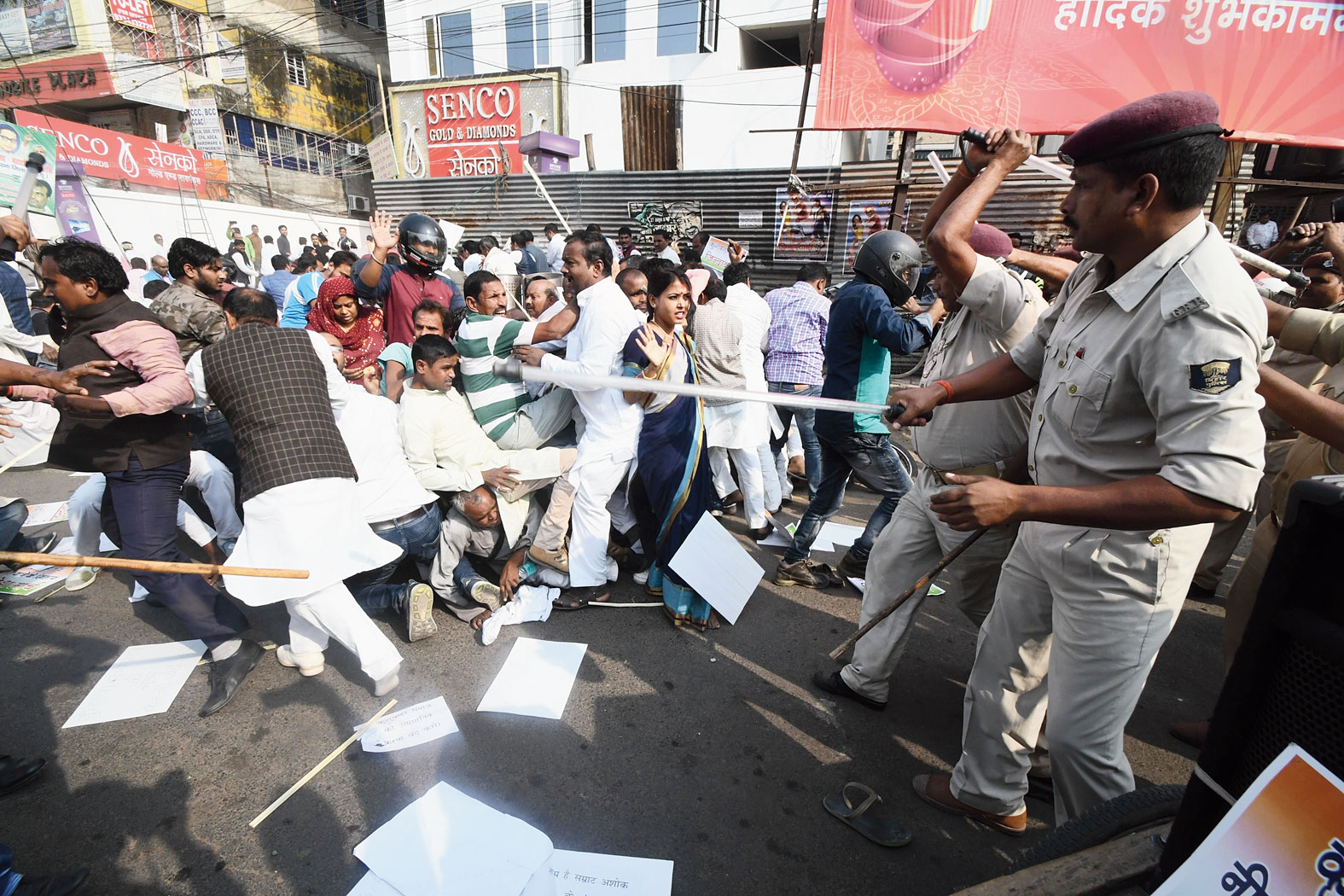 A protest march by RLSP workers on Saturday against chief minister Nitish Kumar allegedly calling their party chief Upendra Kushwaha neech (lowly person) turned violent when they faced the police wrath. The protest march was led by Samast Kushwaha Samaj Samanvay Samiti president JP Verma.
Picture by Nagendra Kumar Singh
---
Patna
|
Published 10.11.18, 06:36 PM
|
---
The JDU hit out at RLSP chief and Union minister Upendra Kushwaha for trying to create a stir based on "fiction".
"In his 35 years of life as a parliamentarian, Nitish Kumar is the only leader who has never used words which hurt anyone," JDU spokesperson Ajay Alok said. "He's the only leader who has remained dignified in his choice of words. God knows from where Upendra Kushwaha came to the conclusion that Nitishji has called him neech (lowly). He appears to have joined the group of leaders whose politics runs on hurling abuse at Nitish."
After Kushwaha's charge that Nitish had called him neech and insulted him (Kushwaha) and his caste, a video clip appeared on Nitish's Facebook page of the TV programme where the Bihar chief minister is alleged to have slighted Kushwaha. In it, the anchor is shown asking the chief minister questions on Kushwaha's statement that Nitish would not like to remain chief minister after 2020. And Nitish reacts by asking the anchor not to lower the standard of discussion. "It is unperceivable that Nitish would use such terms (neech) publicly or privately," said a senior JDU leader.
So far the JDU has dismissed Kushwaha's statement as politically too insignificant to react to. "Had be (Kushwaha) the political clout he claims to have over the Kushwaha caste, how is that he could not deliver Kushwaha votes in the Jehanabad Assembly seat during bypolls last year," asked a JDU leader. "Kushwahas are the third largest block in Jehanabad after Yadavs and Bhumihars. Had the RLSP chief ensured Kushwaha votes, the NDA would have won the seat instead of losing it by 35,000 votes." The JDU leader complained that fearing he would be allotted reduced number of seats in the coming Lok Sabha polls, Kushwaha was trying to project the JDU as being anti-Kushwaha.
Political observers are amused over the ongoing "neech" politics.
They recall how in the run-up to the 2015 Assembly polls, when Nitish had joined hands with Lalu and the Congress, Prime Minister Narendra Modi had talked about the "political DNA" of Nitish Kumar.
"The JDU picked on his words to give the impression that the Prime Minister had actually insulted Biharis and they even held camps to collect hair and nails of their supporters to send it to the Prime Minister's Office in order to get their DNA examined," recalled a retired politician who stressed that words politicians use are frequently twisted for political gains.
JDU leaders now acknowledge that the DNA campaign did not nave any significant political fallout. They are hoping Kushwaha's theatrics also fail.