Giriraj wants Bakhtiyarpur renamed
But minister does not have a new name in mind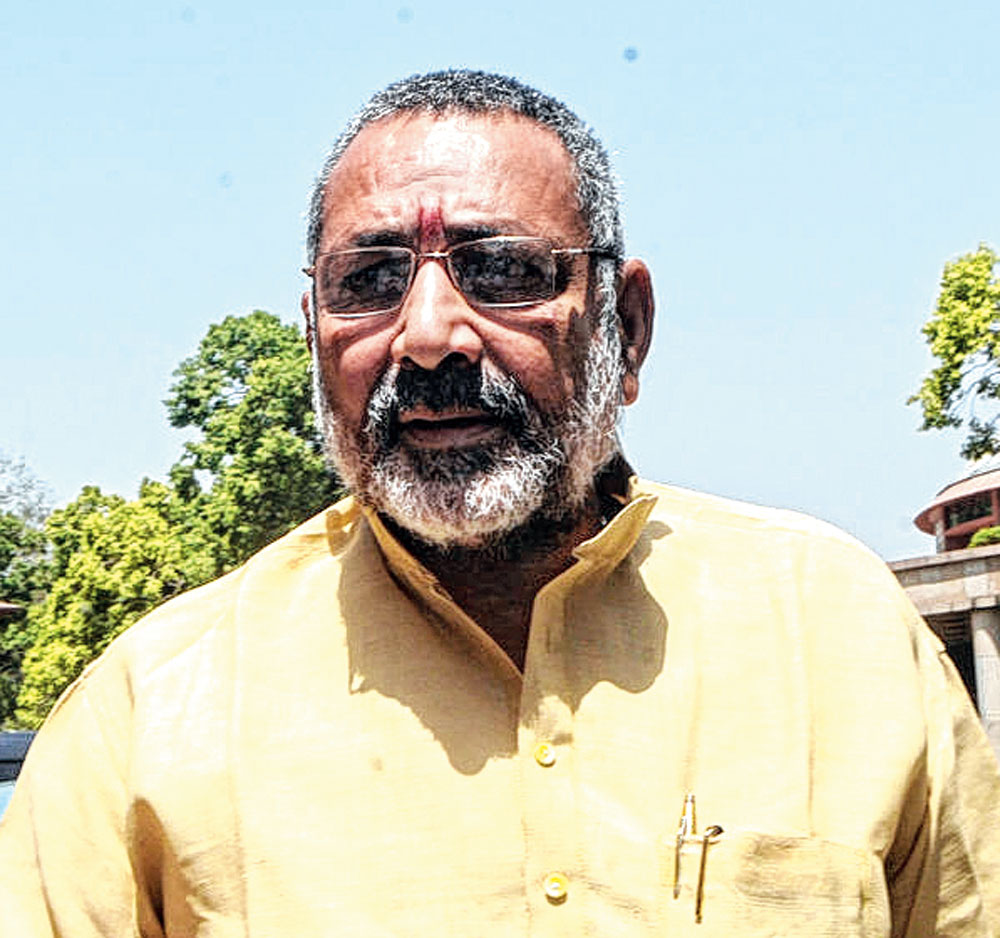 ---
|
Patna
|
Published 22.10.18, 05:38 PM
---
Union minister and BJP Nawada MP Giriraj Singh on Monday brought the name-change zeitgeist to Bihar and demanded that Bakhtiyarpur — the hometown of chief minister Nitish Kumar — be renamed, sparking disapproving noises from ally Janata Dal United.
Thanking Uttar Pradesh chief minister Yogi Adityanath for renaming Allahabad as Prayagraj, Giriraj on Monday told journalists here that invaders had changed the names of places and "now that we have power we are changing those names".
"I demand the change of name of Bakhtiyarpur," Giriraj said without suggesting any new name for the town, located around 50km east of the state capital under Barh sub-division of Patna district.
Bakhtiyarpur is believed to have been named after Bakhtiyar Khalji — army general of slave dynasty founder Qutbuddin Aibak — who according to some history books had plundered the ancient Nalanda and Vikramshila universities around AD 1193.
However, Prashant Dutta, retired professor of history of Patna University, had a different take. "I have not come across any document so far which could establish that Bakhtiyarpur has been named after Bakhtiyar Khalji," Dutta said, adding that history only suggested that Bakhtiyar Khalji had come to this area.
Giriraj, who was in Bihar to take part in functions in Patna and other parts of the state during which junior railway minister Manoj Sinha inaugurated several projects, also declared: "Those with slave mentality are opposing name change."
Giriraj said that by taking Allahabad's new name, Prayagraj, one got a feel of culture. The Uttar Pradesh government had renamed Mughalsarai railway station after RSS ideologue Deen Dayal Upadhyay. The latest to join the name-change bandwagon is the BJP regime in Himachal Pradesh which wants the capital Shimla to be renamed Shyamala.
The Union minister, who is no stranger to controversy, iterated his comment that all Indians were descendents of Lord Ram and not of the Mughals. Reacting to Giriraj's demand on Bakhtiyarpur, JDU spokesperson Sanjay Singh said: "He is like my elder brother and he should first read history before making such demands."
Instead of gunning for name changes, Giriraj being a Union minister should raise issues like price rise and unemployment which concern the people, Sanjay added.
HAMS leader Jitan Ram Manjhi quipped that very soon the BJP would demand name change of places like Muzaffarpur and Sultanganj as well and the chief minister would remain a mute spectator.
RJD MLA Bhai Birendra termed Giriraj's statement as an election stunt.