Araria doctor's life of service
Blessed by the Mahatma, 91-year-old still going strong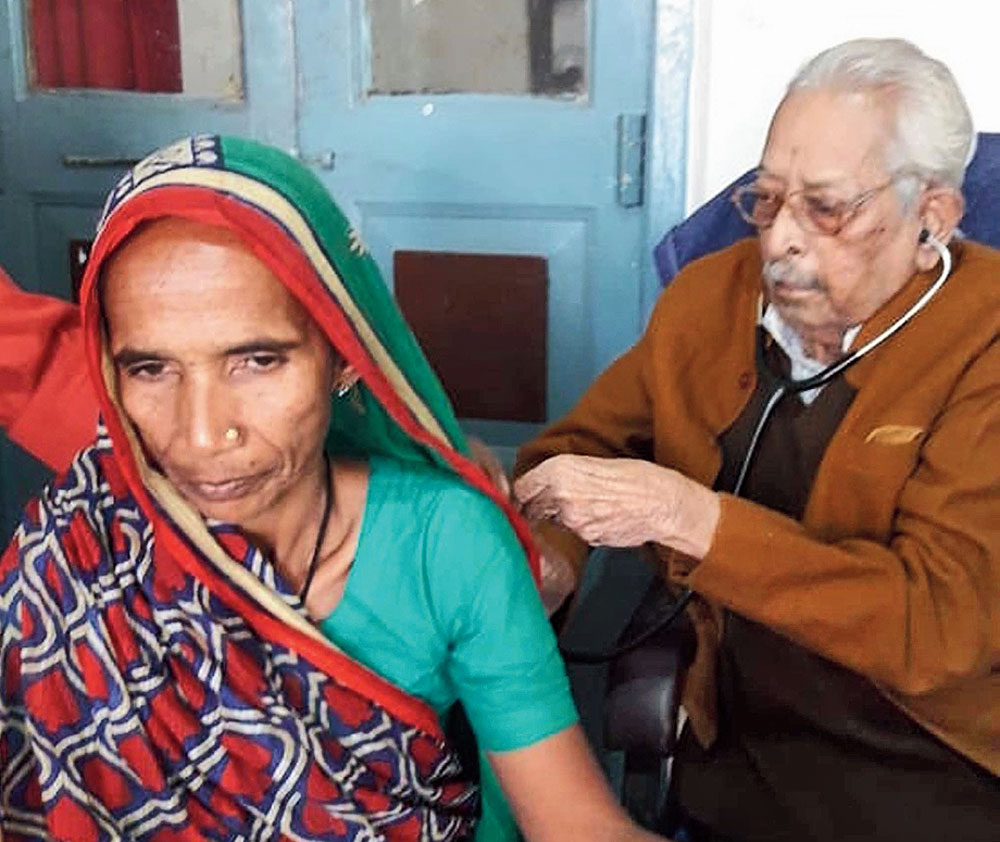 ---
|
Patna
|
Published 09.12.18, 06:56 PM
---
Dr Birendra Prasad Verma, 91, is living proof that age is just a number.
The doctor from Araria, around 325km northeast of Patna, has been treating patients continuously since 1948, and says he will never stop practice.
Every morning, Verma sits at home or his nearby clinic to treat people who flock there to consult him about their ailments. He works from 12noon to 4pm, before taking a break.
"My children tell me that I have worked much and I should rest, laze around and enjoy my life. I tell them that lazing around and resting is no life. If they force me to quit my practice, or if I stop treating people, I feel I will die," Verma says. "This is a service of the people. I will work till I am alive. Will stop when I am no more."
The physician, who everyone lovingly calls Biren Babu, sees around 10 new patients daily and devotes the rest of the time to those already under his treatment.
For the last 55 years, he does not take any fee from poor patients, making him popular among the masses in Araria and areas in nearby Nepal, who have kept coming to him in times of distress for generation after generation.
"I was enrolled for my MBBS degree at Calcutta Medical College and then Partition happened and some of us were sent to the Patna Medical College and Hospital (PMCH) only to be transferred again in a couple of months to Darbhanga Medical College and Hospital (DMCH)," he says.
Verma started as a government doctor at Purnea Sadar Hospital, moving on to serve at government hospitals at Kishanganj, Katihar and Araria and devoting himself to private practice after retirement.
"Poverty and lack of hygiene are the main reasons behind majority of diseases," he said. "People have no proper knowledge of cleanliness. They also ignore getting their ailments treated right at the outset. I tell everybody to maintain hygiene and at least wash hands properly before eating or touching food.
"Stress is also taking a toll on young people," he added. "They are acquiring high blood pressure, diabetes, heart disorders and similar problems due to tension, worries, irregular lifestyle and bad food habits. One should make all efforts to avoid all these."
He says the goodwill he has earned is all due to the blessings during his student days from personalities such as Mahatma Gandhi, Subhas Chandra Bose, Khan Abdul Gaffar Khan and Dr Rajendra Prasad.
"I was in school when Mahatma Gandhi came to Katihar in the aftermath of the devastating earthquake of 1934. As a kid I would hear my father, who was a government registrar back then, and other family members talk about him and wanted to see him with my own eyes," Verma said. "Finally, I was sent with a member of my father's retinue to the place where Gandhiji was meeting people and taking donations. I went up to him and offered 4 annas that was in my pocket. Gandhiji laughed and took it and blessed me by patting on my head. That was the blessing that has stayed with me and guided me through my life."