Double-engine govt boosts crime, says RJD leader
Crowds reach out for selfie with Tejas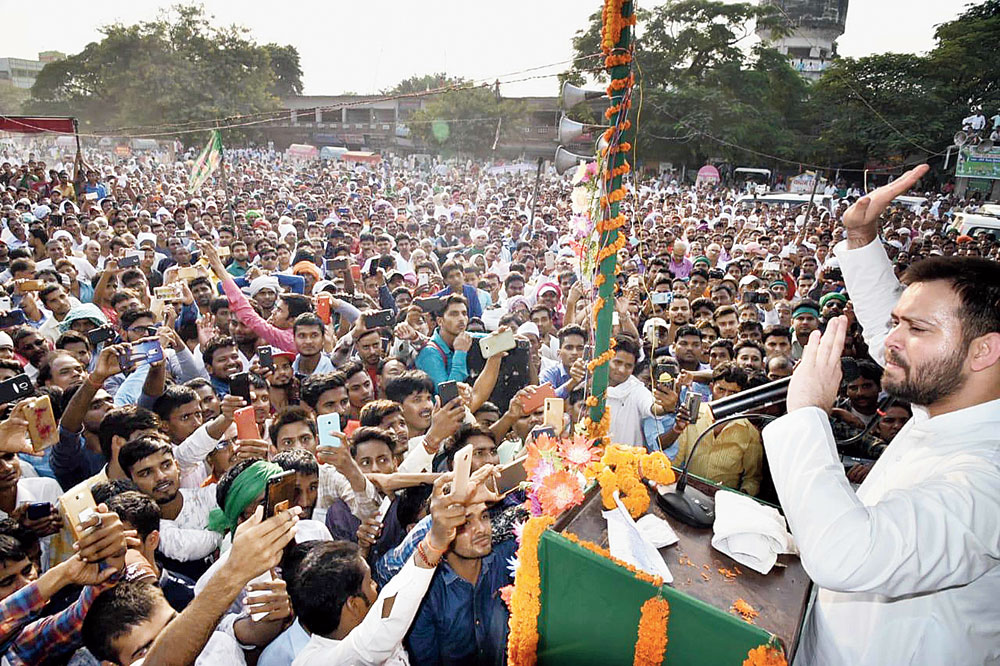 Poll bugle: Tejashwi Prasad Yadav addresses supporters at Siwan's Gandhi Maidan on Monday.
Telegraph picture
---
Patna
|
Published 22.10.18, 05:38 PM
|
---
Crowds of youngsters jostled to take a selfie with RJD leader Tejashwi Prasad Yadav on Monday as he slammed the NDA government in Bihar, alleging that the meaning of "double-engine government" was to compromise with corruption and crime.
The leader of the Opposition said this during his Samvidhan Bachao Nyay Yatra public meeting at Siwan's Gandhi Maidan. "I'm not going to compromise with communal forces and until my father is alive nobody can change the Constitution of India," the former deputy chief minister told a huge gathering he was addressing.
"I want to say there is a double-engine government in Bihar, which means the purpose of the double-engine is to compromise with corruption and crime. It is proved from the latest remarks of the deputy chief minister, who pleaded with criminals not to commit crime during the Pitrapaksh period."
A huge crowd had turned out to listen to the young leader and there was a chaotic situation as supporters
reached the stage to take a selfie with the young leader. The situation was brought under control after Tejashwi requested his supporters to maintain order.
Later, Tejashwi posted a tweet saying the administration had not made any arrangement and there was zero crowd management. Also, he said the Nitish administration would be held responsible if anything untoward takes place.
Being in jailed party leader Mohammad Shahabuddin's stronghold of Siwan, the don's wife Heena Sahab was also present on the dais with RJD state-unit president Ram Chandra Purbey and former JDU leader Salim Parvez,
who joined the RJD in Tejashwi's presence at Chhapra on Sunday.
Tejashwi continued his attack on the chief minister saying he had switched sides to join hands with the person who had abused his DNA.
"You can understand the nature of this person who had once said mitti mein mil jayenge par BJP ke saath nahi jayenge (I'd rather be finished than go with the BJP)," Tejashwi said. "Now that he has sided with the BJP, Nitishji must tell the people of Bihar wo mitti mein kab milenge (when he will be finished off)." He said his father Lalu Prasad was a lion and he being the son of a lion was not scared of anybody, pointing at a conspiracy against his family, which he said he will face bravely.
"There is a conspiracy going on against my family and my father, mother and sister have been wrongly framed, but I must say I'm not scared of anybody," Tejashwi said.
"My father is a lion and I am the son of a lion. Today there are a few people in politics who are masters at switching sides for the sake of remaining in power. Some are also masters at spreading canards in society but people are watching them closely."