Buzz within Kushwaha's RLSP after pull out: Well played, boss
Timing of exit was part of his strategy and he wanted to leave the NDA as a martyr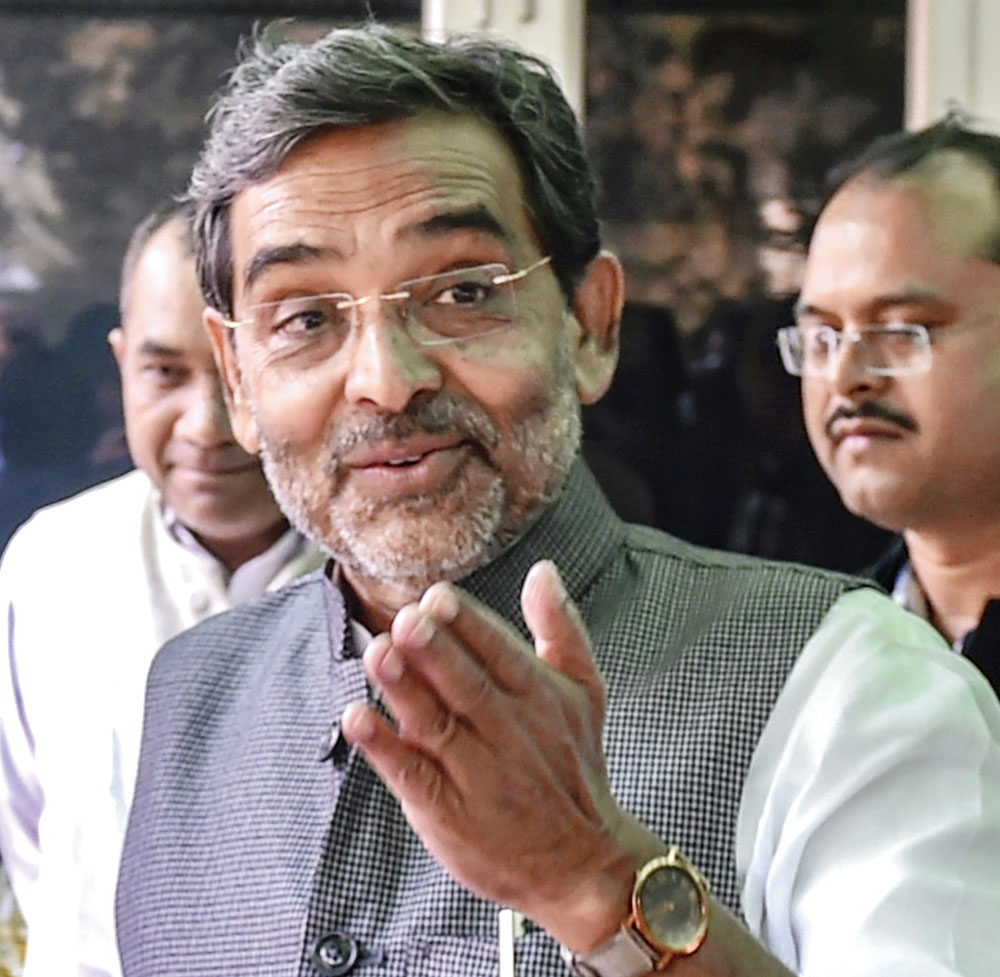 Playing martyr: RLSP chief Upendra Kushwaha arrives to address the news meet in New Delhi on Monday, December 10, 2018.
(PTI)
---
Patna
|
Published 10.12.18, 07:07 PM
|
---
The RLSP believes that party chief Upendra Kushwaha, who quit as Union minister and pulled his party out of the NDA, has succeeded in gaining the sympathy of his community.
RLSP sources said the timing of his exit was part of his strategy and he wanted to leave the NDA as a martyr.
"Our leader was giving information about his every move — minute to minute — to send the message among his supporters," a senior RLSP leader said under cover of anonymity.
"He was sharing vital information about his movements which are normally not shared before a meeting, like going to meet BJP president Amit Shah and seeking time from him, or seeking time to meet Prime
Minister Narendra Modi. Even he knew that both (Shah and Modi) will not give him time. He wanted to ensure that his supporters should have this feeling that Kushwaha was humiliated."
During the recently concluded winter session of the state Assembly, even many JDU leaders accepted in private conversation that Kushwaha has succeeded in his game plan and made a place in the heart of his community.
"The way he picked up the issue of chief minister Nitish Kumar calling him neech (lowly person) has turned out in his favour," a JDU legislator said.
"We all know that Nitish has not used that particular word against Kushwaha and even the RLSP leader knows it, but despite that he twisted the entire scenario by shouting at the top his voice that Nitish called him neech. Later — to counter Kushwaha — we all said that one must watch the interview with the neech episode. However, how many people are going to watch that interview? Kushwaha, on the other hand, succeeded in sending the message across Bihar that Nitish called him neech."
Another signal that the NDA knew what Kushwaha wanted to achieve came when deputy chief minister Sushil Kumar Modi tweeted that Nitish never used the word neech. Sushil had also written that he was present at the programme, that no such slur was hurled, and that still some leaders are trying to become martyr but will not succeed.
Kushwaha, who belongs to the Koeri sub-caste of the Kushwaha community, is considered a highly ambitious leader of the second largest bloc among the other backward classes (OBC) in Bihar after Yadavs.
His exit from the NDA comes as a boost to the Opposition; particularly Tejashwi Prasad Yadav, who has been steering the RJD with his father Lalu Prasad serving prison terms.