Nitish Kumar pays homage to one Manjhi, takes a dig at another
Bihar CM recalls how Jitan Ram Manjhi had refused to give back his chair, while 'mountain man' Dashrath had no such ambition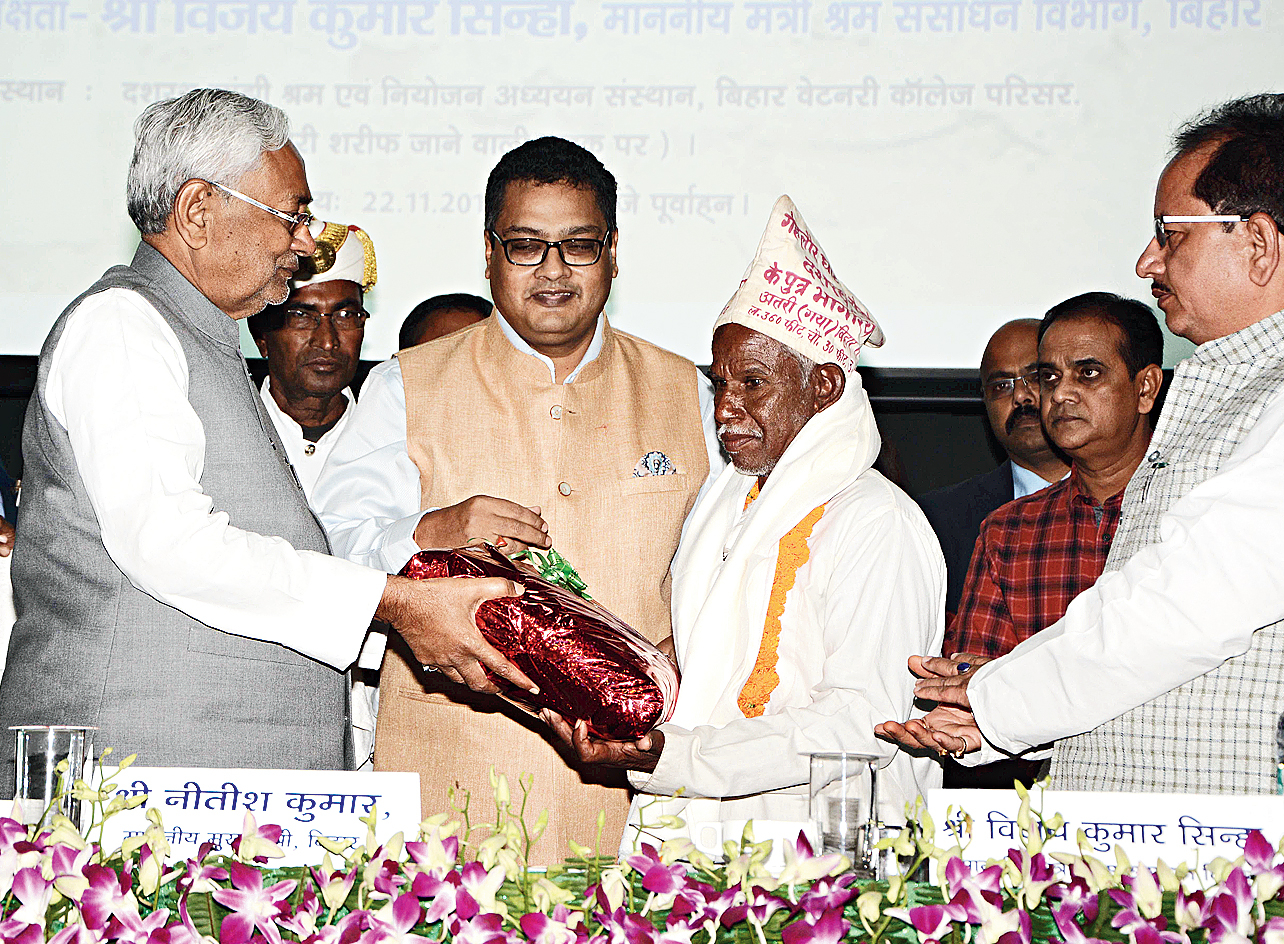 ---
|
Patna
|
Published 22.11.18, 06:33 PM
---
He came to pay tribute to one Manjhi known for his mountain digs, but ended up taking digs at another.
Chief minister Nitish Kumar hasn't quite forgotten what he considered was the political chicanery of Jitan Ram Manjhi, whom he had anointed chief minister in 2014 after the JDU fared poorly in the Lok Sabha elections.
Jitan had given Nitish a pretty hard time when he wanted to take the command of the state back in his own hands.
Inaugurating the newly constructed building of Dashrath Manjhi Shram Evam Niyojan Sansthan here in Patna, named after labourer Dashrath Manjhi a.k.a the Mountain Man, Nitish remembered Dashrath, but Jitan also came to his mind.
"Once during our Janata Darbar in Patna, Dashrath Manjhi had come to meet me. While taking a break during the programme, I invited him to sit on my chair. It made eight-column headlines in next day's newspapers. Later on I had invited another one (read Jitan Ram Manjhi) to sit in my chair, but that is another matter," Nitish said to guffaws from the audience.
Nitish had to literally wrest back the chief minister's chair from Jitan Manjhi in early 2015 after the latter refused to vacate it. He had to work hard to keep his flock together and also explore various legal and constitutional issues to tackle the situation, though Jitan Manjhi resigned on February 20 that year before the trust vote in the Assembly, as the numbers did not favour him.
Speaking further on the inauguration of the Sansthan, which will provide training to labourers, conduct studies and research on labour related issues, provide in-service training to labour resources department officials and also run diploma and certificate courses in the long run, Nitish remembered his meetings with Mountain Man Dashrath.
"Dashrath's wife fell down the hill while taking lunch for him. He was then inspired to build a road through the hills. He single-handedly worked for 22 years and made a road through the hills," Nitish said.
Working continuously from 1960 to 1982 with just a hammer and a chisel, Dashrath carved out a 110m-long, 9m-wide and 7.6m-deep road to shorten the distance between Atri and Wazirganj blocks of Gaya district from 55km to 15km, with just one thought in mind — that people should not die without medical attention like his wife Faguni Devi had, as it was difficult to reach hospitals that were far away. Various movies and documentaries have been made on his labour of love, most notably Ketan Mehta's Manjhi-The Mountain Man (2015) in which Nawazuddin Siddiqui played Dashrath.
Deputy chief minister Sushil Kumar Modi, building construction minister Maheshwar Hazari, labour resources minister Vijay Kumar Sinha and principal secretary (labour resources) Dipak Kumar Singh, Chanakya Law University (CNLU) vice-chancellor and former Patna High Court judge Mridula Mishra, VV Giri National Labour Institute (VVGNLI) director-general S. Srinivas, Dashrath's son Bhagirath Manjhi and several other officials were present on the occasion.
Speaking further, Nitish pointed at the importance of labour and how no work can be done without them. He said a large number of labourers went to work in other states and even Bhutan, but their numbers have come down after the state government implemented various welfare schemes in a decentralised manner.
"We are told that 11 lakh labourers are registered with the department, but the number should be more. If the labourers are registered they will be able to get the benefit of various welfare schemes," Nitish said.
The chief minister also pointed to the need to increase the capacity and skills of labourers so that their income can increase. He said the Dashrath Manjhi institute will be useful for the labour sector and will make a mark at the national level.
Nitish launched the annual medical assistance scheme for labourers on the occasion. He also extended best wishes for 11 youths from Bihar who have qualified in the national-level "India Skills Competition 2018" and go to participate in similar Asia and world-level competitions in the coming months.
Memorandum of Understandings (MoUs) were signed on the occasion with CNLU, VVGNLI to help provide legal knowledge to labourers about their rights.