Man who moved mountain and CM
Bolly fame awaits Dasrath Manjhi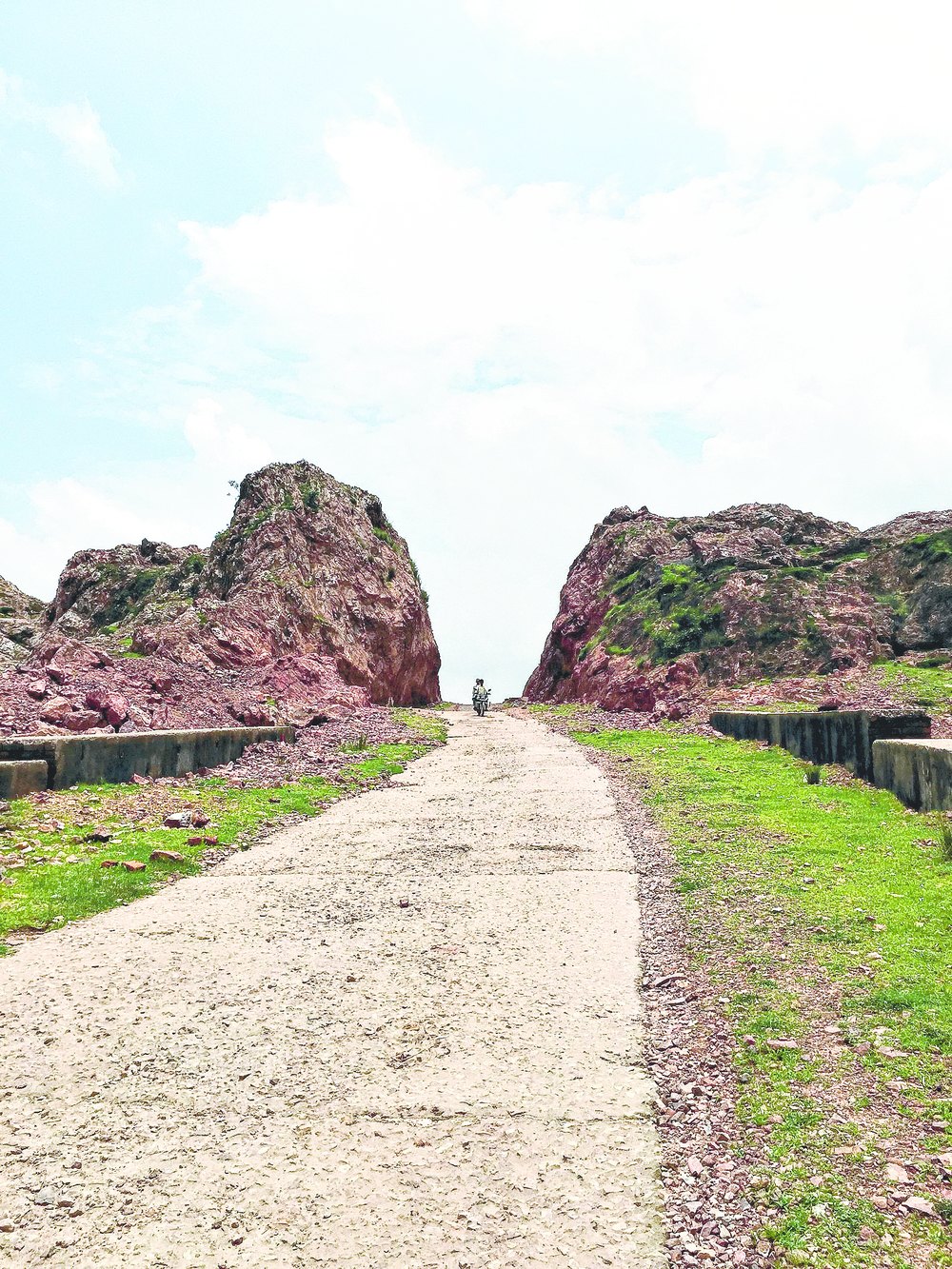 ---
---
Gehlaur (Gaya), Aug. 1: Jitan Ram is the second from Bihar's community of Manjhis that chief minister Nitish Kumar vacated his chair for.
The first time he did so was for a Manjhi called Dasrath in 2007. Jitan Ram turned rather unmoving in the chair Nitish had handed him; Dasrath had moved a mountain, chairs held no charm for him.
Dasrath Manjhi had come to call on Nitish, already an established Bihari legend, the man who had spent 22 years pummelling through a hillock to open a path where none existed. Nitish got up and offered Dasrath the courtesy of his seat. Dasrath didn't spend too much time in it; he was on his way to being claimed by cancer.
Now comes his turn to be claimed by greater, wider fame than he ever enjoyed alive. Mid-August, Nawazuddin Siddiqui will appear in cinemas as lead of a Ketan Mehta biopic on Dasrath: Manjhi, The Mountain Man.
Gehlaur, where Dasrath lived, wrought his epic saga with hammer and chisel, and where most of the movie was shot, can't count the days quickly enough. Ashok Kumar Anj, Gehlaur's resident Dasrath impresario and bit-part player in Mehta's forthcoming movie, is ecstatic that Bollywood is about to revive the Dasrath cottage industry. "There's nothing here other than the fame of Dasrath Manjhi, now his story will come alive all over again and travel places it has never been to."
We reached Gehlaur, a higgledy-piggledy 120-km ride south of Patna, bidden from one off-GPS, off-the-map habitation to the other. The peril in these parts is not that you'd get waylaid by Naxalites, whose belt Gaya quite surely is; the real peril is getting laid low by those who have no notion of the route but will insist on pointing it out - go left, go right, go straight through then do a U and turn south at the neem tree and cross the river... And after all that wanton misdirection, an illuminating query: But who might it be that you are really looking for, Dasrath Manjhi or Jitan Ram Manjhi?
We went past the narrow Kinjarsarai bazaar, veered left at the Bela crossroads, into Teunsa, then right and across a monsoon causeway into Tetua. Out of nowhere an outcrop of hills began to loom amid the sprawling flats. "There," pointed a wayfarer in the direction of the dinosaur humps, "Three kilometres down the road, then turn right for Dasrath Manjhi, you'll know where to turn." We knew when the tar track turned into a cemented road sign-posted "Mountain Man Site".
This is what made the site the "Mountain Man Site". In 1960, the wife of an earth-grown daily wager called Dasrath Manjhi fell trying to cross a narrow hill passage to fetch him lunch. The woman sustained grievous injuries and, for the sheer lack of timely medical attention, died. Wazirganj, the nearest town, was just across the hillock from where Dasrath's wife had fallen, but people had to travel 70 kilometres round the feature to reach it. In a fit of rage, Dasrath decided to hammer the hill until it yielded way and Wazirganj was no more than an amble downhill.
He was discouraged by fellow villagers, then chided as mad; boring through the rock with bare hands was a fool's enterprise. But Dasrath, of squat and sturdy build, lit into the hill undeterred, and remained at it for the next twenty-two years, until he had opened a gash 25 feet wide, 360 feet high.
It's there for all to see today, a yawning breach in the rockface right across from where Dasrath's family still lives in Gehlaur, a stunning monument to a bull-headed villager's eccentric pursuit. Once Dasrath set himself up for something, he got after it until he was done, a man best described by that colourful term minted by the Bihari turn of phrase - "thhethrology", the practice of wilful stubbornness.
Midway through his assault on the hill, it came up in some village conversation that Delhi was very far. Really, Dasrath countered, but how far? Next, he had hit the nearest railhead and begun trekking to Delhi along the track. It took him two months, but walk he did all the way to Delhi, and then proclaimed to nobody in particular: "Is this how far Delhi is? Look, I am here already!" As a young boy, Ashok Anj would come often and watch Dasrath rage into the hillock. "People used to make fun of him, but the more they laughed, the more determined he would get."
Gehlaur has now been named after its famous son - Dasrath Nagar - and the Manjhi clan lives bounded by gifts Dasrath's effort extracted - a five-acre plot of land, a hospital, a school, a paved road such as doesn't exist in the forsaken Gaya countryside. A sandstone arch is being built along the slope Dasrath would approach the hill.
Dasrath's son Bhagirath, himself into his sixties now, cannot imagine a life better provided. His father moved a mountain so he needn't move a finger. " Sab kuchh to hai." (There is everything.) But perhaps the celebrity of being cast into Bollywood's hall of fame wouldn't be such a bad idea, after all.