CM Nitish Kumar shoots from lip at police
Govt has looked after cops, and they should worry about people and ensure rule of law, he says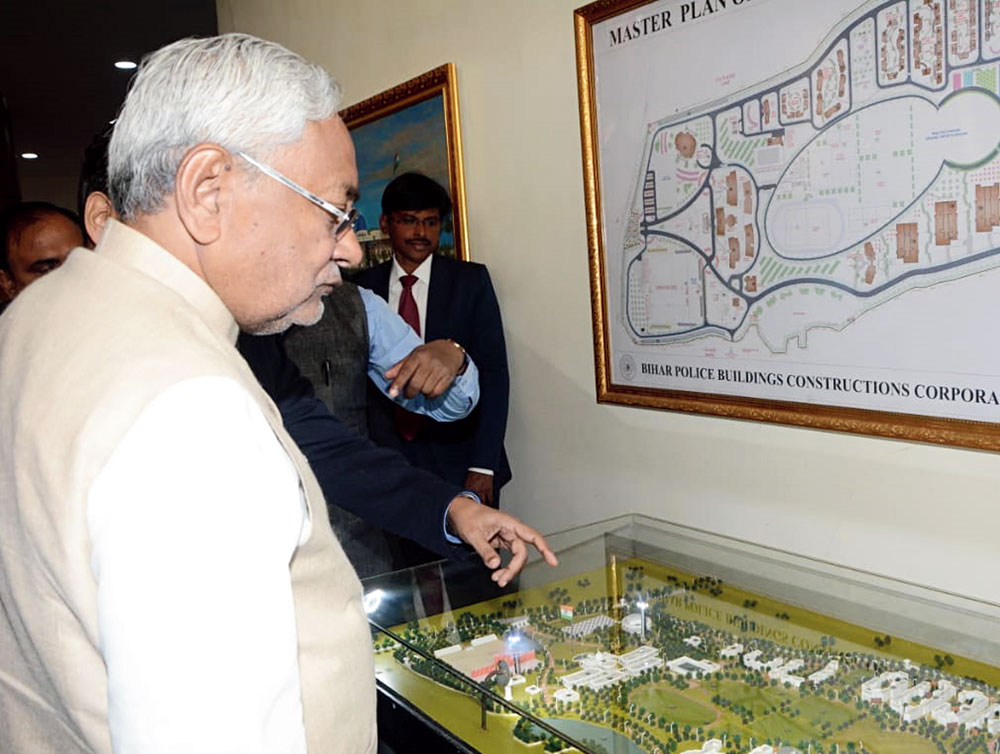 ---
|
Patna
|
Published 03.12.18, 07:13 PM
---
Chief minister Nitish Kumar on Monday shot straight through the police, categorically telling them that the government has always taken care of their needs and they should be concerned about the people of Bihar in return, ensuring that rule of law prevails.
"We have taken care of every need of the police. The government is always concerned about you (the police). You should also worry about the people of Bihar. The rule of law should prevail in the state," Nitish asserted.
Stressing that it was the police's job to catch criminals, Nitish said that if they did not discharge their duty sincerely, the blame fell on the elected government and it lost its prestige.
The chief minister was speaking after inaugurating the state-of-the-art Bihar Police Academy at Rajgir in Nalanda district, around 105km south of Patna.
His assertions came at a time when law and order in Bihar has taken a beating, with a state-wide public perception about the sharp rise in serious crimes. The police top brass, including director-general K.S. Dwivedi, additional chief secretary, home, Amir Subhani, Bihar Police Building Construction Corporation chairman-cum-managing director Sunil Kumar and several others were present.
Pointing out that the government has paid attention to the recruitment of police force, arrangements for their training, place for officers to sit, uniforms, better vehicles, modern weapons, state-of-the-art police headquarters and several other things, Nitish stressed on the fact that "people in democracy were empowered and the police should protect them to maintain their trust".
Nitish reminded the police that the government's responsibility was to provide resources, while their duty was to catch criminals.
"The state government doesn't interfere with your autonomy. We do not ask you to implicate anybody or to favour anybody. We only expect that you don't spare any culprit nor frame any innocent. The success of the administrative system depends on the promptness of the police," Nitish said.
Nitish asked the police to ensure that the criminals are caught and prosecuted within a time frame. He also said that the presence of government witness in the court should be ensured for the purpose.
The Bihar Police Academy is spread over 133 acres at Mora village at the foothills of Rajgir, and cost Rs 291 crore. It is a green facility with 46 buildings, including barracks, convention centre, hospital, staff residences, school, classrooms, training grounds, watch towers, recreational facilities, among others.
The foundation of the academy was laid in 2010 and it kept getting delayed, taking eight years to reach the inaugural stage. It will be used to impart training to around 1,400 police officers right from sub-inspector to IPS officers.
Bihar did not have any such training academy after its partition in 2000 and creation of Jharkhand. The only one that was functional at Hazaribagh went to Jharkhand.