Benefit poser for CM
Rajiv Ranjan Singh, Shailesh Kumar, Maheshwar Hazari, and ex-ministers Ashok Choudhary and Shyam Rajak were present at the meeting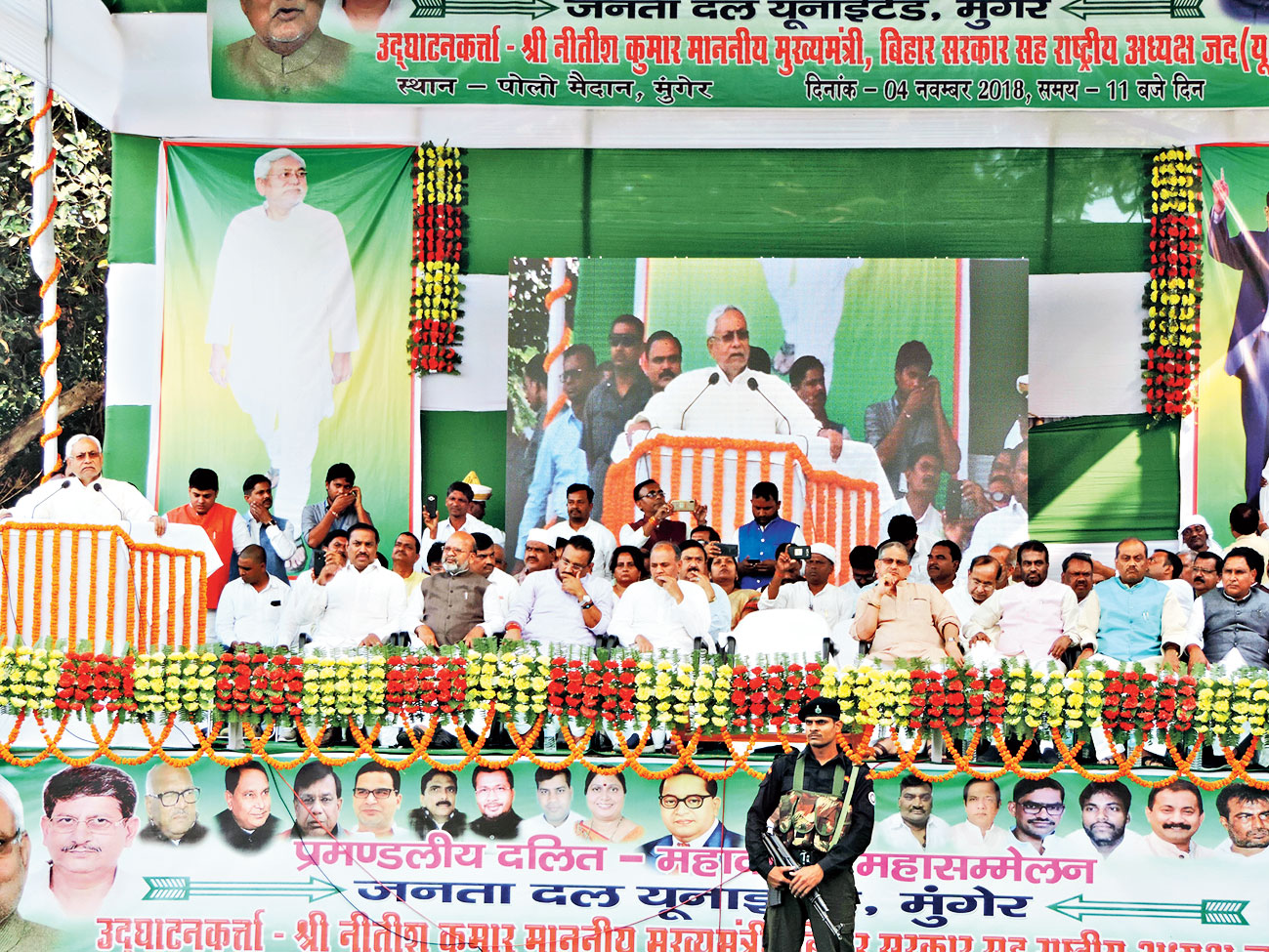 ---
Munger
|
Published 04.11.18, 06:37 PM
|
---
Chief minister Nitish Kumar, in a meeting at Polo Maidan here on Sunday, listed schemes his government has undertaken for Dalits but some residents claimed they have not received the benefits he promises.
"My government's sincere efforts are focused towards Dalits and Mahadalits in the state so that they join the mainstream of society. More than 25 welfare schemes have been introduced by the government specially for their economical, educational and social uplift," Nitish said on Sunday afternoon in front of 5,000 people gathered for the JDU's divisional Dalit and Mahadalit Sammelan.
He added: "My government has introduced the Mukhya Mantri SC/ST Udyamita Yojana for the unemployed — they will get loan of Rs 10 lakh to set up industrial units. In this scheme, 50 per cent of the grant will be in form of subsidy and the rest as free-of-interest loan. This is a major step towards the economic uplift of Dalits and Mahadalits in the state. The Bihar government has earmarked Rs 500 crore as 'capital' for its success."
Senior ministers Rajiv Ranjan Singh, alias Lalan Singh, Shailesh Kumar, Maheshwar Hazari, and former ministers Ashok Choudhary and Shyam Rajak were present at the public meeting.
The chief minister appealed to the Dalit and Mahadalit community in Munger division to send their children to school so that with higher education, they are able to get good jobs in the future. "The government has decided to give Rs 1 lakh and Rs 50,000, respectively, to Dalit and Mahadalit candidates who have passed the preliminary UPSC and BPSC exams and are preparing for the finals."
Kiran Devi, a resident of Munger town's Ganganagar area, who was among the Polo Maidan crowd, told The Telegraph that her children were not getting scholarship and other benefits promised by the government in school.
Soni Devi from the same area claimed the chief minister was lying, as her children too were not getting any scholarship at school. She alleged she had not been benefited under the Pradhan Mantri Ujwala Yojana too.
Ramdeo Prasad, the district president of the JDU's Dalit cell in Munger, hailed Nitish's announcements for the welfare of Dalits and Mahadalits. But he too claimed the Mukhya Mantri SC/ST Udyamita Scheme was just on paper in Munger district at present. "It has not been implemented in Munger district so far. Besides, bureaucrats are creating hurdles in the implementation of welfare and development schemes meant for Dalits and Mahadalits in the district."
Rajesh Kumar Das, the district president of JDU's Mahadalit cell, alleged Dalits and Mahadalits in the district were deprived of prestigious posts in the government.