Masked truth: Sounds and frames of the pandemic
26 artists participate in Strides at Stake, Art-Multidiscipline's online show of video presentations, in which music and sound effects lend depth to the visuals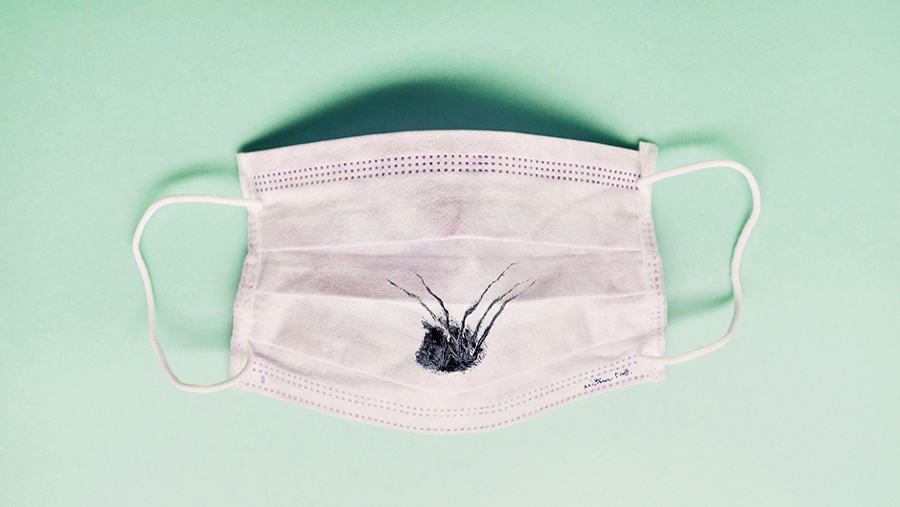 ---
---
When Asrafunnahar Ruhin calls the Covid-19 crisis "man-made", she goes to the core malaise of industrial culture which measures life in anthropocentric terms of endless desire. For it is this attitude that threatens Nature. Or Gaea, as Caesar Das says, Earth Goddess and the mother of all life, who now compels man to hide his face behind masks in shame like criminals. If this is Nature's culling ploy to restore balance among living creatures, Chhatrapati Dutta's premonition in his Dirge of Time suggests that the countdown may have already begun, as the masks in his video get increasingly splattered with blood.
They are among the 26 artists participating in Strides at Stake, Art-Multidiscipline's online show of video presentations, in which music and sound effects lend depth to the visuals. The mask, fast acquiring a hermeneutic symbolism, becomes a recurring motif. When Ruhin makes one with leaves — as does Suman Kabiraj — and another with polythene, two contrary options are suggested at this critical crossroads of civilization. If Aditya Basak makes the virus a multi-national high-flyer, no borders to bar it, Manas Acharya's off-beat cool squints at the lexical invasion of consciousness with little-used English terms. But Amrita Sen and Smarak Roy can still smirk at the pandemic through lively animation.
Several artists fret at the socio-economic fault lines that have thrown the marginalized into a precarious existence. But the work that salutes their resilience in finding commerce in the catastrophe is Nobina Gupta's sensitive installation of a fluid structure of masks hanging in intermittently silhouetted columns that sway like Calder's mobiles, catching flickers of superimposed, fragmented images and shadows.
This safety device, the mask, muffles identities and conceals emotions, rue Snehasish Maity, Ishita Adhikari and Rounak Patra. And, exiled in their homes, isolated individuals have only themselves to talk to, realizes Chandra Bhattacharjee. These gnawing anxieties seem to have been distilled in Samindranath Majumdar's painting in horizontal layers, mimicking surgical masks, as it evokes a vista that's bleak, grey, eerily dead.