World leaders caught discussing Trump
President Emmanuel Macron of France aggressively challenged President Trump during a televised appearance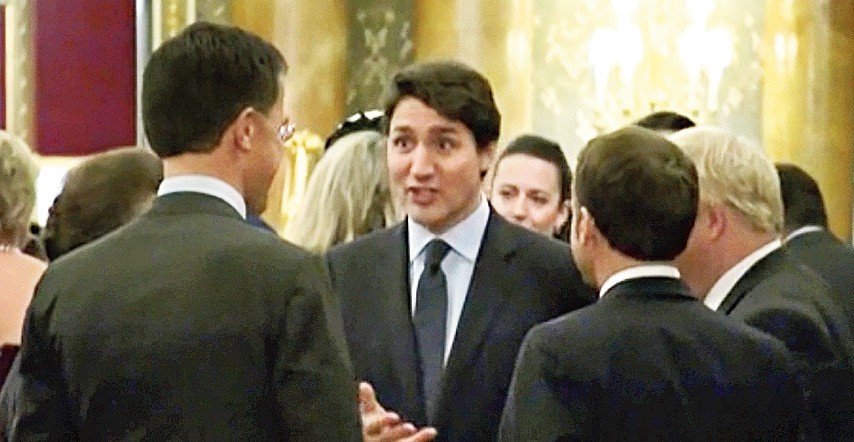 A picture taken from a video shows Canadian Prime Minister (centre) speaking with other world leaders at a reception in Buckingham Palace.
(AP)
---
London
|
Published 04.12.19, 07:27 PM
|
---
It was a Nato anniversary celebration designed specifically to avoid unwanted disruptions.
But those drama-free plans were upended on Tuesday when President Emmanuel Macron of France aggressively challenged President Trump during a televised appearance. And early on Wednesday brought another surprise, as a brief video surfaced that showed grinning world leaders at a Buckingham Palace reception apparently commiserating about Trump's unorthodox ways.
In the video, which was posted online by the Canadian Broadcasting Corporation, Prime Minister Justin Trudeau of Canada seems to be venting about Trump's behaviour during the first day of the two-day Nato summit meeting. Trump spoke to reporters for more than two hours in total on Tuesday, which appeared to astonish Trudeau.
"He was late because he takes a 40-minute press conference at the top," Trudeau says to a small group that includes Macron and the British Prime Minister, Boris Johnson, among others. Trudeau does not mention Trump by name during the exchange, at which he appears to be discussing the day's bilateral meetings.
"You just watch his team's jaws drop to the floor," Trudeau says at another point. Macron is also seen participating animatedly in the conversation, but his comments cannot be heard. Johnson is seen smiling. None of the world leaders seem to realise the conversation is being recorded.
Reacting to the video on Wednesday, Trump called Trudeau "two-faced".
"Well, he's two-faced," the President said when asked about the video. After a long pause, he added, "He's a nice guy. I find him to be a very nice guy."
Trump, who was taking questions from reporters ahead of a meeting with Chancellor Angela Merkel of Germany, attributed Trudeau's frustration to the American leader's pressure campaign to increase Canada's military spending to 2 per cent of its economic output.
"He should be paying more than he's paying," Trump said. "I called him out on that, and I'm sure he wasn't happy about it, but that's the way it is."
Trump was put on the defensive on Tuesday by Macron, who during a tense 45-minute appearance aggressively challenged the American President's vision for Nato and his handling of a military conflict involving Turkey.
Trudeau participated in a more genial meeting with Trump later on Tuesday.
Trump has long bridled at the idea of other world leaders poking fun at the US. "The world is laughing at us," he said frequently during his 2016 presidential campaign, criticising the leadership of President Barack Obama.
In June 2017, when he announced that the US would withdraw from the Paris climate agreement, Trump said that "we don't want other leaders and other countries laughing at us any more. And they won't be. They won't be".
In 2018, after laughter broke out at the UN General Assembly when Trump claimed his administration had "accomplished more than almost any administration in the history of our country", the President insisted that he was not the target.