Why is Rishi Sunak losing Britain's PM race to a rival regarded as shallow, impulsive and chaotic?
That's partly because the former chancellor of the exchequer is Brown, rich and too clever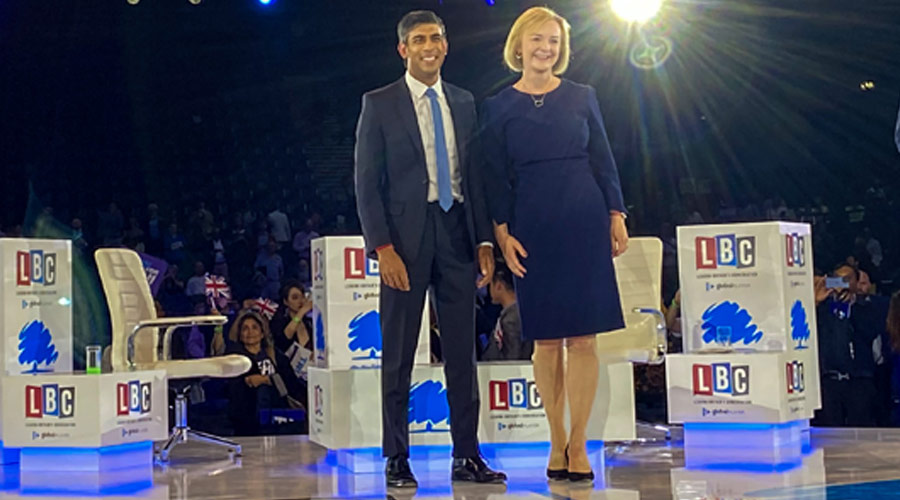 UKs Prime Ministerial candidates Rishi Sunak and Liz Truss at the final hustings event for the UK Prime Ministerial race in London.
PTI
---
Published 03.09.22, 09:50 AM
|
---
Britain's top political commentators haven't been able to find a kind word to say about Liz Truss, the woman who's the runaway favourite to become Britain's next Conservative prime minister. Leading Times columnist Matthew Parris probably put it most strongly: "She's crackers."
Said Parris, who's a former Conservative MP, about the foreign secretary who is all but certain to beat out ex-chancellor of the exchequer Rishi Sunak for the top job: "Truss is a planet-sized mass of overconfidence and ambition teetering upon a pinhead of a political brain." Furthermore, he said, "she's intellectually shallow, her convictions wafer-thin… (and she's) dangerously impulsive and headstrong."
A former Truss aide put it differently but no less forcefully: "She is chaotic and eccentric with manic energy. She grabs hold of random ideas and forces everyone around her to spend inordinate amounts of time talking her out of them."
So how is it, despite all the warnings on the op-ed pages of most British newspapers, that Truss looks almost guaranteed to be the next prime minister? The party polls put her way ahead of Sunak in voting among Conservative rank-and-file that ended on Friday evening.
There's no doubt there's been an astonishing turnaround. Sunak was the first choice of Conservative Party MPs and handily defeated a field of 10 candidates including Truss. But under party rules, the final leadership choice is made by a tiny pool of 160,000 Conservative Party members around the country (largely wealthy, white and male with an estimated median age 57). Here, it looked clear Sunak was very much the underdog.
Still a tight race 
A YouGov poll last month found that 69 per cent of party members favoured Truss and only 31 per cent Sunak. People are still expecting Truss to road-roller through, though one of Sunak's supporters insisted that the race was much tighter than it appeared. The MP, a Sunak supporter, said he'd had canvassed his constituents and found the two candidates about even.
But the fact is that the former banker had a string of handicaps when it came to facing the Conservative members around the country. Firstly, he was brown. Secondly, by resigning as chancellor and triggering Boris Johnson's downfall, Sunak was seen as the Brutus to Johnson's Julius Caesar. Despite Johnson's scandal-ridden leadership that included videos of him partying when strict Covid-19 lockdown rules were in force, he was still beloved by the Conservative rank-and-file.
It also didn't help that Sunak had a slick campaign video that had clearly been put together months before his cabinet resignation which made his exit "out of principle" look all too planned. As well, the fact that his wife is richer than the queen made him an easy target for jibes about his wealth. 
Storm over tea cups
One visit to a construction site ended up as a discussion about Sunak's 500 POUNDS STERLING Prada shoes. And when his wife Akshata served tea to journalists, they discovered it had come in 38 POUNDS STERLING cups. 
Finally, as The Economist remarked: "The Tories are suspicious of cleverness" and Sunak was too clever by half and too hardworking. For instance, he actually read government policy briefings, unlike Johnson.
By contrast, Truss got off lightly even after terrific foot-in-mouth tangles. At one meeting, she announced she might cut the pay of millions of teachers, nurses and police officers if they worked where living costs were cheaper. So, a  Newcastle nurse could earn less than a London nurse doing the same job. Truss was forced into a humiliating U-turn after a backlash from within her own party – and denied even that she had made the proposal. 
She was recorded on tape as saying British workmen were lazy and needed to display "more grift." Last week, she said "the jury is still out" on whether Emmanuel Macron, president of fellow NATO member France, is "friend or foe." Then, in a gaffe that went viral, she promised supporters, "I will continue to stand up for Vladimir Putin."
Role of racism
How big a role did racism play in the vote? It was clear that the people in Westminster – MPs, journalists, and civil servants – who knew both Sunak and Truss, far preferred the former chancellor. By contrast, the polls have consistently shown that Sunak trailed far behind, especially when it came to older Conservative Party members. The younger ones, who make up just 6 per cent of the overwhelmingly elderly grassroots members, were slightly more favourably inclined towards him.
If Truss does win, she faces a desperate situation – both in the country and in the party, which is massively unpopular after 12 years in power. Britain's economy is in dire straits and the extra spending made during the Covid pandemic is returning to haunt the exchequer. Domestic energy charges are set to soar, leaving many poorer Britons saying they will have to choose between "heating and eating." 
Already, restaurants, shops and businesses are closing because they say they can't afford fuel costs. Goldman Sachs warns that UK inflation, riding at 10 per cent now, could top 22 next year. The Bank of England is hiking interest rates aggressively, meaning those who bought houses when interest rates were virtually zero, now will be facing much higher repayments.
Prescription for the economy
With the UK economy tanking, Sunak has firmly opposed tax cuts and greater spending and this has been an unpopular message with voters.
Truss, by contrast, has come out with the suggestion that in difficult situations, like a war, deficit spending is the only way forward. She believes that tax cuts will lead to extra spending and tax revenues and rescue the economy. Leading economists have condemned her views as fiscally irresponsible.
On another front, she has made aggressive noises about Britain's problems with Northern Ireland and the European Union that could plunge the UK into a trade war with its closest major market. On Ukraine, she has made provocative and hawkish statements. On one occasion she called out Putin as a "rogue operator". Another time, she promised she would be "Ukraine's greatest friend".
Ties with China, US
In addition, she wants to take a tougher line with China. In a recent profile, the Financial Times said that when Truss was making a visit to the US in her foreign secretary role, she aggressively asked American diplomats about the UK-US supposed 'special relationship'. "What have you done for us lately?" Truss is said to have demanded of her nonplussed US interlocutors.
Then, there's the fact that Truss did not win the vote from the MPs. Many will be disinclined to be cooperative unless they are won over with career-boosting or cushy jobs. Also, critics say there now is a dearth of talent on Conservative benches as many moderate MPs were forced out of the party when Johnson swerved to the populist right.
There will be a giant wall of challenges confronting the new occupant of Downing Street. Said the right-wing magazine The Spectator: "Whoever wins the Tory election on Monday will face a mountain of problems from day one. War, inflation, spiralling costs and a mutinous party: the in-tray will be veritably groaning."
'See you later'
Besides that, there's a burly shadow hanging over No 10 Downing Street and its new occupant. Johnson, despite a new opinion poll showing him topping a list of the UK's worst post-war prime ministers, believes he can redeem his reputation with the wider public and is refusing to rule out another run for the job he loved. In his last speech to parliament, Johnson bid farewell with a quote from Arnold Schwarzenegger's The Terminator: "Hasta la vista, baby!" which means "See you later."
Britain is now about two years away from its next general election. Will Truss defy expectations and successfully steer the ship of state or will she create an almighty mess in the short time she's in power and thus give the Labour Party an easy stroll into No 10 and the government?  
Probably it's best left to Matthew Parris to forecast the future under Truss. "The government will descend into a huge effort to contain and defang an unstable prime minister; and we shall revert to our first impressions. Save yourself the detour and stick with them… It isn't going to work."