UK PM race: Dare not write Rishi Sunak off
Latest leadership odds have the bookies offering 92 percent for a Truss win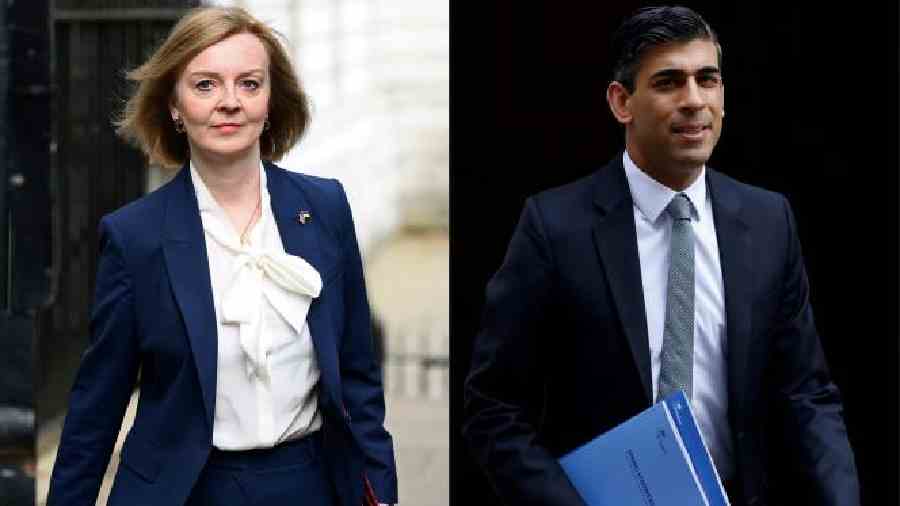 Liz Truss (L) and Rishi Sunak
File Picture
---
London
|
Published 03.09.22, 12:32 AM
|
---
Even as polls closed in the Tory leadership contest at 5pm on Friday with Liz Truss almost certain of victory, one of the Rishi Sunak's supporters warned against writing off his chances.
Kevin Hollinrake, the Tory MP for Thirsk and Malton who is backing the former chancellor, told Sky News: "I've seen some of the polls and national polls. I think it's quite hard for pollsters to determine who is a Conservative member and who is not because there's not an open database.
"But I know who mine are. I polled my 700 members, 239 of them responded, so about a third of them responded, and Rishi got an eight-point lead."
"And I've seen similar kind of polls around different constituencies around the country. So I don't think it's cut and dried. I think he's probably neck and neck."
However, The Guardian was among papers to point out: "Obviously Hollinrake's opinion doesn't quite tally with the reality of Truss having dominated all publicly available surveys between the two final candidates for weeks now. By contrast, bookies have Truss as the overwhelming favourite at 1/20, while Sunak trails behind with odds of 10/1."
The latest leadership odds reported in the Daily Telegraph have the bookies offering 92 percent for a Truss win, compared with 8 percent for Rishi.
One apparently intelligent reader suspects a conspiracy has been hatched: "Word on the street is that there's skulduggery at play. There appear to be several Indians living in India who joined the Conservative party as part of a plan for Rishi to win the leadership race. I attended the debate and on arrival I noticed there was rent a mob practising their 'Rishi' chants. Rather unnecessary and certainly not representative of the audience. Should Rishi win I will demand an independent investigation into all members and their eligibility to vote. Let's not forget Rishi's father-in-law owns the IT system Infosys. I have from the onset relayed these concerns as have others."
The result of the contest will be declared at 12.30 pm on Monday, September 5.
There are those in the Conservative party who are not reconciled to Boris Johnson's resignation as prime minister and want him back. For the time being, he is returning to the backbenches but has been vague about whether he wants to emulate Donald Trump and attempt a comeback.
Another Daily Telegraph reader admitted: "I voted for Boris Johnson in 2019 and put his name down again this time thus spoiling my ballot and am pleased I did.
"Rishi Sunak betrayed Johnson with his opportunistic resignation and Liz Truss once convincingly called for the abolition of the monarchy whilst a Liberal Democrat and voted against Brexit yet now she supports both.
"At least you knew what you got with Boris even before he became prime minister. I remember the treacherous way the great Margaret Thatcher was brought down in 1990. Not by Labour, but her own 'colleagues'.
"When Truss becomes PM she won't have to worry about the Opposition as they will at least stab her in the front."
Lord Marland, a Conservative peer who led Boris's London mayoral campaign and is a longstanding friend, said there was a "distinct possibility" that he would again aim for No 10.
"The scenario could be that we lose the next election, we could be looking for a leader who can win elections – and of course Boris Johnson has that," said Marland, who served as the prime minister's trade envoy and is a former Tory party treasurer.
There is an India connection in the Truss family. In the expectation she will become prime minister on Monday, the Times has done a profile of her and found her maternal grandfather, George Grasby, "was a bright student who won a place to read classics at The Queen's College, Oxford. In the Second World War he served with the army in India in an intelligence role, carrying out espionage and counter-espionage activities".