Violence flares on Dhaka streets
23 policemen injured and five vehicles burnt, BNP slams 'unprovoked attack'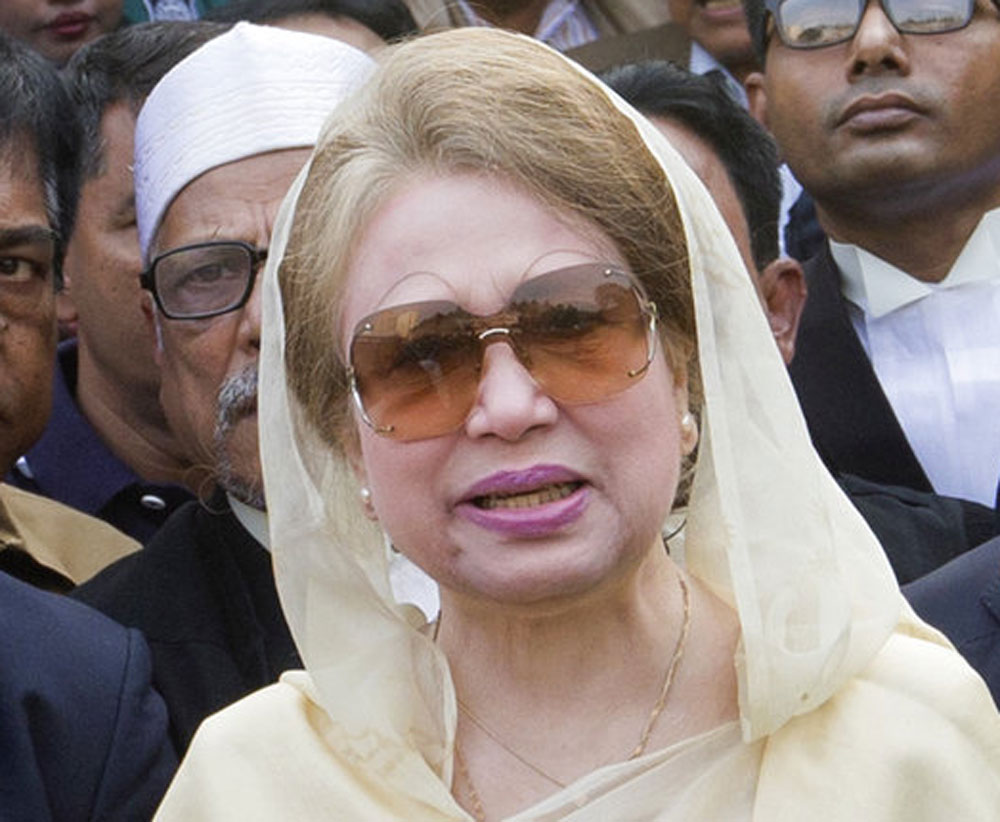 Bangladesh's former Prime Minister Khaleda Zia's demand for a caretaker government has not been met.
AP file picture
---
Calcutta
|
Published 14.11.18, 10:48 PM
|
---
Violence returned to the streets of Dhaka on Wednesday as policemen were first targeted and then their vehicles torched, bringing back memories of street protests in Bangladesh ahead of the January 2014 general election.
Reports suggested that at least 23 policemen were injured in the clashes and five vehicles burnt. However, none could confirm how many people had been arrested or the number of injured.
The poll panel in Bangladesh has scheduled elections for December 30, pushing back the date by seven days following demands by some Opposition parties. However, the Bangladesh Nationalist Party had sought a one-month deferment.
Unlike the last general election, this time the BNP has announced its decision to contest the polls even though its demand for a caretaker government and release of its chairperson, Begum Khaleda Zia, have not been met.
The announcement was made on Sunday after poll hopefuls started milling around the party headquarters in the Naya Paltan area of Dhaka.
The centre of Wednesday's violence was the area around the BNP headquarters. The protesters first clashed with cops and then set ablaze some police vehicles.
The police blamed the BNP supporters for the violence and said they were attacked without provocation while they were trying to maintain order. BNP leaders, however, accused the police of launching an unprovoked attack on party supporters.
"Such scenes are very disturbing…. We remember how the violence in the run-up to the last general election brought the country to a grinding halt," said a political observer in Dhaka.
Wednesday's violence was surprising as well, said the observer, before adding that unlike last time, the ruling party and the Opposition had held several meetings over the conduct of the polls. "The dialogues, headed by Prime Minister Sheikh Hasina, had given the impression that a conducive atmosphere for the polls had been created."
The BNP's decision to join the polls was a welcome step… The scenes we witnessed today, however, told a different story," said the observer.
Bangladeshi media reported that BNP leaders had accused the ruling Awami League of vitiating the election atmosphere.
The Awami League, however, claimed that the BNP was trying to foil the election through violence.
BNP secretary-general Mirza Fakhrul Islam Alamgir denounced the police action as "injustice". He alleged a government plot to exclude the party from the December 30 elections.
Home minister Asaduzzaman Khan told reporters that the authorities would check video footage of the confrontation and take legal action against those identified as having attacked the police or set fire to vehicles.