Pro-Trump rally shooting kills 1
Victim was wearing a hat with the insignia of Patriot Prayer, a far-right group that has clashed with protesters in the past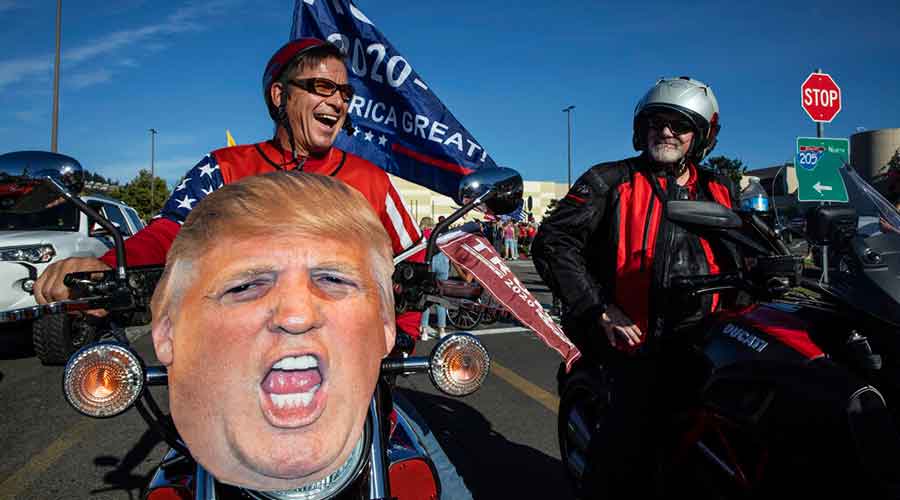 Supporters of President Donald Trump at a rally and car parade from Clackamas to Portland
AP
---
Portland, Oregon
|
Published 31.08.20, 12:58 AM
|
---
A man was shot dead on Saturday as a large group of supporters of President Donald Trump travelled in a caravan through downtown Portland, Oregon, which has seen nightly protests for three consecutive months.
The pro-Trump rally drew hundreds of trucks full of supporters into the city. At times, Trump supporters and counter-protesters clashed on the streets, with people shooting paintball guns from the beds of pickup trucks and protesters throwing objects back at them.
A video that purports to be of the shooting, taken from the far side of the street, showed a small group of people in the road outside what appears to be a parking garage. Gunfire erupts, and a man collapses in the street.
The man who was shot and killed was wearing a hat with the insignia of Patriot Prayer, a far-right group based in Portland that has clashed with protesters in the past.
The Portland Police Bureau said officers heard reports of gunfire shortly before 9pm and found a victim with a gunshot wound to the chest. It was determined that the victim had died. They did not release any information about a possible gunman.
"This violence is completely unacceptable, and we are working diligently to find and apprehend the individual or individuals responsible," Police chief Chuck Lovell said early on Sunday.
At the scene, police officers blocked off the road and medics attended to a person who appeared to have a chest wound.
The shooting capped a volatile week in the US that began when the police in Kenosha, Wisconsin, repeatedly shot a Black man, Jacob Blake, prompting new protests against racism and police brutality that included the cancellation of professional sports games. 
The police said they made 10 arrests on Saturday night, although it was not immediately clear how many were participants in the pro-Trump rally and how many were countering the event.
New York Times News Service