US 'cities' for Afghan guests
The evacuees said they were grateful for the warm reception they have received at the fort, but for many, the long wait has been gruelling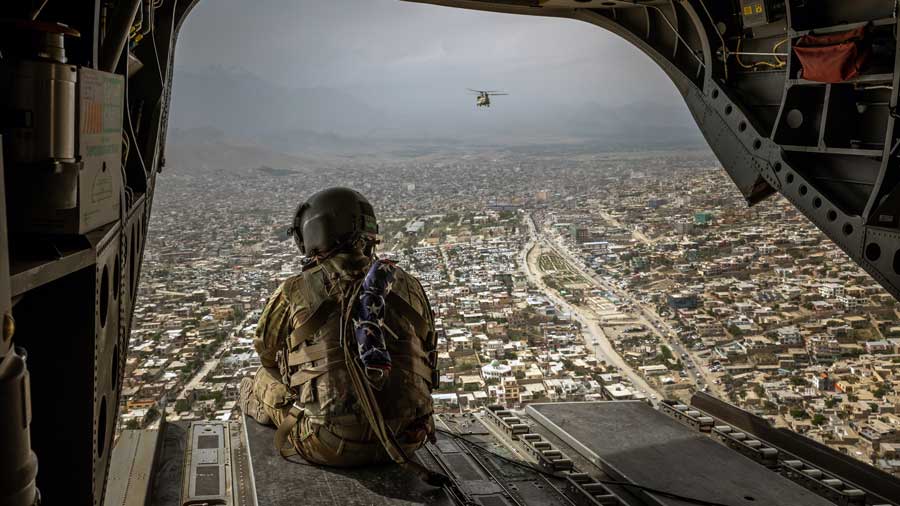 ---
Fort McCoy, Wisconsin
|
Published 04.10.21, 12:40 AM
|
---
In late August, evacuees from Afghanistan began arriving by the busload to the Fort McCoy Army base in the Midwest, carrying little more than cellphones and harrowing tales of their narrow escapes from a country they may never see again. They were greeted by soldiers, assigned rooms in white barracks and advised not to stray into the surrounding forest, lest they get lost.
More than a month later, the remote base some 270km from Milwaukee is home to 12,600 Afghan evacuees, almost half of them children, now bigger than any city in western Wisconsin's Monroe County.
The story is much the same on seven other military installations from Texas to New Jersey. Overall, roughly 53,000 Afghans have been living at these bases since the chaotic evacuation from Kabul.
While an initial group of about 2,600 people — largely former military translators and others who helped allied forces during the war — moved quickly into American communities, a vast majority remain stranded on these sprawling military way stations, uncertain of when they will be able to start the new American lives they were expecting. An additional 14,000 people are still on bases abroad, waiting for transfer to the US.
"We built a city to house almost 13,000 guests," said Col Jen McDonough, deputy commander for sustainment at Fort McCoy, where about 1,600 service members are tasked with ensuring the massive operation runs smoothly.
On a recent warm autumn day here, refugees played a pickup game of soccer with soldiers, young children made arts and crafts with volunteers while their mothers studied English in an adjacent classroom, and families at a warehouse rummaged through boxes of donated underwear, shirts and jackets.
Afghan evacuees said they were grateful for the warm reception they have received at the fort, but for many, the long wait has been gruelling.
US officials say the delays are a result of a measles outbreak, medical checks and a vaccination campaign, as well as the need to complete immigration processing, which involves interviews, biometric exams and applications for work permits.
A shortage of housing also is creating delays. Many families wish to settle where they already have friends or relatives, in places with existing Afghan communities such as California and the Washington DC area. But officials have said that a dearth of affordable apartments could postpone their resettlement.
The residents seen on a tightly controlled media tour of the base represented a cross-section of Afghan society.
Among them was a group of 148 young women who hoped to finish their university education in the US, and the principal of an international school. There was an Afghan Air Force pilot who had learned to fly UH-60 Black Hawk helicopters in Alabama and Texas.
There were men and women from remote provinces, including a cook who had prepared food for soldiers in a far-flung outpost. Some people wore traditional Afghan attire. Others donned jeans and T-shirts. About half knew some English, but others would need to begin learning to read and write once they resettled in the US, officials said.
About 50 to 60 people live in each two-storey barracks, where single beds sit side-by-side. For privacy, families have improvised partitions using sheets.
"Grab and go" cafes offering tea, coffee and light snacks are bustling. But the eight self-service laundromats have been underutilised: Most Afghans have preferred to wash their clothing by hand and hang it out to dry on lines, which the military quickly erected.
Passing the time has been another challenge. "When we arrived here, we were sitting in our rooms doing nothing," said Sepehra Azami, 25, who was studying economics before she fled.
Azami, Ibrahimy and another friend, Batool Bahnam, asked some mothers whether they were interested in having their children learn basic conversational English. They were. Soon, adults began approaching the young women about lessons.
Abdulhadi Pageman, the former Afghan Air Force pilot, said: "These children are the future of the US. They will be scientists, engineers. You just have to be patient."
New York Times News Service