Unusual calm in Bangla
Roads empty, Net slow as ruling party & rivals face off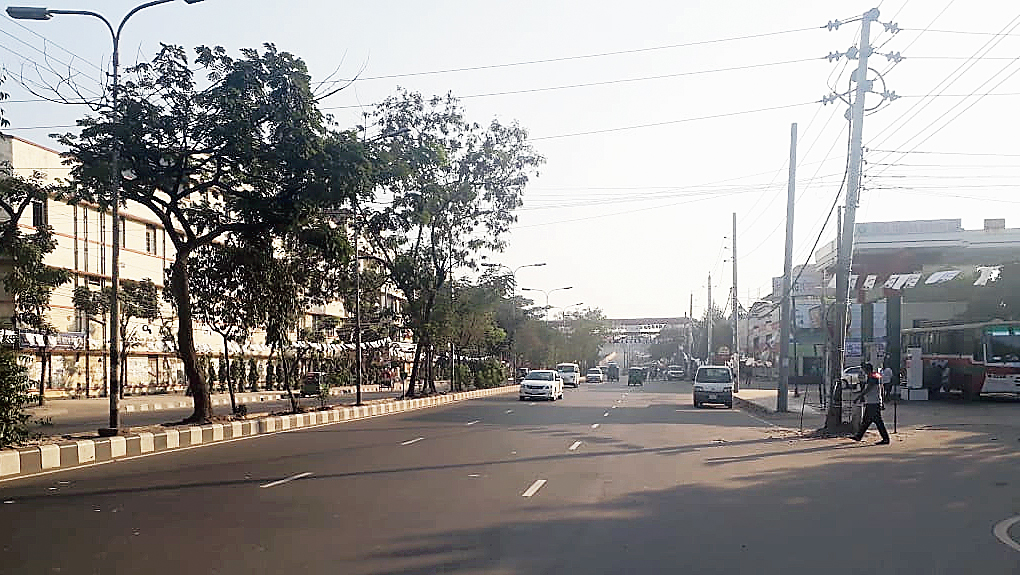 A deserted Dhaka street on Friday.
Picture by Devadeep Purohit
---
Dhaka
|
Published 28.12.18, 08:16 PM
|
---
High-speed Internet connectivity was restored in Bangladesh on Friday after a 12-hour hiatus, but life slipped into a stupor in its otherwise bustling capital ahead of Sunday's general election that will determine whether incumbent Prime Minister Sheikh Hasina can secure a record third term in office.
"I was upset because I could not log into social networking sites last night," said a young woman who was busy "Facebooking and WhatsApping" at an upscale café in Gulshan, a fortified diplomatic enclave in Dhaka. "It may go off again."
Restricting high-speed Internet services is common in Bangladesh, where rumours spread like wildfire, and the telecom regulators do that often to prevent propaganda against the government.
Life, however, returns to normal each time the curbs are lifted.
But this time there is a strange calm in one of the busiest cities in the world. Reports from across the country suggested that it was a nationwide phenomenon.
The customer count was unusually low at the café considering it's a Friday, a waiter said. "If people don't come out and the roads remain empty, can the café be full?" he asked.
Sitting in the Gulshan office of the Bangladesh Nationalist Party, the main Opposition force, secretary-general Mirza Fakrul Islam Alamgir spoke of an atmosphere of fear.
"The country has never seen a one-sided election like this. The ruling Awami League has successfully driven us out by unleashing unprecedented violence. There is fear in the air and it's getting reflected (in people's reluctance to step out)," he said.
Chief election commissioner K.M. Nurul Huda said on Friday evening that his office had taken steps to "secure voters" before adding he hoped the polls would be held in a festive and joyful atmosphere.
The army has been deployed in 389 of the country's 492 upazilas since December 24 along with police, the Rapid Action Battalion and the Border Guards Bangladesh.
Alamgir, however, voiced a different narrative. "The poll panel is biased, the administration is working for the ruling Awami League…. Everything is managed. This is not democracy," he said, adding that 98,000 cases had been lodged against 2.5 million BNP supporters.
"But if voters are allowed to reach the polling booths, you will witness a silent revolution on Sunday," Alamgir said.
The mood at the BNP office — swamped with posters of jailed chairperson Khaleda Zia and her exiled son Tareq Zia — did not reflect the hope held out by Alamgir. The office was deserted.
Over the past few days, the leaders of the BNP-led coalition of Opposition parties have been alleging attacks.
The Awami League has swatted away the charges. "If people are inside, it's because of them…. The BNP and its ally Jamaat have a tradition of unleashing violence whenever they are cornered. Now that everyone knows that they don't stand a chance, there is fear that they will make mischief," said Md. Abdur Rahman, joint general secretary of the League.
Several Dhaka residents told this correspondent that though the calm was unusual, it was welcome. "We were expecting some unrest (on) Friday... but the day passed off peacefully," said a western diplomat. "The challenge for the ruling party was to maintain peace and retain the BNP-led Opposition in the election…. They have succeeded in both, at least till now," he added.
There is a divide in the BNP over whether to take part in the polls or leave the fray.
"Instead of taking on the ruling party head-on through movements, our leaders only held news conferences and cried foul. This pushed some of our ardent supporters back to their homes and exposed our lack of preparedness," said a source in the BNP camp.
According to him, while the BNP could have gained significantly from strong anti-incumbency, bickering among its leaders had weakened its prospects.
"We have been banking solely on anti-incumbency to get votes and on the international community to ensure free and fair polls. In the process, we forgot to reach out to the voters and that's why our only hope is a silent revolution in the ballot box," the source said.