UK minorities urged to take vaccine
Celebrities tell Asians and blacks not to listen to fake news as Covid toll hits 100,000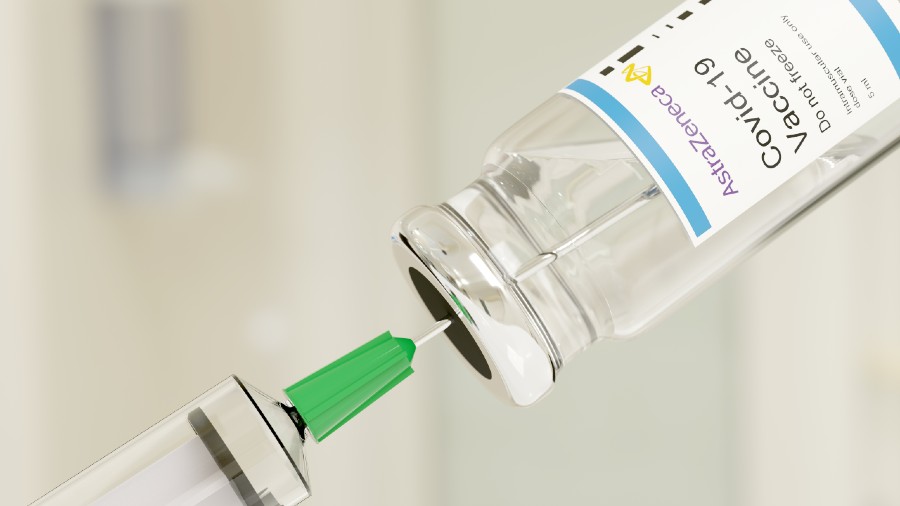 AstraZeneca Covid-19 vaccine
Shutterstock
---
London
|
Published 28.01.21, 01:03 AM
|
---
On a day when Britain marked a grim milestone with the Covid death toll crossing the 100,000 barrier, Asian and black celebrities put out a video urging members of the ethnic minorities not to listen to fake news but instead take the vaccine.
Dressed in cricketing gear at nets in Sri Lanka, England cricketer Moeen Ali, who is known to be a devout Muslim, said: "Many in our community have suffered the most — largely due to our efforts on the front line as NHS key workers. Soon we will be reunited with our friends and family providing we do one simple thing — take the vaccine."
The message from the actress Meera Syal was: "My mum has had the vaccine."
On Tuesday, the total number of people who had died 28 days after testing positive reached 100,162. There were another 1,631 news deaths announced, with the mortality rate expected to remain high for the next few weeks.
The Prime Minister, Boris Johnson, whose leadership is now being questioned, told a Downing Street conference: "I am sorry to have to tell you that today the number of deaths recorded from Covid in the UK has surpassed 100,000, and it is hard to compute the sorrow contained in that grim statistic.
"The years of life lost, the family gatherings not attended and, for so many relatives, the missed chance even to say goodbye. I offer my deepest condolences to everyone who has lost a loved one: fathers and mothers; brothers and sisters; sons and daughters and the many grandparents who have been taken."
He offered an apology: "On this day I should just really repeat that I am deeply sorry for every life that has been lost and, of course, as I was Prime Minister I take full responsibility for everything that the government has done."
He promised that "when those vaccines have finally freed us from this virus and put us on a path to recovery, we will make sure that we learn the lessons and reflect and prepare.
"And, until that time, the best and most important thing we can all do to honour the memory of those who have died is to work together with ever greater resolve to defeat this disease. And that is what we will do."
Wednesday's newspapers reflected the reality that the UK is among the worst affected countries in the world. Composite photographs of those who had passed away revealed many Asian faces.
Last month, a poll commissioned by the Royal Society of Public Health suggested only 57 per cent black, Asian and minority ethnic people would be happy to have the coronavirus vaccine, compared with 79 per cent of white people.
The video assures the Asian and black communities that the vaccine does not contain pork or any animal products, nor does it not alter human DNA. It also does not affect fertility.
Sri Lankan origin comedian Romesh Ranganathan declared: "There is no chip in the vaccine to watch where you go — your mobile phone actually does a much better job of that."
Others who have contributed to the video include the mayor of London, Sadiq Khan; former Conservative party chairman Saeeda Warsi; presenter Konnie Huq; former Coronation Street actress Shobna Gulati; and the actor Sanjeev Bhasker.
Astra package scare
A suspicious package at an AstraZeneca vaccine plant has been made safe and production schedules of the shots have not been affected, the company Wockhardt UK said on Wednesday. "We can confirm that the investigation on the suspicious package received today has been concluded," Wockhardt UK said.
The video is the initiative of actor and presenter Adil Ray, who told BBC Radio Leicester: "For the British Asian and black communities, at the very beginning of the pandemic we were told they were perhaps the most vulnerable, that there was a disproportionate number of cases and even deaths."
"Even now there are a disproportionate number of deaths. But nothing was really done about it and that was really quite confusing
for a lot of the community. So we felt that we've got to try and take the lead a little bit here and dispel some of these myths."
He added: "This was recorded entirely independently from the government – the only thing we did do was we went to the NHS website for the correct medical guidance."