Turkey lifts veto on new Nato members
The historic deal underscores how the war in Ukraine has backfired for President Vladimir Putin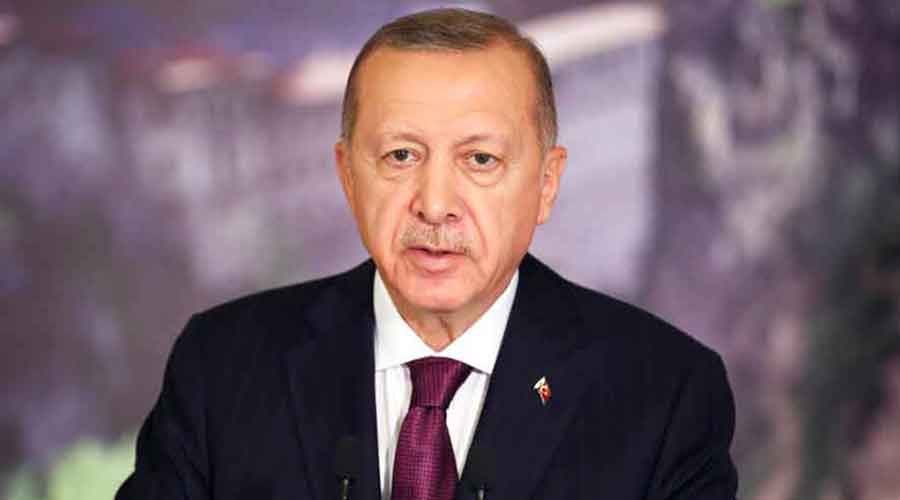 Recep Tayyip Erdogan
File Photo
---
Madrid
|
Published 30.06.22, 02:17 AM
|
---
Nato on Wednesday welcomed Finland and Sweden into the alliance after Turkey lifted its veto on their membership, clearing the way for what would be one of the most significant expansions of the alliance in decades.
The historic deal, following Turkey's agreement to a memorandum with the two Nordic countries, underscores how the war in Ukraine has backfired for President Vladimir V. Putin, subverting Russian efforts to weaken Nato and pushing Sweden and Finland, which were neutral and nonaligned for decades, into the alliance's arms. After weeks of talks, capped by an hours-long meeting in Madrid, President Recep Tayyip Erdogan of Turkey agreed to lift his block on Sweden and Finland's membership in return for a set of actions and promises that they will act against terrorism and terrorist organisations.
"As Nato allies, Finland and Sweden commit to fully support Turkey against threats to its national security," NATO's secretary-general, Jens Stoltenberg, said, providing some details of the agreement. "This includes further amending their domestic legislation, cracking down on PKK activities and entering into an agreement with Turkey on extradition," he added, referring to the Kurdistan Workers' Party, which seeks an independent Kurdish state on territory partly within Turkey's borders. The next steps for Finland and Sweden are clear: Nato will vote to accept their applications. There will also be a quick study of their defence capacities and needs.
But the talks are expected to be routine since both countries are Nato partners and have exercised together with Nato allies. The more difficult last step requires the legislatures of all 30 current members to vote to amend the Nato founding treaty to accept the new members. That has in the past taken up to a year but is expected to be much quicker for the Nordic countries.
The US Senate is already pressing ahead with hearings on the application, and Biden has been a firm proponent of the new members. Erdogan had been blocking the Nordic countries' Nato bids amid concerns over Sweden's long-time support for the PKK, which has attacked non-military targets and killed civilians in Turkey, is outlawed in that country and is designated by both the US and the EU as a terrorist organisation. But the memorandum does not specify the extradition of any of the 45 people or so Erdogan wanted to be sent to Turkey to face trial on terrorism charges.
Sweden has already passed tougher legislation against terrorism that goes into effect on Friday. Both Finland and Sweden had been militarily nonaligned for many years but decided to apply to join the alliance after Russia invaded Ukraine in February. With Russia attacking a neighbour, both countries felt vulnerable, though Sweden, with a long tradition of neutrality, was more hesitant.
Putin warned both countries against joining Nato, but his threats proved counterproductive. The two countries bring geostrategic benefits to the alliance. Finland shares a 1,335-km border with Russia and has a well-equipped modern army; Sweden can control the entrance to the Baltic Sea, which will help a great deal in Nato planning to defend the more vulnerable countries in Eastern Europe.
(New York Times News Service)