Trump seeks Pakistan help on Afghanistan
US diplomat Zalmay Khalilzad, appointed as as a special envoy for Afghanistan, will travel to Pakistan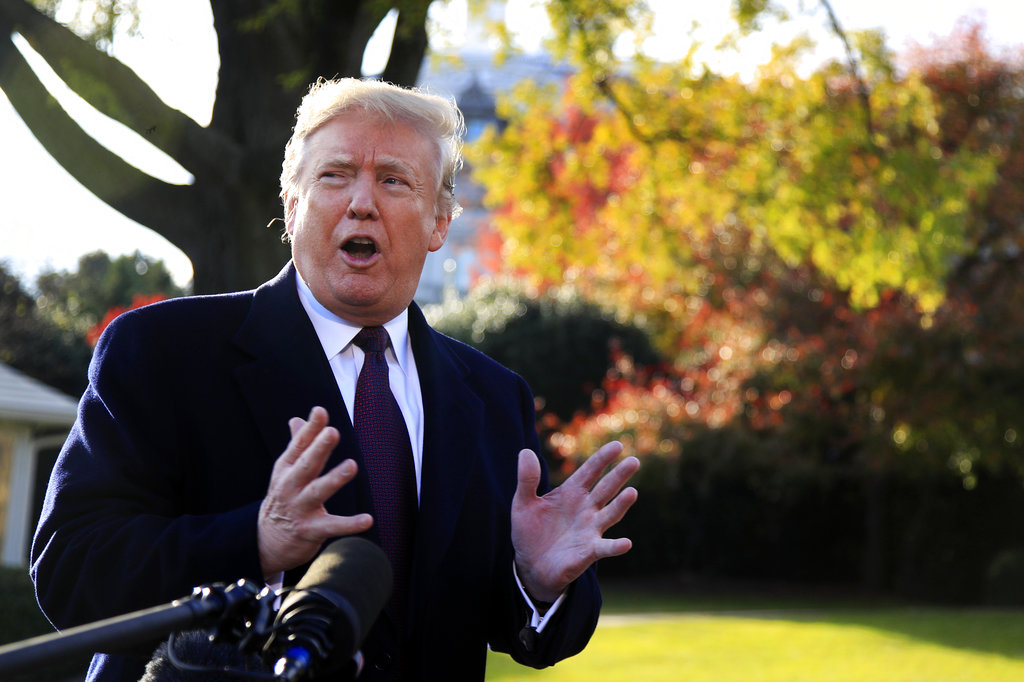 US President Donald Trump sought Islamabad's help in a letter addressed to Prime Minister Imran Khan
(AP)
---
Islamabad
|
Published 03.12.18, 07:44 PM
|
---
US President Donald Trump has sought Pakistan's support in achieving a negotiated settlement of the Afghan issue and renewing the partnership between the two countries.
Trump has appointed Afghan-born US diplomat Zalmay Khalilzad as a special envoy for Afghanistan, tasking him with pushing through peace talks.
Khalilzad last month set a deadline of April 2019 for the war to end. But Afghan Taliban militants last month rejected the proposed deadline and said a three-day meeting in Qatar between their leaders and Khalilzad, to pave the way for peace talks, ended with no agreement.
Khalilzad on Sunday began an eight-country tour, which includes Pakistan, Russia and Qatar, to promote peace and convince the Taliban to join negotiations.
"He will meet with Afghan government officials and other interested parties to support and facilitate an inclusive peace process in Afghanistan, empowering the Afghan people to decide their nation's fate".
Pakistan said on Monday that Trump had sought its help with the talks. "He has asked for Pakistan's cooperation to bring the Taliban into talks," information minister Fawad Chaudhry said on Monday.
Trump told Khan the Pakistan relationship was very important to the US and to finding a solution to the conflict, Chaudhry added. The US embassy in Islamabad had no immediate comment on the letter.
Trump sought Islamabad's help in a letter addressed to Prime Minister Imran Khan.
"US President Donald Trump, in his letter stated that his most important regional priority was achieving a negotiated settlement of the Afghan war (and) in this regard, he has sought Pakistan's support and facilitation," Pakistani foreign ministry said in a statement.
Trump, who recently banned assistance for Pakistan over "its failure to deliver" also acknowledged that the war had cost both US and Pakistan.
"He has emphasised that Pakistan and US should explore opportunities to work together and renew partnership".
A statement posted by the state department on its website said, "Khalilzad will be in communication with President Ghani, Chief Executive Abdullah, and other Afghan stakeholders to coordinate closely on efforts to bring the Taliban to the negotiating table with the Afghan government and other Afghans".
Officially allies in fighting terrorism, Pakistan and the US have a complicated relationship, bound by Washington's dependence on Pakistan to supply its troops in Afghanistan but plagued by accusations Islamabad is playing a double game.
Last month, Trump said in an interview that Pakistan doesn't "do a damn thing" for the US despite billions of dollars in US aid, adding that Pakistani officials knew of Osama bin Laden's location before his killing by US troops in a 2011 raid inside Pakistan.
Khan hit back by saying the US should not blame Pakistan for its failings in Afghanistan. Pakistani officials, who deny offering safe havens to the Afghan Taliban, say their influence on the group has waned over the years.