Trump tells journalist he 'downplayed virus'
The president was speaking with Washington Post scribe Bob Woodward about his upcoming book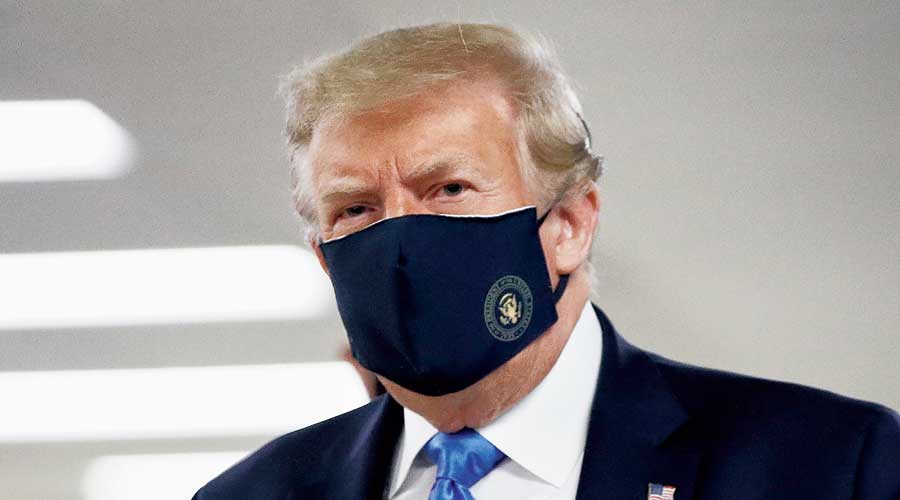 ---
|
New York
|
Published 10.09.20, 03:46 AM
---
President Trump acknowledged to the journalist Bob Woodward that he had knowingly played down the coronavirus earlier this year even though he was aware it was "deadly" and vastly more serious than the seasonal flu.
"This is deadly stuff," Mr. Trump told Woodward on February 7 in one of a series of interviews he conducted with the President for his upcoming book, Rage. The Washington Post and CNN were given advance copies of the book and published details on Wednesday.
"You just breathe the air and that's how it's passed," Trump said. "And so that's a very tricky one. That's a very delicate one. It's also more deadly than even your strenuous flu."
That was a vastly different story than Trump was telling the public.
"I wanted to always play it down," Trump told Woodward on March 19. "I still like playing it down, because I don't want to create a panic."
In public, Trump claimed early on that the virus would disappear, predicting in February that by April, "when it gets a little warmer, it miraculously goes away". Woodward conducted 18 interviews with Trump for the book, due to be released Sept 15.
The White House on Wednesday denied Trump intentionally misled Americans about the virus, which has killed more than 190,000 people in the US so far, with new cases spiking in the Midwest.
"Absolutely not," White House press secretary Kayleigh McEnany told reporters at a news briefing shortly after reports about the book emerged. "The President never downplayed the virus."
Maskless concern
Dr Anthony S. Fauci, the nation's leading infectious diseases expert, expressed concern on Wednesday morning about the example President Trump had set the night before when he held a large campaign rally in North Carolina without wearing a mask.
Appearing on CBS This Morning to talk about the hunt for a coronavirus vaccine, Dr Fauci was asked whether the sight of such rallies was frustrating for him.
"Well, yes it is, and I've said that often," he said. "We want to set an example."
Some North Carolina Republicans had apparently hoped that the President would wear a mask as well.
Before the rally, Dave Plyler, the Republican chairman of the Forsyth County Board of Commissioners, was quoted by The Winston-Salem Journal as saying that he believed Trump should wear a mask.
"It's been ordered by the governor," Plyler said, noting the state's virus orders. "When in Rome, do as the Romans do. When in North Carolina, do as the governor says."
But Trump, who has worn masks in public only a handful of times, and who mocked his Democratic opponent, Joseph R. Biden Jr, for wearing one just last week, appeared at the rally without a mask.
Scott Sexton, a columnist at The Journal, wrote after the rally that "red hats outnumbered masks and face coverings by at least a 100-to-1".
Dr Fauci said that public health measures such as wearing masks, keeping physical distance, avoiding crowds and moving activities outdoors rather than indoors "are the kind of things that turn around surges and also prevent us from getting surges".