'War not an option to solve problems'
Taiwan's Tsai offers assistance to China over Covid spike
The President's offer comes despite persistent intrusions by Chinese warplanes in Taiwan's air defense identification zone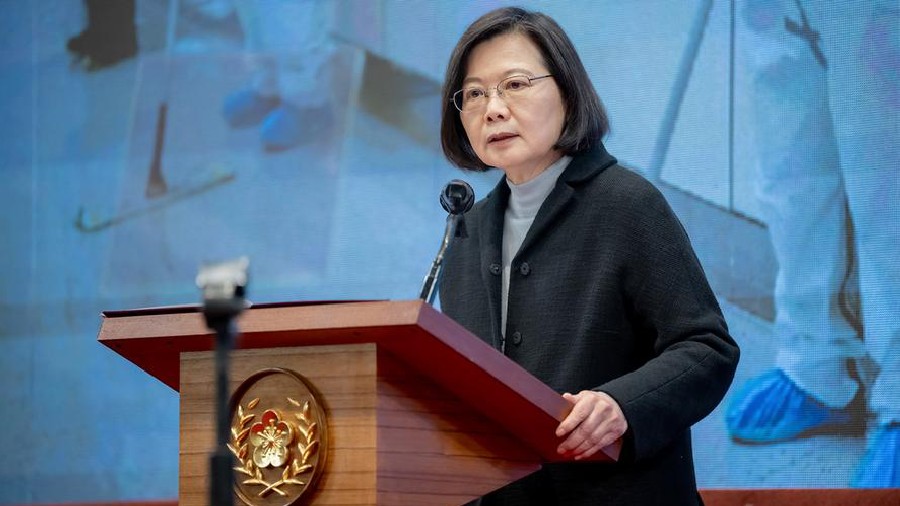 Taiwan President Tsai Ing-wen delivers her New Year speech at the Presidential Office Building in Taipei
Deutsche Welle
---
Published 01.01.23, 12:21 PM
|
---
Extending an olive branch, Taiwan's President Tsai Ing-wen on Sunday offered to provide Beijing with "necessary assistance" as China continues to grapple with surging COVID-19 cases following its abrupt lifting of virus curbs.
In her traditional New Year's Day speech, Tsai said that everyone had seen the rise in cases in China.
"As long as there is a need, based on the position of humanitarian care, we are willing to provide the necessary assistance to help more people get out of the pandemic and have a healthy and safe new year," she said in the address from her office.
Beijing claims Taiwan as its own territory as part of its "one China" policy, while Taiwan remains self-governing and democratic.
What did Tsai say in her address?
In Sunday's message, Tsai added that the Chinese military activities around Taiwan were "unhelpful" for maintaining relations between the two.
"War has never been an option to solve problems. Only dialogue, cooperation, and the common goal of promoting regional stability and development can make more people feel safe and happy," she said.
The ties between Taiwan and China have worsened with Beijing stepping up military, diplomatic and economic pressure on the self-ruled island.
Why is China experiencing a spike in COVID cases now?
China is witnessing an explosive spike in coronavirus infections after dropping its strict "zero-Covid" policy — deemed the world's most stringent pandemic regime of lockdowns and testing — last month, three years after the virus first emerged in Wuhan.
Taipei and Beijing have been at loggerheads over their respective policies to reign in the spread of COVID-19.
Taiwan has accused China of a lack of transparency and trying to interfere with vaccine supplies to the island, which Beijing has denied.
China has denounced Taiwan for ineffective management of the pandemic after increasing domestic cases last year.
What has been Beijing's reaction?
Chinese President Xi Jinping mentioned Taiwan only briefly in his New Year speech on Saturday evening.
Xi said that people on either side of the Taiwan Strait "are members of one and the same family."
Xi's address had no mention of seeking to bring the island under Chinese control.
While talking to journalists after her Sunday address, Tsai said she had noted the Chinese President's "gentler" remarks.
"But I want to remind people - the military activities of the People's Liberation Army near Taiwan are not at all conducive to cross-strait relations nor regional peace and stability," she stressed.
Restrictions for Chinese travelers as cases rise
Meanwhile, Australia and Canada have become the latest countries to add COVID restrictions on travelers from China amid the Asian nation's rising cases.
From January 5, Australia will require visitors from China to submit a negative COVID-19 test, health minister Mark Butler announced on Sunday.
On Saturday, Canada said that travelers from China must test negative for the virus no more than two days before departure.