Students say goodbye with a sense of loss
'I feel like a lot of experiences have been stolen from me'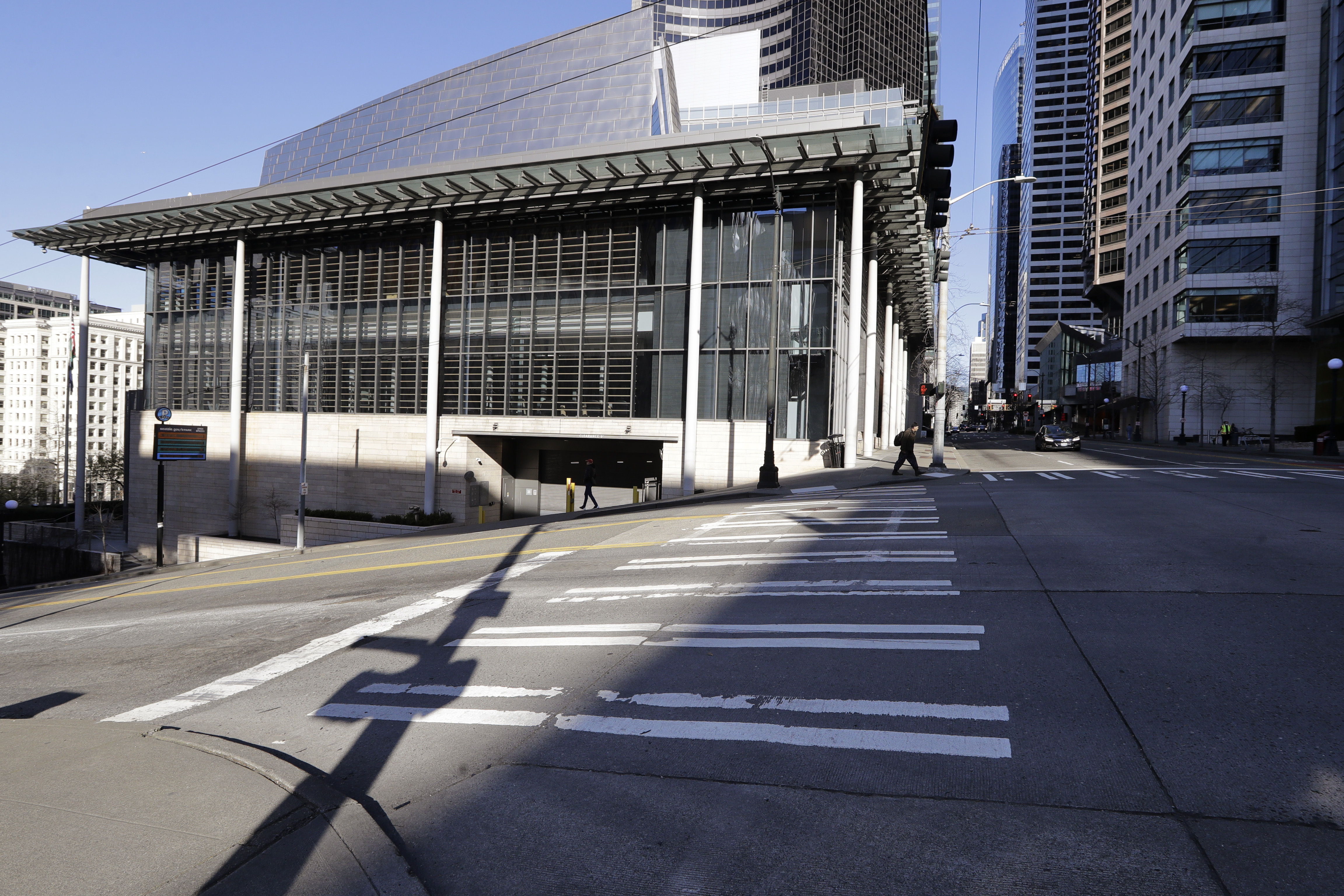 Normally bustling streets are nearly deserted adjacent to Seattle City Hall, where workers there and most in the area have been asked to work from home on Monday
(AP photo)
---
New York
|
Published 16.03.20, 08:20 PM
|
---
When Cornell University administrators emailed students last week, sobs were heard in libraries and labs. People wiped tears from friends' faces — then slathered on hand sanitiser.
After spring break, the email said, they should not come back. The school would start to close dorms after March 28, and students were to go home; courses would be held online for the rest of the semester. Schools across the country followed suit, taking similar measures to help stop the spread of the coronavirus, which began to appear in more college populations this weekend.
A few days later, Cornell suspended classes altogether, for three weeks, to allow students to focus on getting home.
Separating people is, of course, precisely what such drastic measures are intended to do. But at ground level, they bring confusion and pain.
Those emotions were on display last week at Cornell, in upstate New York, where students confronted the logistical hurdles that lay ahead — How do you attend an online lecture from several time zones away in Pakistan? — while they also grappled with the personal losses that come with leaving college early, from being torn from friends and budding romances, to missing out on graduation rituals.
Not a big deal, in the grand scheme, said one senior, Justin Welfeld, but still, he said, "I feel like a lot of experiences have been stolen from me."
When Cornell became one of the first schools in the country to call off in-person classes for the semester on Tuesday, students were shocked.
There were, at that point, no cases of the virus in Tompkins County, where Cornell is; health officials there announced the first confirmed case on Saturday, though it was not immediately clear whether the person was connected to the university.
And Cornell had felt removed from the growing crisis. Its students come from all over the globe, and the main campus is linked to New York City by its medical and technology schools, whose students and faculty shuttle back and forth. Yet its remote location, amid gorges and forests in a rural corner of the state, created a sense, perhaps an illusion, of safety.
Ithaca felt like the kind of place you would escape to in a crisis, not one from which you would flee.
So, when the news came that Cornell was sending people home, students initially responded with defiance.
Many seniors said they would not leave, vowing to finish the semester in off-campus housing, even as the dorms on campus emptied out. "I'm staying," said Linden Wike, 22, a senior majoring in astronomy, who questioned the length of the pause on normal, in-person classes and the wisdom of sending people "to where it might be worse".
Nathan Revor, another senior, wrote a letter to administrators that was published by the student newspaper, The Cornell Daily Sun, and that seemed to capture the raw emotion of the moment. He implored the administration to reconsider its decision and to think of seniors, "who are on the precipice of reaping the rewards of doing our absolute best in school since we were small children".
The editor of the The Daily Sun, Maryam Zafar, 21, said: "I think everyone is experiencing a degree of sadness, definitely some loss."