Several explosions shake Ukraine's capital Kyiv, says mayor
Russian missile flies 'critically low' over major nuclear plant: State operator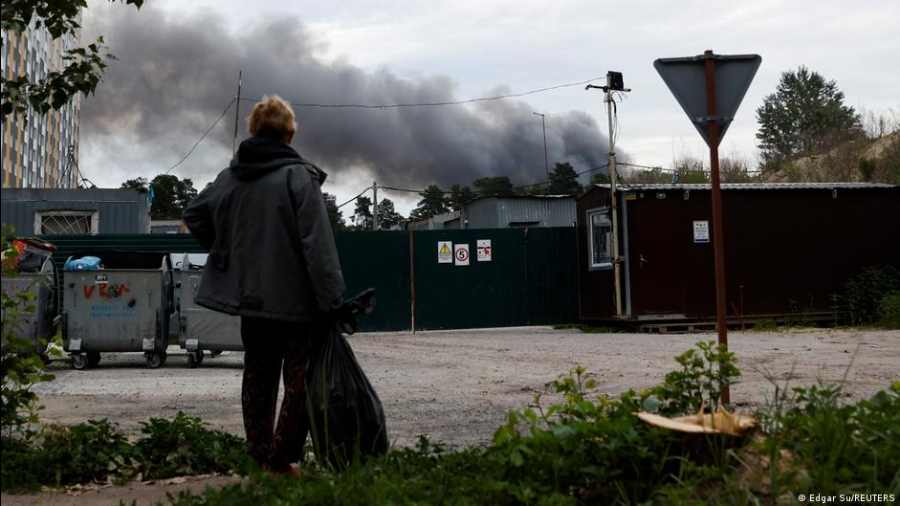 Russia continues to launch air attacks in Kyiv, despite pulling out troops
Deutsche Welle
---
Published 05.06.22, 03:25 PM
|
---
Explosions heard in Kyiv
Ukrainian media and Reuters report explosions were heard in Kyiv early Sunday. The reports were confirmed on Telegram by Kyiv mayor Vitali Klitschko.
Klitschko wrote, "Several explosions in Darnytskyi and Dniprovskyi districts of the capital."
Hromadske Radio journalists reported "black smoke seen this morning within Kyiv boundaries, or in close proximity to Kyiv."
Katerina Sergatskova, the editor-in-chief of Ukrainian news website Zaborona, wrote on Twitter that there were four booms and it sounded "like it was on the first day of the #RussianInvasion."
Ukraine must win back its freedom: German Greens co-leader
Ukraine must win back its sovereignty in the war against the Russian invaders, one of the two leaders of Germany's co-ruling Green Party has said.
"The Ukrainians must regain their sovereignty, their territory and their liberty," Omid Nouripour told papers from the Funke media group in an interview published on Sunday.
"We won't recognize a single square centimeter of occupied Ukrainian soil," he added, while saying that Ukraine must remain free in its decision whether to retake territory captured by the Russians or to negotiate with Moscow over possible concessions.
Nouripour also responded with a "yes" to the question of whether Ukraine should win the war.
Foreign Minister Annalena Baerbock, a fellow Greens member, on Wednesday also clearly affirmed on television that Germany wanted a Ukrainian victory in the war.
Ukrainian counterattacks in Sievierodonetsk slowing Russia's momentum: UK military intelligence
Counterattacks carried out by Ukrainian forces in the eastern city of Sievierodonetsk might be negating some of the advances made by attacking Russian troops, Britain's Ministry of Defence has said in an intelligence update.
"Over the last 24 hours, Ukrainian forces have counterattacked in the contested city of Sievierodonetsk in eastern Ukraine, likely blunting the operational momentum Russian forces previously gained through concentrating combat units and firepower," the update says.
According to the update, Russia is using some soldiers from the reserve of Russian-led separatist forces of the self-declared Luhansk People's Republic in its clearance operations in the city. It said these troops were less well-equipped and more poorly trained than Russian army units and were likely being deployed to limit casualties among regular Russian military personnel.
The governor of the Luhansk region, Serhiy Haidai, said on Sunday that the city was now divided in half between Ukrainian and Russian forces after Russian troops were forced back from some areas they previously held.
Russian missile flies 'critically low' over major nuclear plant: operator
A Russian cruise missile that was possibly aimed at the Ukrainian capital, Kyiv, flew over the South Ukraine Nuclear Plant at a dangerously low altitude on Sunday, the state nuclear power operator Energoatom has said.
Accusing Russia of "nuclear terrorism," Energoatom wrote on Telegram that Moscow's invading forces "still do not understand that even the smallest fragment of a missile hitting a working power unit can cause a nuclear catastrophe and radiation leak."
The report has not yet been independently verified.
The facility, also known as the Pivdennoukrainska plant, is located 350 kilometers (220 miles) south of the capital. It is Ukraine's second-largest nuclear power plant.
In April 1986, Ukraine, then a Soviet republic, was the site of a major nuclear catastrophe when a reactor at the Chernobyl Nuclear Plant went into meltdown. The disaster is considered the worst-ever such incident in the world in terms of costs and casualties.
Russian sanctions could cost Germany an extra €5 billion
Gas industry representatives told German newspaper Welt am Sonntag that the cost of the sanctions regime against Russia could be an extra €5 billion ($5.4 billion) annually for replacement gas.
Last month, Russia halted supplies to Gazprom Germania, the German subsidiary of Gazprom, after Berlin placed the company under trustee management by regulators.
Germany's Economy Minister Robert Habeck estimates an additional 10 million cubic meters per day are needed, costing €3.5 billion annually at current cost.
US ambassador vows to hold war criminals accountable
The US Ambassador to Ukraine Bridget Brink said the US will back an international war crimes probe during a trip to the Kyiv suburb of Borodyanka, which was under siege in the earliest phase of Russia's invasion.
On Twitter Brink wrote, "Bearing witness to atrocities committed in Russia's brutal war, including families killed in their own homes, only strengthens my resolve to do everything we can to hold the perpetrators of these awful crimes to account."
NATO's annual Baltic Sea exercise kicks off
The BALTOPS 22 naval exercise involving 14 NATO countries plus Finland and Sweden kicks off and will run until June 17. Finland and Sweden have applied to join NATO but are facing opposition from Turkey within the military alliance.
The US Chairman of the Joint Chiefs of Staff Mark Milley was in Stockholm for a joint press conference with Swedish Prime Minister Magdalena Andersson and to visit the USS Kearsarge, a US Navy Wasp-class amphibious assault ship currently docked in the Swedish capital.
Milley said his visit and the presence of the USS Kearsage "demonstrates commitment in a common cause, in the rules-based international order, in the idea that large countries cannot invade small countries at no cost."
Milley noted the purpose of BALTOPS 22 is to train for "amphibious assaults and scenarios that would involve attacking land that is seized by an adversary or an enemy country."
While BALTOPS 22 is an annual exercise, it takes on renewed significance due to Russia's invasion of Ukraine. Russia has an exclave on the Baltic Sea, the highly militarized region of Kaliningrad which was seized from the Germans after the Second World War.