An Indian official who was among the international observers monitoring the Bangladesh elections said he witnessed calm at the polling stations he had visited.
"We have visited a number of polling stations and, as far as the perception goes, there was a calm, serene ambience in the polling stations," Aariz Aftab, chief electoral officer of Bengal, told reporters after the poll process ended.
The poll was monitored by international observers, including three from India.
Although the BNP-led Opposition blamed the ruling Awami League for unleashing violence on their supporters, reports in the Bangladeshi media suggested that of the 18 people killed in the past 24 hours, 12 were from the ruling party.
At a news conference addressed by Gowher Rizvi, Prime Minister Sheikh Hasina's international affairs adviser, a list of the deceased and how they lost their lives was circulated among journalists.
"The Awami League bore the maximum brunt of the poll-related violence…. Any loss of life is painful and we send our condolences to the family members of all the deceased," Rizvi said.
He said that although lives were lost, Sunday's polls were the most peaceful Bangladesh had witnessed in its history.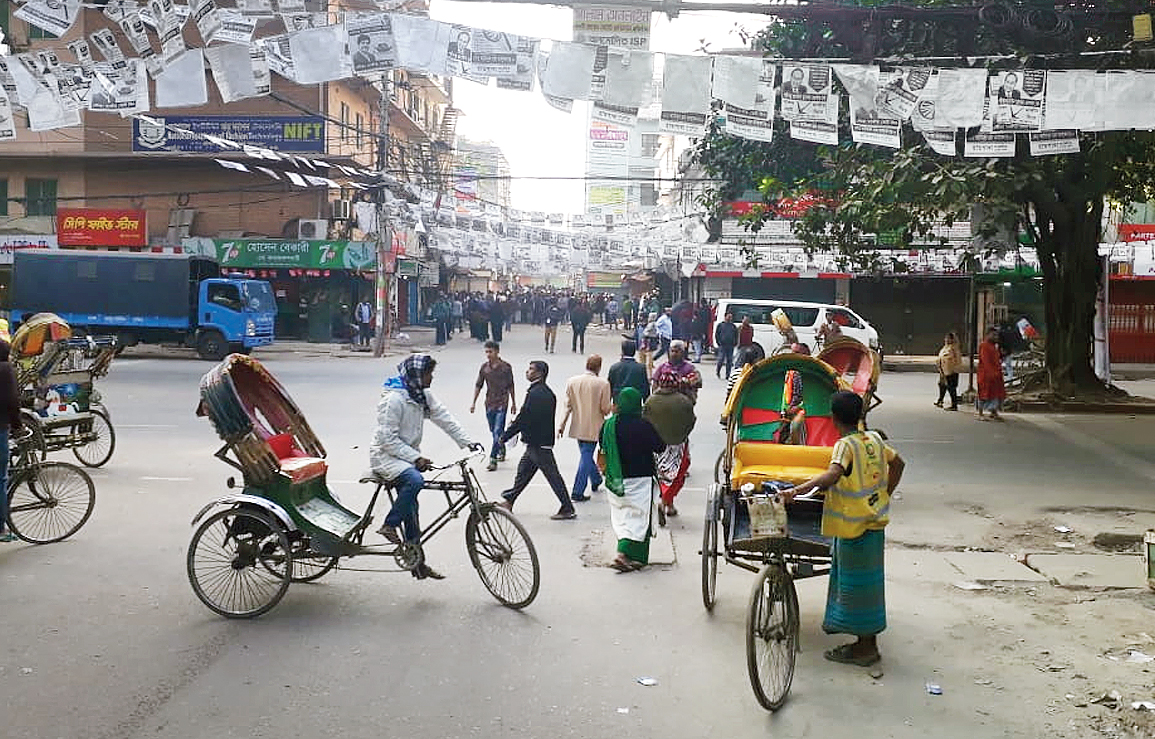 Election day in Dhaka. Picture by Devadeep Purohit
Unlike the past few days during which Dhaka appeared to be in an eerie stupor, betraying signs of unease before the polling, Sunday was awash in a celebratory atmosphere as voters queued up outside polling centres.
The turnout was moderate in the early hours. But as the day progressed, more people stepped out and long queues were seen.
"There is no trouble out here, please come and cast your vote," an elderly woman was heard telling someone over the phone as she waited outside Titumir College in Dhaka.
Most voters this correspondent spoke to in Dhaka said that they felt "safe" while casting their votes. Poll-related violence was reported in several other districts.
Reuter adds: The reporters of Reuters saw a group of about 50 women chanting "Sheikh Hasina! Sheikh Hasina!" on a deserted street in Dhaka as election results started trickling in.
Reuters reporters across the country saw sparse turnout at polling booths during the election. In nine polling centres Reuters reporters visited in Dhaka, posters bearing the Awami League's "boat" symbol far outnumbered those of the Opposition.
Election commissioner Mahbub Talukdar, who stirred up a controversy last week by saying there was no level playing field for the parties, told Reuters he did not see any Opposition polling agent near the Dhaka booth where he had voted, suggesting they had been kept away.
Rasel, a 34-year-old voter in the southeastern district of Chittagong, said he saw police and some Awami League workers he knew stopping people from entering one polling centre.
"They told me that 'voting is going on nicely, you don't need to go inside. If you try to enter, you will be in trouble'," Rasel, who declined to give his second name for fear of reprisals, told Reuters over the phone.