Saudi dissident feared killed in embassy
It was not clear if a plan to bring him back to Saudi Arabia alive went awry, or if the intention was to kill him there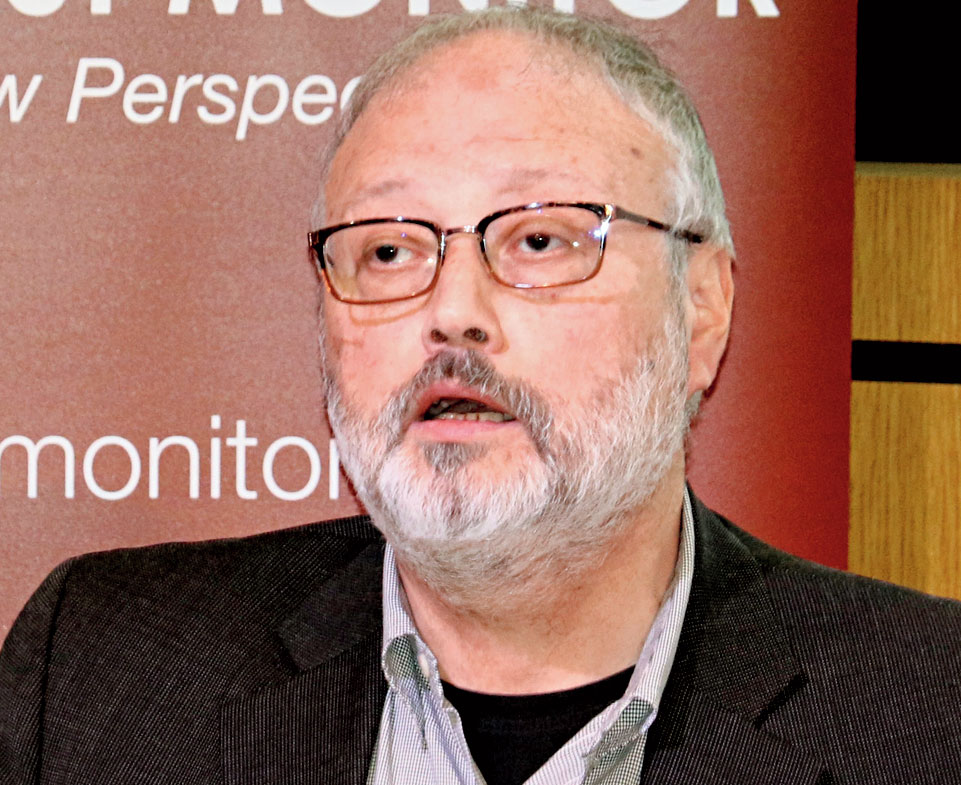 ---
Istanbul
|
Published 07.10.18, 08:35 PM
|
---
Turkish investigators believe a well-known Saudi dissident was killed inside the Saudi consulate in Istanbul, five people involved in the investigation, or briefed on it, said on Saturday.
The critic of the Saudi government, Jamal Khashoggi, entered the consulate on Tuesday to obtain a document he needed to get married and never emerged, according to his fiancée, who had stayed outside.
Waiting for him inside the consulate, according to two people with knowledge of the investigation, were Saudi agents who had recently arrived in Turkey with the intent to silence Khashoggi.
It was not clear if the plan had been to bring him back to Saudi Arabia alive, and something went wrong, or if the intention was to kill him there.
If confirmed, the killing could lead to an international scandal for Saudi Arabia and pose a daunting problem for Crown Prince Mohammed bin Salman, the kingdom's 33-year-old day-to-day ruler, who has billed himself as a reformer committed to modernizing the kingdom.
Saudi officials have denied that they even detained Khashoggi at the consulate and have said they do not know where he is.
In a statement issued Saturday night, officials at the Saudi embassy in Washington called the allegation of his killing "baseless."
No Turkish officials commented on the record about the findings of the investigation, but on Saturday, the Turkish government announced that it was beginning a criminal investigation into Khashoggi's disappearance.
The people involved in the investigation did not explain how the killing happened nor did they describe the evidence on which they were basing the conclusion that Khashoggi was killed.
Khashoggi, 59, had worked as an adviser to senior government officials and was one of Saudi Arabia's best known journalists.
But since going into voluntary exile last year, he has written articles critical of Crown Prince Mohammed, who, since his father became king in 2015, has accumulated tremendous power inside the kingdom.
Despite orchestrating the kidnapping of the Lebanese Prime Minister, waging a brutal war in Yemen and locking up hundreds of prominent Saudis in a luxury hotel on accusations of corruption, the prince has won Western supporters, including the government of the US, which have embraced his economic policies and limited social reforms.
But Khashoggi's death in Turkey — if confirmed — could change all that. It would likely be widely viewed as a brazen violation of international norms and a grave escalation of what critics have called reckless and ruthless efforts by the prince to consolidate power and stamp out dissent at home and abroad.
The Turkish conclusion that Khashoggi had been killed was described by three people with knowledge of the investigation.
Two were Turkish, and one was a senior official from an Arab government. All three spoke on condition of anonymity because they were not authorised to speak to the news media.
The conclusion was also reported by Asli Aydintasbas, a senior fellow with the European Council on Foreign Relations in Turkey, who was briefed on the findings by a senior Turkish official.
"I am afraid government officials now believe he is dead," Aydintasbas said.
Officials do not have hard evidence, she added, but have nevertheless concluded Khashoggi is dead.
Turan Kislakci, the head of Turkish Arab Media Association and a friend of Khashoggi's, told The Times that Turkish officials had called him and confirmed the death.
"They confirmed two things: He was killed and his body was dismembered," Kislakci said.
The Arab government official also described Khashoggi's body as having been dismembered.
Earlier on Saturday, Turkey's semi-official Anadolu news agency reported that 15 Saudi citizens, including Saudi diplomats, had arrived in Istanbul on two separate planes and were at the consulate around the same time as Khashoggi on Tuesday. They later left Turkey for the countries they came from, Anadolu reported.
The people with knowledge of the investigation believe these were the agents sent to deal with Khashoggi.
The Saudi consulate-general in Istanbul, Mohammad al-Otaibi, on Saturday invited Reuters to tour the consulate to show the news organisation that Khashoggi was not there.
"I would like to confirm that Jamal is not at the consulate nor in the Kingdom of Saudi Arabia, and the consulate and the embassy are working to search for him," Otaibi said.
"The idea of kidnapping a Saudi citizen by a diplomatic mission is something that should not be in the media."
In an interview with The Times, Hatice Cengiz, the Turkish fiancée of Khashoggi, said she was following reports of his death but was awaiting confirmation from Turkish officials.
"I cannot think such an incident is acceptable to happen in Turkey," Cengiz said. "Saudi Arabia would not be able to answer this. Turkey would never accept this. This is impossible to happen in Turkish history."
The Turkish government will likely take the killing of Khashoggi in Istanbul, if proved, as a serious diplomatic matter demanding a significant response.
Crown Prince Mohammed, in an interview with Bloomberg on Wednesday night, appeared to disclaim any knowledge of or responsibility for Khashoggi's fate. "We hear the rumours about what happened. He's a Saudi citizen and we are very keen to know what happened to him," he said.
"And we will continue our dialogue with the Turkish government to see what happened to Jamal there."
"We have nothing to hide," he added.