Jamal Khashoggi died in a fistfight: Saudi Arabia
The announcement contradicted leaks from Turkish media that the journalist was tortured, killed and dismembered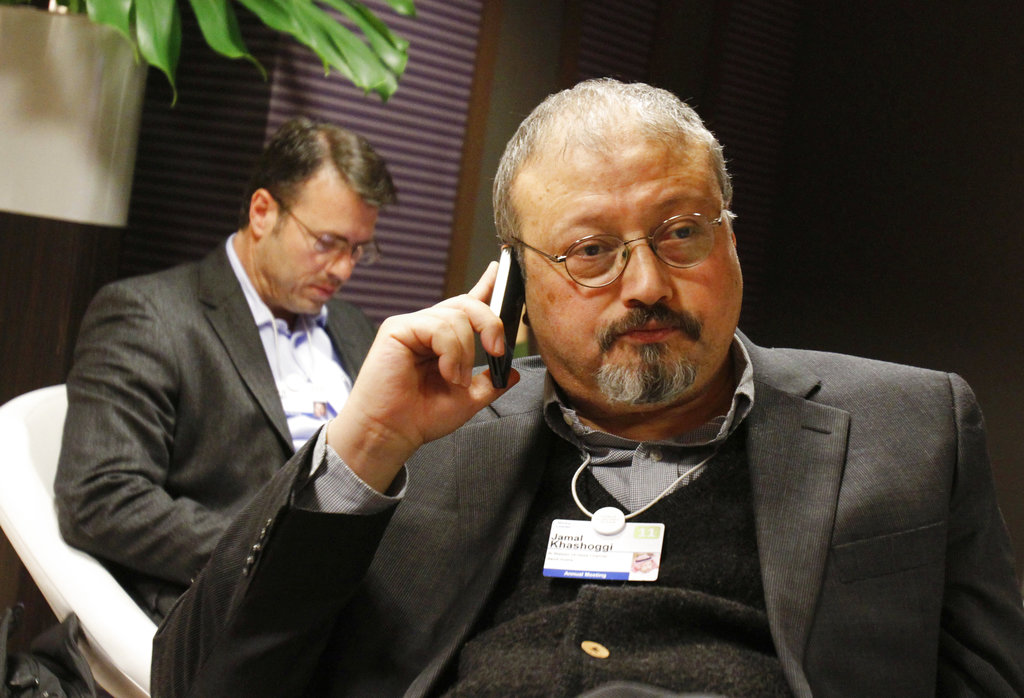 Khashoggi's disappearance and death ignited a diplomatic firestorm and shook Saudi Arabia's alliances with its partners.
AP
---
Beirut
|
Published 20.10.18, 03:18 AM
|
---
Two days after Jamal Khashoggi vanished into the Saudi consulate in Istanbul, The Washington Post published a column featuring his byline and the headline "A missing voice." The space below it was blank.
That influential voice on Saudi affairs has been silenced forever after three decades as a writer, editor, commentator and media adviser.
Eighteen days after Khashoggi disappeared, Saudi Arabia acknowledged early on Saturday that the 59-year-old writer has died in what it said was a "fistfight" inside the Saudi consulate in Istanbul.
The Saudi announcement shed little light on the mystery of Khashoggi's disappearance and contradicted leaks from Turkish media that he was tortured, killed and dismembered.
Once close to the royal family and an adviser to the country's former intelligence chief, Khashoggi became a sharp critic of its young and ambitious crown prince, Mohammed Bin Salman, for cracking down on any opposition and miring the country in a conflict in neighbouring Yemen that killed thousands of people.
His disappearance and death ignited a diplomatic firestorm and shook Saudi Arabia's alliances with its partners, brought calls for sanctions against the oil-rich kingdom and horrified free speech advocates and people around the world who never read his work.
The Arab world is facing its own version of an Iron Curtain, imposed not by external actors but through domestic forces vying for power.
- Jamal Khashoggi
In a final column for the Post, which the newspaper said it received from his assistant on October 3 and was published on October 17, Khashoggi warned that governments in the Middle East "have been given free rein to continue silencing the media at an increasing rate".
He noted that some Middle East leaders were blocking Internet access so they could tightly control what their citizens can see.
"The Arab world is facing its own version of an Iron Curtain, imposed not by external actors but through domestic forces vying for power," Khashoggi wrote.
Born into a family of wealth and connections — he was the nephew of Saudi arms dealer Adnan Khashoggi and a cousin of Princess Diana's boyfriend Dodi Fayed — Khashoggi was a voice of moderation in a kingdom at war with terrorism in the aftermath of the September 11, 2001, attacks in the United States.
He spent years explaining its policies to outsiders, but made himself unpopular at home, saying the Saudi-led intervention in Yemen "would validate" those who compared the kingdom's actions to what Russia and Iran were doing in Syria. He also was critical of Riyadh's diplomatic break with Qatar.
After Khashoggi criticised the kingdom's celebration of Donald Trump's election as President in 2016, a royal court official who was close to him advised him to stop tweeting and publishing stories, a sign that his opinion was no longer welcome.
Khashoggi went into a self-imposed exile, moving to Washington in 2017, writing regular columns for the Post and pursuing pro-democracy projects.
The crown prince's crackdown intensified after Khashoggi left, reaching some of his friends and associates. A former boss, Saudi billionaire Alwaleed bin Talal, was among dozens of businessmen and royals put under house arrest in an upscale hotel in November 2017 in a crackdown on corruption that soon resembled a shakedown of the kingdom's most powerful people.
"Saudi royals view themselves as The Party, sharing power and ruling by consent, in an arrangement that is largely opaque," Khashoggi wrote after the crackdown, adding that the crown prince "is upending this arrangement and centralizing all power within his position".
But he told the Economist in May that he did not agree with Saudis who were "calling for regime change and stuff like that.... I believe in the system. I just want a reform system. Actually, I want the system to give me a voice to allow me to speak."
While he supported fighting corruption, he described what was happening in Saudi Arabia as "selective justice". He argued that corruption was so entrenched that royals monopolise land ownership and fewer than 40 per cent of Saudis can own their homes.
"The crown prince is engaging in a major economic transformation. And since there is no one to debate it, he will not see the (mistakes) of these transformations," he told the Economist.
A British-Palestinian friend, Azzam Tamimi, said Khashoggi spoke to Westerners in a language they understand.
Prince Mohammed "spent millions on PR and wanted to present himself as a modernist saviour who brings rights to women", Tamimi said. "Jamal used to show the other face that Mohammed bin Salam didn't want to show."
Jamal Ahmad Khashoggi was born in Medina in 1958 and graduated from Indiana State University. He began his career as a journalist in the 1980s, covering the Soviet intervention in Afghanistan and the decade-long war that followed for the English-language daily, the Saudi Gazette. He covered Algeria's 1990s war against Islamic militants, the Balkan wars and the rise of Islamists in Sudan.
In his youth, according to one friend, Khashoggi briefly joined the Muslim Brotherhood, the strongest organisation of political Islam in the region. He soon left it, wanting to remain outside organised groups, but throughout his life kept good relations with all sides.
He was editor of Medina's Islamist-leaning paper for nine years.
While in Afghanistan, he interviewed Osama bin Laden before he became the leader of al-Qaida. They later met again in Sudan in 1995.
"He could have done much better for himself, his family and his religion if he remained moderate," Khashoggi said after bin Laden was killed by a US raid in Pakistan in 2011.
In a column for The Daily Star in Lebanon on September 10, 2002, Khashoggi wrote: "Osama bin Laden's hijacked planes not only attacked the Twin Towers of the World Trade Center and the Pentagon. They also attacked Islam as a faith. They attacked the values of tolerance and coexistence that Islam preaches."
I really don't like being in jail. ... I just want to be a free writer. I think I am serving my people, my country.
- Jamal Khashoggi
Friends recalled him as a devout Muslim who loved his homeland, an avid history buff and a humble man with a sense of humour, fond of video games, which he sometimes played while waiting to conduct an interview.
A first marriage that produced two sons and two daughters fell apart, and Khashoggi told friends that it failed because of pressure from the Saudi government over his criticism.
His visit to the Saudi Consulate in Istanbul on October 2 was to get documents needed for his wedding scheduled for the next day to Hatice Cengiz, who waited for him in vain to emerge from the compound.
Khashoggi said he had no plans to return to Saudi Arabia because he didn't "want to risk losing my freedom. I really don't like being in jail. ... I just want to be a free writer. I think I am serving my people, my country."
Sherif Mansour of the Committee to Protect Journalists said Khashoggi was one of the few Saudis who helped track news of missing or detained journalists and activists.
"Saudi was always a black hole in terms of information, and now after Jamal's case, it is even harder to get any," Mansour said. "Those journalists depended on Khashoggi to tell their stories. It is up to us now to tell his story and make sure the risks he took on those journalists' behalf were not in vain."