Salman Rushdie earns a place in Queen's jubilee list
In the British caste system, Companions of Honour, of whom there are only 65, rank even higher than knights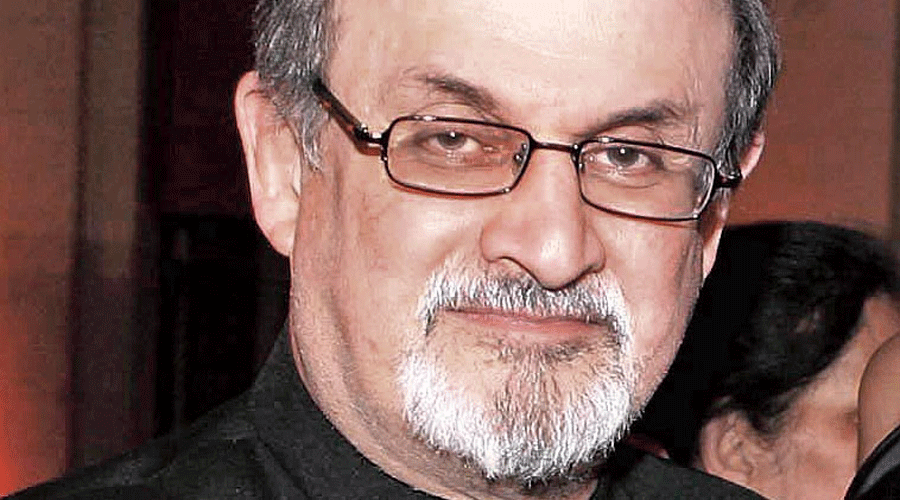 Salman Rushdie.
File photo
---
London
|
Published 03.06.22, 03:10 AM
|
---
Four days of celebrations to mark the Queen's platinum jubilee got under way in bright sunshine on Thursday with the publication of the monarch's birthday honours list in which the author Salman Rushdie, who controversially received a knighthood in 2007, was curiously appointed a Companion of Honour, again for "services to literature".
In the British caste system, Companions of Honour, of whom there are only 65, rank even higher than knights.
The 74-year-old author of Midnight's Children, who lives in New York and pops over to the UK now and again, said: "It's a privilege to be included in such illustrious company, both past and present."
Why the British establishment decided that Rushdie should be placed at the top of the honours list during the Queen's platinum jubilee year is a mystery.
The Queen is 96, lost her husband Prince Philip just over a year ago and is not in the best of health but her 70-year-old reign is the longest in British history, overtaking Queen Victoria's 64 years.
Her heirs, Prince Charles and after him Prince William, have already taken over many of her duties but as the second Elizabethan age inevitably draws to a close, there is recognition and a sense of gratitude that she has given British society much needed stability over seven decades. She has also been a strong champion of the Commonwealth – one of the 3,000 beacons lit on Thursday was in New Delhi.
Ahead of Trooping the Colour with 1,200 soldiers, 240 horses and 400 musicians and a fly past by 70 aircraft old and new, witnessed by the Queen and 17 select members of the royal family from the balcony of Buckingham Palace, and a 124-gun salute from the Tower of London, the monarch issued a new informal photograph of herself taken at Windsor Castle, where she now lives.
(Prince Harry and his wife Meghan were excluded from this elite gathering though they have come to London from Los Angeles.)
More significantly, the Queen had an uplifting message for her people: "Thank you to everyone who has been involved in convening communities, families, neighbours and friends to mark my platinum jubilee, in the United Kingdom and across the Commonwealth. I know that many happy memories will be created at these festive occasions.
"I continue to be inspired by the goodwill shown to me, and hope that the coming days will provide an opportunity to reflect on all that has been achieved during the last seventy years, as we look to the future with confidence and enthusiasm."
The Mall, packed with well-wishers to see the Queen on the balcony with her great-grandchildren, saw aircraft flying overhead in perfect formation to make out the number 70.
Over the next four days, there will be a concert at Buckingham Palace, a service of thanksgiving at St Paul's Cathedral and street parties galore across the land decorated with red and blue Union bunting.
Boris Johnson, the Queen's 14th Prime Minister on a list that began with Winston Churchill, said: "This historic platinum jubilee is not only a celebration of the monarch but of the qualities she possesses. The honours she confers this week reflect many of those qualities that have been invaluable from all different walks of life and to communities across the UK."
The Labour leader, Keir Starmer, who was a Republican in his youth, has changed his tune. In an article in the pro-royal Daily Telegraph, he has declared that it is the public's "patriotic duty" to take active part in the platinum jubilee celebrations.
What has changed over the last 70 years is Britain's relationship with India, now one of equals, with the UK desperate to sign a post-Brexit bilateral free trade agreement. Many Indians today fondly regard London almost as the capital of greater India. That is certainly borne out by the number of Indian families, especially from Calcutta, currently holidaying in London.
The Indian high commissioner, Gaitri Issar Kumar, held a reception at her residence on Wednesday to honour Cyrus Poonawalla, founder of the Serum Institute of India, "for saving millions of lives during the pandemic".
Poonawalla is in Britain partly for horse racing, a passion he shares with the Queen.
The Queen has given a knighthood to Pascal Soriot, CEO of AstraZeneca, which tied up with the Serum Institute to manufacture the Oxford Covid vaccine in India.