Russia-Ukraine war: Rockets pound Kyiv, cause extensive damage
The burst of explosions was from what seemed to be Russian Grad missiles fired from a multiple-rocket launcher system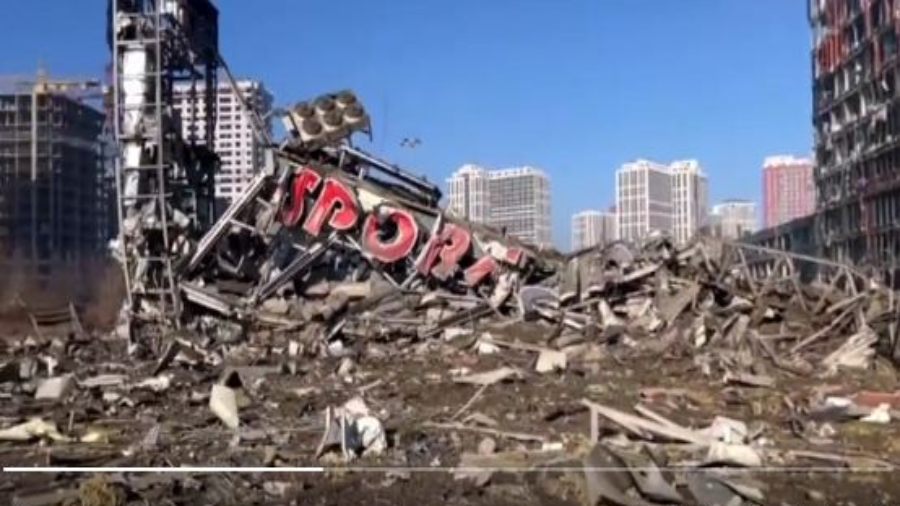 Carnage caused when a rocket hit Kiev shopping center
Twitter @UAHelpOfficial (screen drawn from a video)
---
Kyiv
|
Published 24.03.22, 02:59 AM
|
---
A hail of rockets slammed into a residential area near the centre of Kyiv, the Ukrainian capital, on Wednesday morning, setting off a burst of explosions from what seemed to be Russian Grad missiles fired from a multiple-rocket launcher system, the first time such weapons have struck central Kyiv.
The strikes caused extensive damage, including setting a house on fire and damaging apartment buildings, but left few casualties.
Vladimir Okremenko, 71, and his sister were at home in their shared one-storey house when two rockets hit without warning.
"First there was smoke, and then everything went black," his sister, Svetlana Ilyuhina, said.
Within minutes, fire had taken hold, but both escaped with only cuts.
A few streets over, six rockets exploded beside a main avenue, splintering trees and apartment complexes.
Vladimir Bogdanov, 80, narrowly escaped injury, sitting on his couch when shrapnel tore into his front room and gouged holes in the ceiling and walls.
Nato boosts forces in eastern Europe Nato is doubling its battlegroups on the alliance's eastern flank in response to Russia's continuing war in Ukraine, the group's secretary general said on Wednesday before a major summit in which President Biden will meet European allies in Brussels in the coming days.
The secretary general, Jens Stoltenberg, also focused on what import Russia's potential use of any chemical or biological weapons in Ukraine could hold for Nato, saying that such use would "fundamentally change the nature of the conflict". And he upped the rhetoric on China's role in bringing the conflict to an end.
Stoltenberg made his remarks in a news briefing one day before the start of an unusual series of back-to-back summits over Russia's brutal month-long invasion of Ukraine, which shows no sign of ending.
New York Times News Service