Russia in inclusive government pressure on Taliban
With Afghanistan facing economic collapse and a humanitarian catastrophe, Moscow called for international aid to support Kabul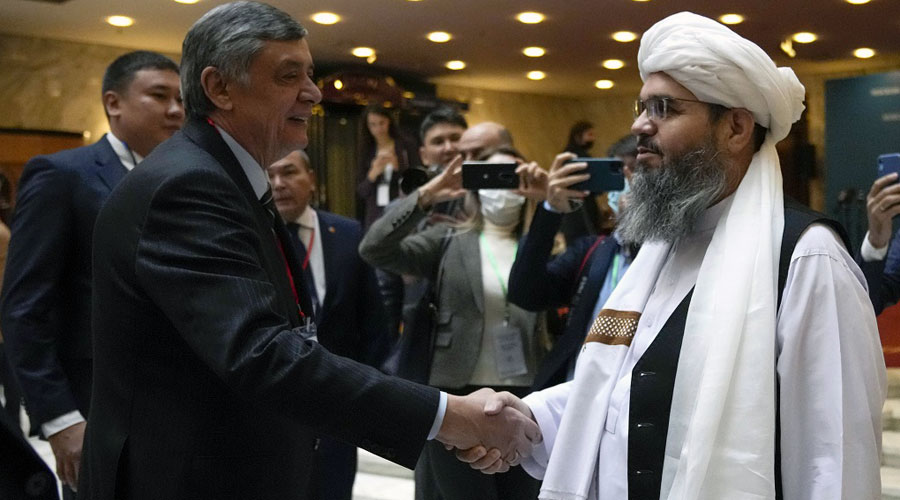 ---
Moscow
|
Published 21.10.21, 02:15 AM
|
---
Russia increased pressure on the Taliban on Wednesday to create an inclusive government representing a broad spectrum of Afghan society, as it hosted their new administration at a major conference for the first time since they took power.
Pakistan, China, Iran, India and former Soviet Central Asian states joined Taliban officials at the Moscow meeting. The US stayed away, citing technical reasons.
With Afghanistan facing economic collapse and a humanitarian catastrophe, Moscow called for international aid to support Kabul, conscious that any spillover could threaten regional stability.
"Nobody is interested in the complete paralysis of an entire state, which borders, among other things, the CIS (Commonwealth of Independent States)," said Kremlin spokesman Dmitry Peskov.
Russia's initiative in hosting the talks is part of an effort to boost its influence in the region after the US withdrew its forces from Afghanistan and the Taliban took control of the country. Foreign minister Sergei Lavrov said he regretted the US absence from the talks, the biggest international meeting on the region since the Taliban victory in August.
Lavrov struck a conciliatory tone towards the Taliban government, which is seeking international diplomatic legitimacy that would bolster its calls to unfreeze assets held in the west and let aid flow.
But Moscow has been reluctant to accord formal recognition, calling for human rights to be guaranteed and more inclusivity in the government, dominated by ethnic Pashtuns from the core leadership of the movement.