Rishi Sunak gets support of 100 MPs, qualifies for UK PM race
Rishi's allies hope he will get a majority so that there will be a 'coronation' instead of a contest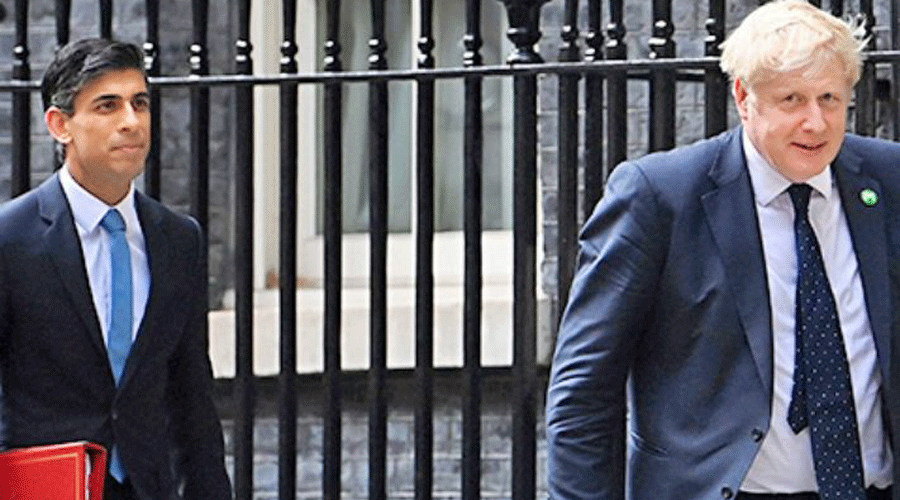 Rishi Sunak and Boris Johnson.
AP/PTI file picture
---
London
|
Published 23.10.22, 01:39 AM
|
---
Rishi Sunak has got more than 100 MPs to back him so he is eligible to run for the Tory party leadership, the first step towards being named Prime Minister on Friday, October 28.
However, Boris Johnson arrived back at Gatwick airport on Saturday morning with his wife Carrie and two children after a 10-hour flight from the Dominican Republic on a revenge mission to stop his former chancellor whom he holds responsible for his downfall.
Boris's first challenge and that of Penny Mordaunt, the leader of the Commons, will be to get 100 MPs to nominate them out of the 357 Tories in the Commons under the rules set for the latest leadership contest.
Rishi's allies hope he will get a majority so that there will be a "coronation" instead of a contest. But Boris's backers — and they include his former home secretary Priti Patel, who was sacked by Liz Truss — believe he has a good chance of making a comeback as Prime Minister if the Tory party membership, where he still retains quite a following, has a say in the election.
For now, many are warning Boris that the Tory party would be destroyed if he returned to 10 Downing Street.
For example, the former party leader, William Hague, a Rishi backer admittedly, said bringing Boris back was "the worst idea I've heard of in the 46 years I've been a member of the Conservative Party".
And in the Daily Mail, Andrew Neil, a former editor of the Sunday Times, argued: "It's time for the Tories to put the country first and vote for Rishi Sunak, the man the markets trust.
"The Tories have a simple question to answer in the next few days: are they still a serious, grown-up party of government? Given its reckless, chaotic, cack-handed handling of the nation's finances in recent weeks, it is by no means certain that it is. 
"The only hope it has of convincing public opinion, at home and abroad, is by choosing Rishi Sunak as its next leader and hence our next Prime Minister."