Ranil decides to prohibit use of 'His Excellency' to address President
'Rather than protecting individuals, protect the country'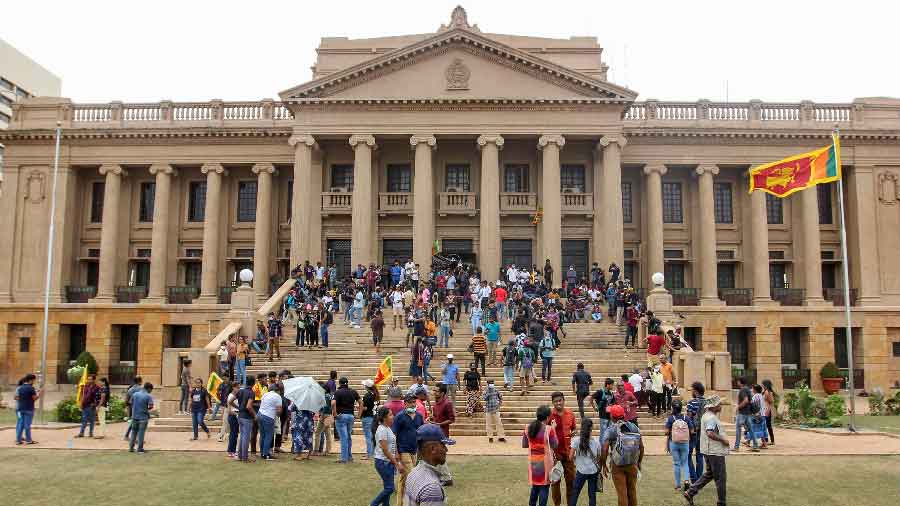 Representational image.
File Photo.
---
Colombo
|
Published 16.07.22, 12:29 AM
|
---
Sri Lanka's interim President Ranil Wickremesinghe on Friday decided to prohibit the use of "His Excellency" to address the President and abolished the presidential flag.
"Rather than protecting individuals, protect the country," Wickremesinghe, who is also the Prime Minister, said after he was sworn in as Sri Lanka's acting President until parliament elects a successor to Gotabaya Rajapaksa, who resigned after protests against his government for mishandling the economy that bankrupted the country.
He also said that the presidential flag will be abolished as the country must gather around only one flag, which is the national flag.
"I will never pave the way for, or aid in any unconstitutional act," he said in a special televised statement. He warned that the supply chain of food, electricity, and water may be disrupted, and the people must understand the dangerous situation ahead. He said a special committee has been appointed with the chief of defence staff, inspector general of police, and commanders of the three armed forces to maintain law and order.  "Peaceful protests are accepted, however, there are some engaged in acts of sabotage...There are fascist groups that are trying to incite violence in the country. Such groups snatched weapons and ammunition from the soldiers recently. Twenty four are injured," he said.
US backs democracy in Lanka
The US is committed to the democratic aspirations of the Sri Lankan people, the US envoy here said on Friday, urging all parties to work together to ensure the rule of law is upheld.
The US ambassador to Sri Lanka, Julie Chung, said that following Gotabaya Rajapaksa's resignation all the parties should join hands to find solutions to the economic crisis. "With Gotabaya Rajapaksa's resignation, we continue to urge all parties to work together, ensure the rule of law is upheld, and find solutions to the economic crisis.
The US remains committed to the democratic aspirations of the Sri Lankan people," Chung tweeted. Earlier, the US envoy met Sri Lanka's church leaders. "I met with Rev. Dushantha Rodrigo & SL's National Christian Council to discuss the need for all political parties to address the people's demands," she tweeted. (PTI)