Queen Elizabeth spends night in hospital for tests
he was supposed to fly to Northern Ireland on Wednesday to mark the 100th anniversary of the partition of the island but the trip was cancelled last minute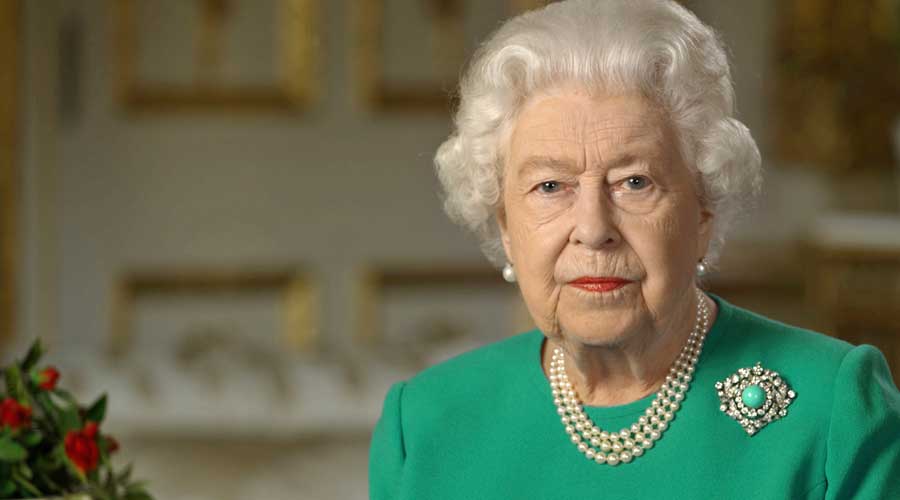 ---
London
|
Published 23.10.21, 12:39 AM
|
---
The Queen, who is 95, spent Wednesday night in hospital, Buckingham Palace has confirmed after the Sun broke the story.
She was supposed to fly to Northern Ireland on Wednesday to mark the 100th anniversary of the partition of the island but this trip was cancelled very much at the last minute.
Instead, she was driven 19 miles from Windsor Castle, where she is staying, to the King Edward VII's Hospital in Marylebone, where she was seen by specialists and kept overnight for various tests. Her admission is not thought to be related to coronavirus.
Buckingham Palace said in a one-sentence statement: "Following medical advice to rest for a few days, the Queen attended hospital on Wednesday afternoon for some preliminary investigations, returning to Windsor Castle at lunchtime today, and remains in good spirits."
The Queen, who is a stickler for duty, was back at her desk on Thursday undertaking light work.
Despite her age, the government makes her work very hard — and it has to be said she is more than willing. This month alone she has so far undertaken 16 engagements, including hosting a Global Investment Summit at Windsor Castle on Tuesday evening alongside Prime Minister Boris Johnson. The chancellor Rishi Sunak's father-in-law, Infosys founder Narayana Murthy, appeared to be at the reception standing near John Kerry and Bill Gates.
The Queen began the month in Scotland, planting a tree with the Prince of Wales at the Balmoral Estate on October 1 and attending the opening of the sixth session of the Scottish Parliament in Edinburgh the next day.
The following week, she met members of the Canadian military at Windsor Castle on 6 October and attended the launch of the Commonwealth Games baton relay at Buckingham Palace on October 7.
She then travelled to Wales to open the sixth term of the Senedd, the devolved Welsh parliament. It is there that a microphone picked up snatches of her conversation, expressing irritation with the likes of Narendra Modi.
She appeared to say: "I've been hearing all about COP... I still don't know who's coming."
In a separate clip, she remarked, "We only know about people who are not coming", before adding, "It's really irritating when they talk, but they don't do."
Newspapers in Britain have pointed that Modi is among those who have not RSVP-ed yes.
For the moment she is expected to go to COP26 in Glasgow next month, where she will be welcoming world leaders.She is trying to get used to life without Prince Philp, who died in April, aged 99.
Royal biographer Angela Levin told talkRadio: "I think if Prince Philip was still around, he would exercise a bit of control and say, 'Look, stop it, don't go to so many engagements and relax a bit.'
"I think she thinks she does it best (compared to other royals) and she's the most experienced, but I think the main thing is the religious one, that when she was 21 and she said that she would do her best to be the Queen and with God's help she would do it until she died."
Asked about reports that the Queen had given up alcohol, Levin said: "There's an emotional attachment to that, too, she used to have
Dubonnet with various mixtures, and it was always Prince Philip's duty to do it at lunchtime and the evening if they were there together, and it was part of their relationship. And it no longer has the same taste really because he's not there, he used to get the amounts absolutely spot on."
Royal commentator Phil Dampier told LBC radio: "We just all hope that she's in fine fettle for the Cop26 next month, and of course – most importantly of all for us royal watchers – the Platinum Jubilee next year when she celebrates 70 years on the throne, so I think we need to wrap her up in cotton wool at the moment.
"You worry about Covid, we know that she's had both of the original jabs, and I'm sure she's probably had the booster, I think she's
probably the first person in the country who would have got one."
Meanwhile, fundraising is in full swing for her Platinum celebrations, with numerous Indian millionaires being urged to be loyal to their adopted Queen and country.
One revealed to The Telegraph: "I offered £10,000, but they wanted £100,000-£150,000. I emailed them, but haven't heard back."
The institution of the monarchy is secure while she is around, and probably with Charles, too. But no one can guarantee its long term future. The Queen has been very strongly pro-Commonwealth.