Pentagon releases video of drone raid
The 42-second colour video clip shows two high-speed passes by a Su-27 fighter jet, each time spraying a substance that the Pentagon says is jet fuel on the American MQ-9 Reaper drone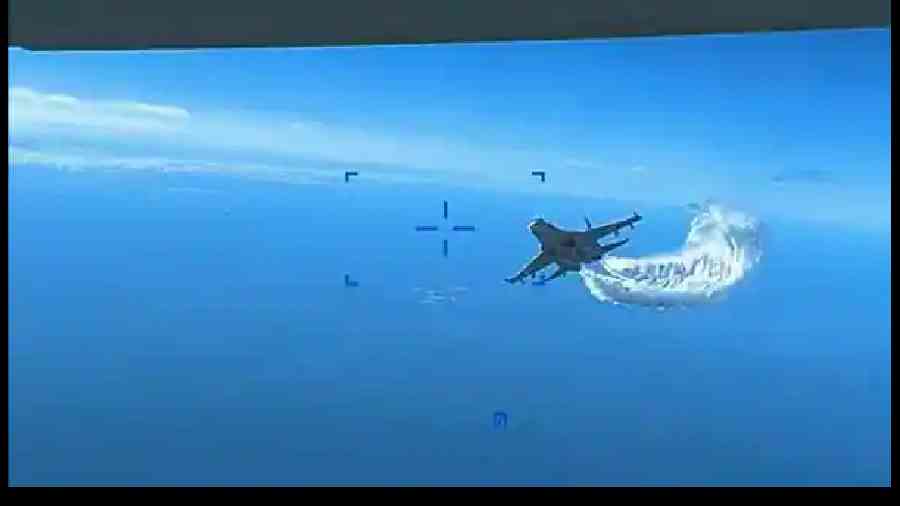 A picture taken from a handout video shows the Russian Su-27 military aircraft dumping fuel while flying towards the US MQ-9 Reaper drone over the Black Sea on Tuesday.
AP/PTI
---
Washington
|
Published 17.03.23, 01:17 AM
|
---
The Pentagon's European Command on Thursday released the first de-classified video images of the events leading up to a Russian fighter jet colliding with an unarmed US reconnaissance drone on Tuesday, forcing the American aircraft down into the Black Sea.
The 42-second colour video clip shows two high-speed passes by a Su-27 fighter jet, each time spraying a substance that the Pentagon says is jet fuel on the American MQ-9 Reaper drone.
On a final pass, one of the Russian jets collides with the drone, the Pentagon says, and the camera feed is lost for about 60 seconds.
The footage released by the Pentagon does not show the collision. The video then resumes, showing the aircraft's damaged propeller.
Defence secretary Lloyd J. Austin III on Wednesday accused Russia of "dangerous and reckless and unprofessional behaviour" in blaming Moscow for the downing of the drone. Russia has denied any wrongdoing and initially blamed the crash on faulty manoeuvring by the American drone operators.
The incident over international waters was a reminder of the risk of direct confrontation between the US and Russia over Ukraine, which Moscow invaded more than a year ago and which western allies have supported with intelligence and weapons.
A US official, speaking on condition of anonymity, said Russian ships had been seen near the area where the drone had crashed, though they did not appear to have recovered any parts of the drone yet. It was not clear if they were still in the area.
Washington has said that any recovery efforts relating to the drone would be difficult because of the depth of water in the region.
The release of the video followed separate calls on Wednesday between the top US general, Mark Milley, and his Russian counterpart, Chief of the General Staff Valery Gerasimov.
New York Times News Service and Reuters