No let-up in grain export preparation
Deal signed by Moscow and Kyiv on Friday is hailed as a diplomatic breakthrough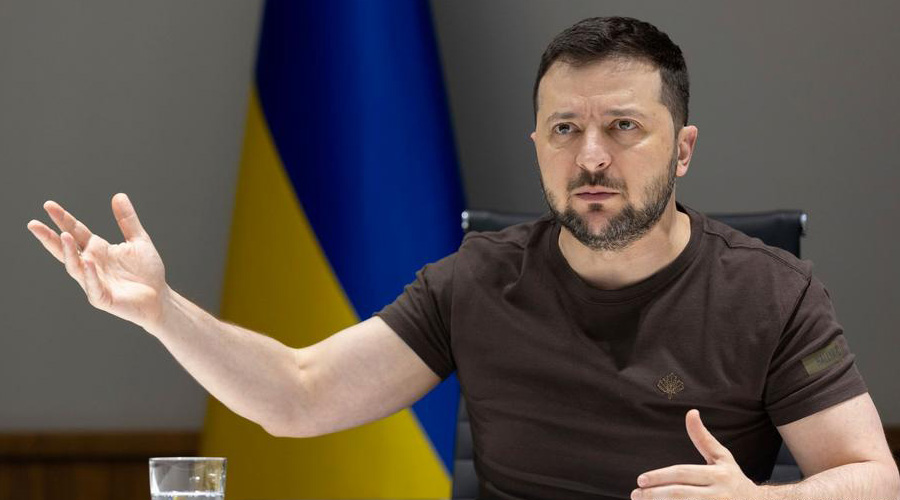 Volodymyr Zelensky
File Picture
---
Kyiv
|
Published 25.07.22, 02:28 AM
|
---
Ukraine pressed ahead on Sunday with efforts to restart grain exports from its Black Sea ports under a deal aimed at easing global food shortages but warned deliveries would suffer if Russia's strike on Odesa was a sign of more to come.
President Volodymyr Zelensky denounced Saturday's attack as "barbarism" that showed Moscow could not be trusted to implement a deal struck just one day earlier with Turkish and United Nations mediation.
Public broadcaster Suspilne quoted the Ukrainian military as saying after the strike that the missiles did not hit the port's grain storage area or cause significant damage and Kyiv said preparations to resume grain shipments were ongoing.
"We continue technical preparations for the launch of exports of agricultural products from our ports," infrastructure minister Oleksandr Kubrakov said in a Facebook post on Saturday.
Russia said on Sunday its forces had hit a Ukrainian warship and a weapons store in Odesa with missiles.
The deal signed by Moscow and Kyiv on Friday was hailed as a diplomatic breakthrough that would help curb soaring global food prices, with UN officials saying it could restore Ukrainian grain shipments to pre-war levels of 5 million tonnes a month.
But Zelensky's economic adviser warned on Sunday the strike on Odesa signalled that could be out of reach.
"Yesterday's strike indicates that it will definitely not work like that," Oleh Ustenko told Ukranian television.
He said Ukraine did have the capacity to export 60 million tonnes of grain over the next nine months, but it would take up to 24 months if its ports could not function properly.
Russia pledge
Russia's foreign minister Sergei Lavrov offered reassurances over Russian grain supplies to Egypt during a visit to Cairo on Sunday, amid uncertainty over a deal to resume Ukrainian exports from the Black Sea.
Egypt is one of the world's top wheat importers and last year bought about 80 per cent of those imports from Russia and Ukraine.
"We reaffirmed the commitment of Russian grain exporters to meet all their commitments," Lavrov said in a media conference with Egyptian counterpart Sameh Shoukry. "We discussed specific parameters of cooperation in this area, agreed on further contacts between the relevant ministries, and we have a common understanding of the causes of the grain crisis."
War in 6th month
As the war entered its sixth month on Sunday, there was no sign of a let-up in the fighting.
The Ukrainian military reported Russian shelling in the north, south and east, and again referred to Russian operations paving the way for an assault on Bakhmut in the eastern Donbas region.
Intensified Russian shelling prompted the mayor of Kharkiv to urge residents of Ukraine's second-largest city to avoid, if possible, ground transportation. Ukraine's air force command said its forces had shot down early on Sunday three Russian Kalibr cruise missiles fired from the Black Sea and aimed at the western Khmelnytskiy region.
Canada said on Sunday a Canadian citizen died recently in Ukraine, with a media report suggesting the deceased Canadian was with two US citizens who died in Donbas. Reuters
US wildfire displaces thousands
California: Fuelled by extreme heat and tinder-dry forests and underbrush, a wildfire just west of Yosemite National Park spread overnight, quickly turning into one of the largest fires of the year and forcing thousands of residents to be evacuated from their homes, fire officials said.
Authorities said the Oak Fire, which is zero per cent contained, was threatening to destroy about 2,000 homes on Saturday and some 3,000 people had been evacuated. By early Sunday, media reports said 6,000 people had been told to leave.
The cause of the fire, which started on Friday and has burned approximately 14,281 acres, is under investigation by the California Department of Forestry and Fire Protection.
Yosemite is home to some of the largest and oldest sequoia trees in the world.
Reuters