Nepal plane crash: Career and tragedy follow same path
Co-pilot Anju Khatiwada's husband Deepak died in a Twin-Otter crash in Jumla district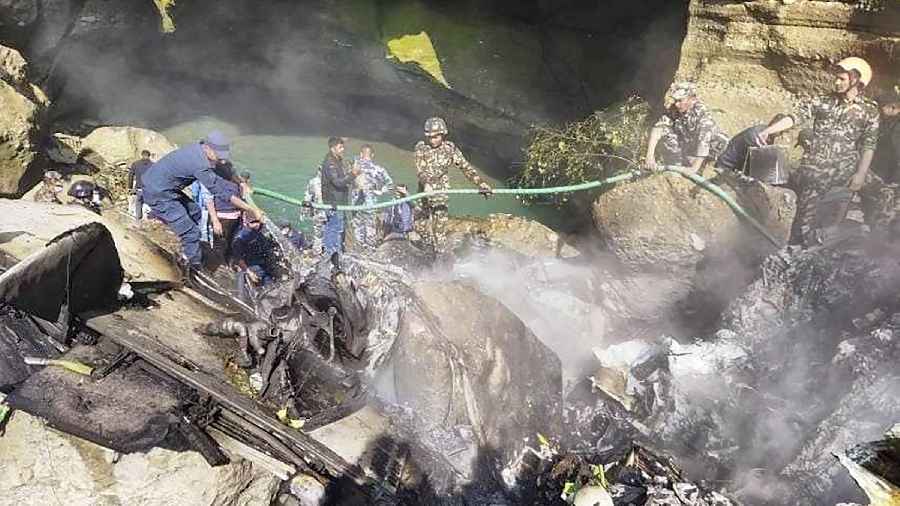 After Deepak's death, Anju's father wanted to send her to India to study but she did not agree.
File Photo
---
Kathmandu
|
Published 17.01.23, 03:25 AM
|
---
Anju Khatiwada, co-pilot of the crashed Yeti Airlines aircraft, had learnt to fly after her husband was killed while flying a small passenger plane of the same domestic airline in 2006.
Nearly 16 years later, the ATR-72 aircraft co-piloted by Anju crashed on the gorge of the Seti river near Pokhara's new airport on Sunday. She is believed to be among the dead.
When Anju married Deepak Pokharel, he flew Nepal Army helicopters. A few years later, Deepak, who had by then joined Yeti Airlines, died in a Twin-Otter crash in Jumla district.
After Deepak's death, Anju's father wanted to send her to India to study but she did not agree. Grieving the loss of her husband, she decided to become a pilot herself. She used the insurance money from Deepak's death to do a pilot's course in the US, according to Sudarsan Bartaula, Yeti Airlines spokesperson.
Anju joined Yeti Airlines in 2010 and became a captain. According to airline sources, Anju had completed 6,396 hours of flying between Kathmandu, Bhadrapur, Biratnagar, Dhangadhi and other places.
Deepak's Yeti Airlines plane had in 2006 crashed in remote mountains, killing all nine on board — six passengers, two pilots and a flight attendant. According to Nepal's civil aviation body, 914 people have died in air crashes in the country since August 1955. Sunday's crash was the 104th in Nepal and the third biggest in terms of casualties.
Moment of horror 
Kalpana Sunar was washing clothes in the front yard of her house on Sunday when she saw an aircraft hurtling towards her, before being jolted by a bomb-like explosion caused by the crash. "The aircraft was tilted at an unusual angle and moments later, I heard a bomb-like explosion," The Kathmandu Post newspaper quoted her as saying on Monday.
"Then I saw a plume of black smoke billowing from the Seti river gorge." One of the plane's wings hit the ground about 12 metres from the house of another resident, Geeta Sunar. "Had the aircraft fallen just a bit closer to our home, the settlements would have been destroyed," the newspaper quoted her as saying.
Geeta said there was fire on both sides of the gorge, with bodies scattered everywhere. Children who witnessed the incident said they could hear passengers screaming from inside the aircraft as it came hurtling from the sky, the report said.
A 'toy'
Two 11-year-olds, Samir and Prajwal Pariyar, initially thought the aircraft was a toy, but when it came close they ran away, the report said. "Suddenly, there was darkness all around because of the smoke," Samir said. "It looked like the aircraft's tyre would touch us as it crashed."
Another eyewitness, Bainsha Bahadur BK, said that had the aircraft travelled straight on, it would have crash-landed into the settlements and caused more damage.
"Around seven or eight windows of the aircraft were still intact and we thought that the passengers might still be alive," the newspaper quoted him as saying. "But the fire spread across the other half of the plane in an instant, as we watched in horror."