Mocking China's anthem a crime in Hong Kong
Move adds to fears that the space for speech critical of Beijing will continue to shrink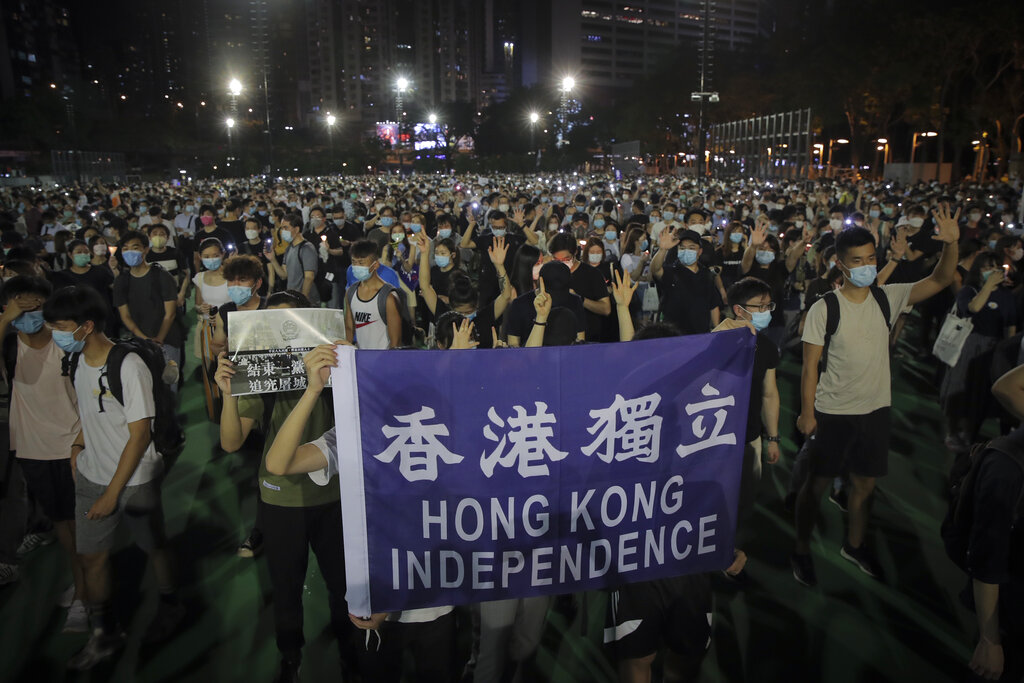 Participants gesture with five fingers, signifying the "Five demands - not one less" and showing a banner read " Hong Kong Independence" during a vigil for the victims of the 1989 Tiananmen Square Massacre at Victoria Park in Causeway Bay, Hong Kong on Thursday, June 4
(AP)
---
Hong Kong
|
Published 04.06.20, 08:39 PM
|
---
Hong Kong made mocking China's national anthem a crime on Thursday, passing a contentious law on the anniversary of the Chinese military's bloody crackdown on the Tiananmen Square pro-democracy movement.

The move adds to fears that the space in Hong Kong for speech critical of Beijing will continue to shrink, as China's ruling Communist Party tightens its control over the semiautonomous city after a year of anti-government protests.
For the first time ever, the local authorities have banned the annual vigil in Hong Kong to remember the victims of the Tiananmen killings in 1989, though activists said they would gather regardless.
Hong Kong, which has far greater civil liberties than mainland China, has always been the most important site for public commemoration of the June 4 massacre.
The Chinese government declared last week that it would impose new national security laws on Hong Kong. The laws, which would take aim at anti-government protests and other forms of dissent, call into question the future of organisations and events that challenge the party's rule.
Hong Kong's legislature, which is dominated by pro-Beijing lawmakers, passed a separate piece of legislation on Thursday that would criminalise disrespect for China's national anthem and make it punishable by up to three years in prison.
On Thursday, several Opposition lawmakers disrupted the debate by throwing stink bombs inside the legislative chamber and yelling: "A murderous regime stinks for 10,000 years.'