Magnificent Coburn dies of heart attack
Read more below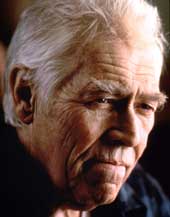 ---
Published 20.11.02, 12:00 AM
|
---
James Coburn
Los Angeles, Nov. 19 (Reuters): Oscar-winning actor James Coburn, famed for his action roles and poignant characterisations in a career spanning more than 40 years, died of a heart attack yesterday, his manager said. He was 74.
Coburn had been listening to music at his Beverly Hills home with his wife, when he was struck by a massive coronary about 4.30 pm PST (0030 GMT, today), said his manager, Hillard Elkins. He was rushed to Cedars-Sinai Medical Center, where he was pronounced dead."He died happy," Elkins said.
Although the tall, bearded actor starred in many memorable films including his 1960 breakthrough The Magnificent Seven and the 1966 spy spoof Our Man Flint, he never secured a career-defining role until the 1998 drama Affliction.
That film, directed by Paul Schrader, won Coburn an Academy Award for his supporting role as an alcoholic, abusive father to Nick Nolte and Willem Dafoe. Despite his macho swagger, Coburn said his character was "the antithesis of who I am."
He can currently be seen in North American theaters playing a terminally ill novelist in The Man From Elysian Fields, an independent movie starring Andy Garcia and Mick Jagger.
Earlier this year, he co-starred opposite Cuba Gooding Jr. in the surprise hit Snow Dogs. Plans were afoot for them to reunite in a sequel next year. Last year, he lent his rich voice to a character in the hit cartoon Monsters, Inc, and in 1999 he starred opposite Mel Gibson in Payback.
His comeback was all the sweeter after a 15-year battle with rheumatoid arthritis that threatened to end his career during the 1980s.
Born in Laurel, Nebraska on August 31, 1928, Coburn was raised in Depression-era Los Angeles. He studied acting at Los Angeles City College and the University of Southern California, and then moved to New York to study with Stella Adler.
He landed his first feature roles in two 1959 westerns, Ride Lonesome and Face of a Fugitive. The following year, he was cast as one of The Magnificent Seven, from which he got work with co-star Steve McQueen in Hell Is for Heroes in 1962 and the popular The Great Escape in 1963.
Coburn was propelled to leading man status as suave superspy Derek Flint in Our Man Flint, for which he received just $75,000. The 1967 sequel In Like Flint was also successful. The pair were recently released on DVD.