London sizzles on hottest day
More seriously, there is a serious health risk to the elderly and very young children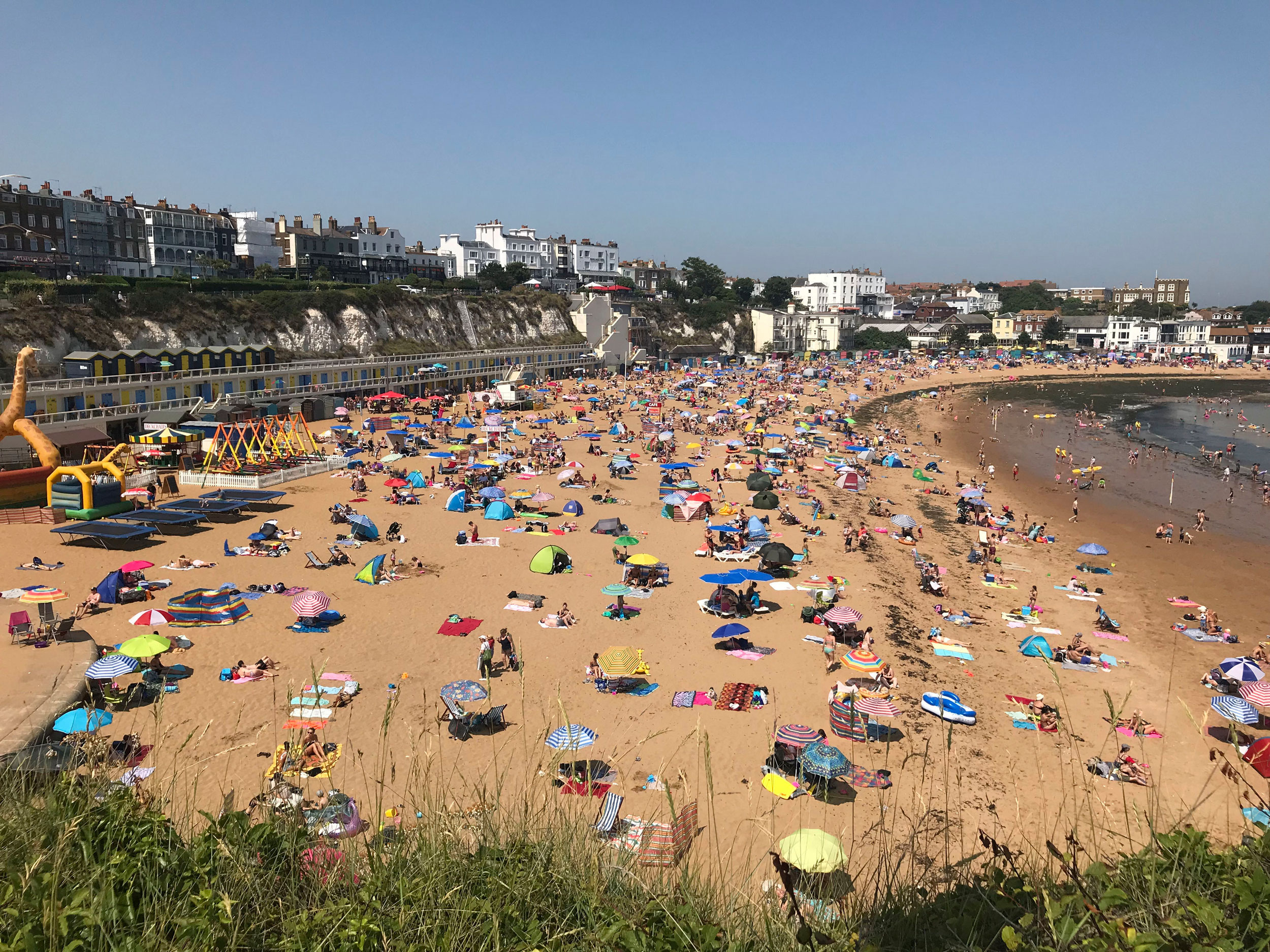 ---
|
London
|
Published 25.07.19, 07:29 PM
---
Not only are there three Indians in Boris Johnson's government but the country is also experiencing a hot Indian summer. It may please the people of Calcutta to know that, judging by the figures, Calcutta is a bit cooler.
According to the met office, the temperature in Calcutta on Thursday ranged between 34°C and 28°C. Temperatures hit 37.7°C (99.9°F) in London at 3pm — making it "the hottest day of the year, the warmest July day on record and the second hottest day in UK history —with the mercury still set to rise further this afternoon".
It was pretty much the same story in southern England and not much cooler elsewhere. For a people who ruled India for a couple of hundred years, the Brits of today seem to have lost the ability to cope with hot weather. They could not run an empire even if gifted it on a plate.
For a start commuters were advised not to travel by train "unless your journey is strictly necessary". The reason is that train lines, which are apparently 20°C hotter than the ambient temperature, buckle in the heat. This forces rail companies to reduce the speed at which trains can travel, typically from 60mph to 30mph, and also cancel services. All this provoked presenter John Humphrys to exclaim on BBC Radio 4's Today programme: "But they run the trains in Mumbai where the temperature is 40°C or even more!"
Delays and cancellations were announced for the Gatwick Express, Great Northern, Southern and Thameslink networks until the end of the day. Other rail companies, including Greater Anglia, East Midlands, LNER and Hull Trains advised people not to travel.
Southeastern Railway suggested customers avoid all but "absolutely necessary" travel.
The Northern Line on the London Underground is often described as Dante's Inferno. In the hot weather, it is worse. Many men were travelling shirtless on the Underground or tapping away, bare bodied, on their laptops on train commuter services.
Parts of the London Overground were suspended because of heat-related speed restrictions, while a points failure and a signalling fault caused further disruption.
Commuters on the Central and Bakerloo lines of the London Underground sweltered in temperatures of at least 31.7°C.
NHS worker Jimmy Lyons, 38, of north London, who was travelling into work on the Central Line, said: "There's still no proper air conditioning in this day. I've just got back from America — if there was no proper air con they would sue."
Annie Parker, 45, a British expat data analyst in Oman who regularly works in London, said she missed the trains in the West Asian country.
Travelling on the Central line in shorts and a tank top, she said: "Yesterday on the Jubilee line was horrendous. London is one of the biggest cities in the world and we've had the Tube here for a long, long time but there's never been any investment.
"We are just not considered high enough priority. In Oman it's worse outside but it's better inside. There's air con everywhere."
Trainee lawyer Emma Holder, 25, who pays £7 a day to commute from Finsbury Park in North London, complained: "It's the worst part of my day for sure. Every day one of my friends will say on our WhatsApp chat that it's ridiculous.
"It's hot and it's not acceptable because it's really expensive to get the Tube and when you're paying a certain amount you expect it to be a decent service. I don't understand why other cities that have the Tube have a decent service."
Businessman Paul Fletcher, 67, from Holland Park, said: "I use the Central line most days — that really is a properly terrible service. I think they are a nightmare. They've got to make investment and air conditioning."
Forget England "green and pleasant land". According to the weather experts, climate change is partly responsible for a permanent change in the weather and the country will have to get used to extremes.
More seriously, there is a serious health risk to the elderly and very young children.
The government's advisory committee on climate change has warned the UK is not prepared for the increase in heat waves that is expected with global warming.
Experts at the Met Office say the current weather pattern is driving hot air from the south, but there is "no doubt" climate change is playing a role in what could be unprecedented temperature highs.
Met Office spokesman Oli Claydon, said: "There's a very large area of high pressure over eastern Europe and up into Scandinavia. That's combined with a jet stream that has taken a bit of a downturn to the south across the Atlantic, then shooting up north to the west of the UK.
"That combination of the jet stream and the high pressure is working to funnel up the warm air from the continent which has its source origins in North Africa."