Kyiv ignores Russian ultimatum
500 civilians, including 40 children, are trapped in Sievierodonetsk's Azot chamical plant, says Kyiv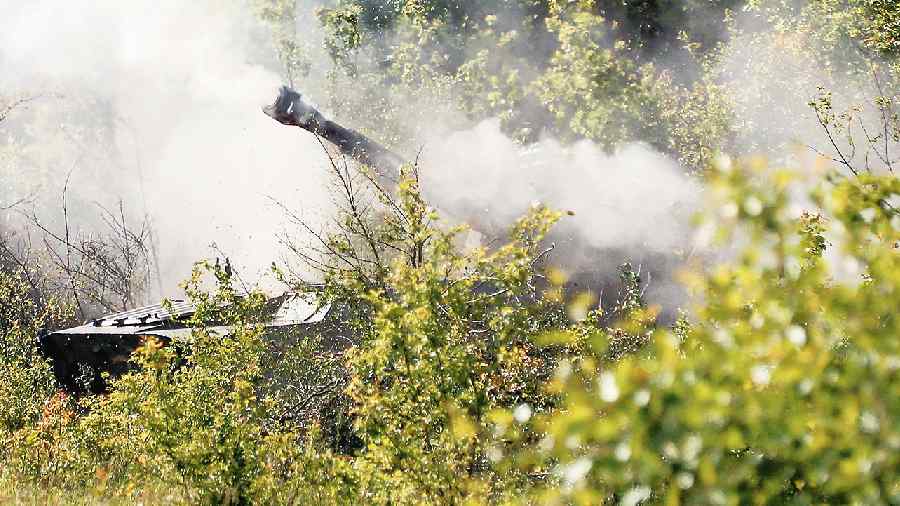 Smoke rises from a self-propelled howitzer belonging to pro-Russian troops during clashes in Sievierodonetsk, Luhansk region of Ukraine.
Reuters
---
New York, Kyiv
|
Published 16.06.22, 12:55 AM
|
---
Ukraine ignored a Russian ultimatum to surrender the eastern city of Sievierodonetsk on Wednesday as Washington urged Nato defence ministers weighing more military support for Kyiv not to lose focus, saying the stakes were too high.
Sievierodonetsk, now largely in ruins, has for weeks been the main focal point of the war. Russia had told Ukrainian forces holed up in a chemical plant there to stop "senseless resistance and lay down arms" from Wednesday morning, pressing its advantage in the battle for control of eastern Ukraine.
 Ukraine says more than 500 civilians, including 40 children, remain alongside soldiers inside the Azot chemical factory, sheltering from weeks of almost constant Russian bombardment.
The mayor of Sievierodonetsk, Oleksandr Stryuk, said Russian forces were trying to storm the city from several directions but the Ukrainians continued to defend it and were not totally cut off, even though all its river bridges had been destroyed.
"We are trying to push the enemy towards the city centre ... This is an ongoing situation with partial successes and tactical retreats," Stryuk said on television. He made no reference to the Russian ultimatum.
"The escape routes are dangerous, but there are some."
 Moscow had said it would let civilians evacuate from the plant on Wednesday but Russian-backed separatists said Ukrainian shelling had scuppered the plan, which would have involved taking people out towards territory they control.
 Serhiy Gaidai, governor of the Luhansk region containing Sievierodonetsk, said Ukraine's army continued to defend the city and to stop Russian forces from taking its twin city Lysychansk on the opposite bank of the Siverskyi Donets river.
"Nevertheless, the Russians are close and the population is suffering and homes are being destroyed," he posted online just before Russia's 8am Moscow time (0500 GMT) deadline.
 Reuters could not immediately verify the battlefield accounts.
 Luhansk is one of two eastern provinces Moscow claims on behalf of separatist proxies. Together they make up the Donbas, an industrial Ukrainian region where Russia has focused its assault after failing to take Ukraine's capital Kyiv in March.
Western countries have promised Nato-standard weapons — including advanced US rockets. But deploying them is taking time and Zelensky said Ukraine does not have enough anti-missile systems.