Biden vows to heal divided US
'Current President has cloaked America in darkness for too long'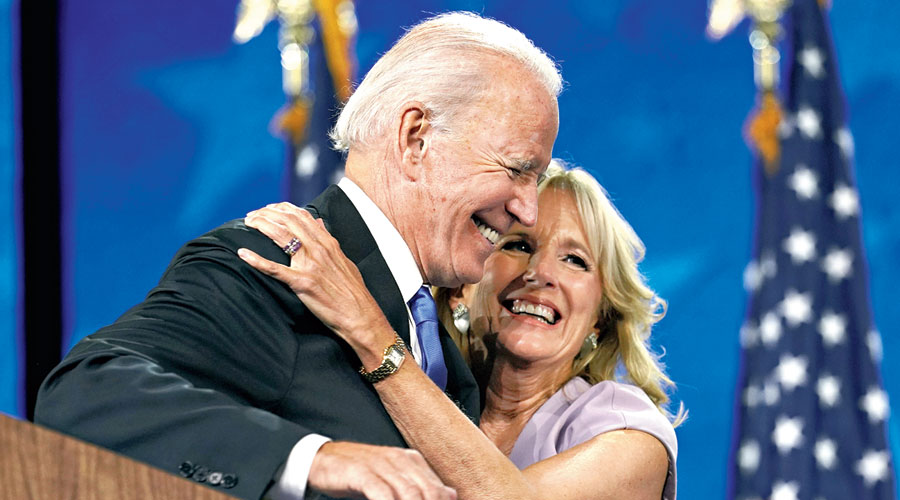 ---
---
Joe Biden accepted the Democratic Party nomination for the White House on Thursday, vowing to heal a US battered by a deadly pandemic and divided by four years of Donald Trump's presidency.
"The current President has cloaked America in darkness for much too long. Too much anger. Too much fear. Too much division," Biden said. "Here and now, I give you my word: if you entrust me with the presidency, I'll draw on the best of us, not the worst."
Biden's speech — the capstone of nearly five decades in politics — was delivered inside a largely empty arena in his hometown of Wilmington, Delaware, at the conclusion of a Democratic convention held virtually because of the coronavirus pandemic that has killed more than 170,000 Americans.
Describing the current moment as one of the most difficult times the country has ever faced, Biden offered himself as a uniter who would work "just as hard" for those who do not support him — drawing a stark contrast with the Republican Trump, who has kept the focus on his base of voters.
"While I'll be a Democratic candidate, I'll be an American president," said Biden, who faces Trump in the November 3 election. "That's the job of a President. To represent all of us, not just our base or our party. This is not a partisan moment. This must be an American moment. It's a moment that calls for hope, and light, and love."
Democrats used the convention to highlight the broad coalition working to oust Trump, showcasing liberals and moderates, elder statesmen and rising stars — and even some high-profile Republicans, who urged their fellow conservatives to place patriotism above party.
The event also put the Democrats' diversity on display, particularly the nomination of senator Kamala Harris, the first black woman and Asian American on a major-party ticket.
While Democrats laid out plenty of areas in which Biden would pursue dramatically different policies than Trump, including immigration, climate change and gun safety, much of Thursday was devoted to themes such as integrity.
The programme also emphasised Biden's personal experience with tragedy — his first wife's and infant daughter's deaths in a car accident, and the death of his son Beau from cancer — to underscore his ability to empathise with suffering Americans. Critics accuse Trump, whose instincts are more combative than comforting, of failing to offer solace at a time of crisis.
Biden spoke directly to those who had lost someone to the pandemic and offered a withering assessment of Trump's response to the months-old health crisis.
"Our current President has failed in his most basic duty to the nation: he's failed to protect us," Biden said.
Trump responded on Twitter, writing: "In 47 years, Joe did none of the things of which he now speaks. He will never change, just words!"
After months of unrest over racial inequality following the police killing of George Floyd, a black man in Minneapolis, Biden urged the country to address systemic discrimination. "Will we be the generation that finally wipes out the stain of racism from our national character?" he asked. "I believe we're up to it. I believe we're ready."
Earlier on Thursday, several Democrats who challenged Biden for the nomination, including Bernie Sanders and Elizabeth Warren and Michael Bloomberg, pressed the case for Biden. Bloomberg said Trump had failed both as a businessman and as a President.