Joe Biden keen to talk to Vladimir Putin
I'll only do it after talks with Nato allies: President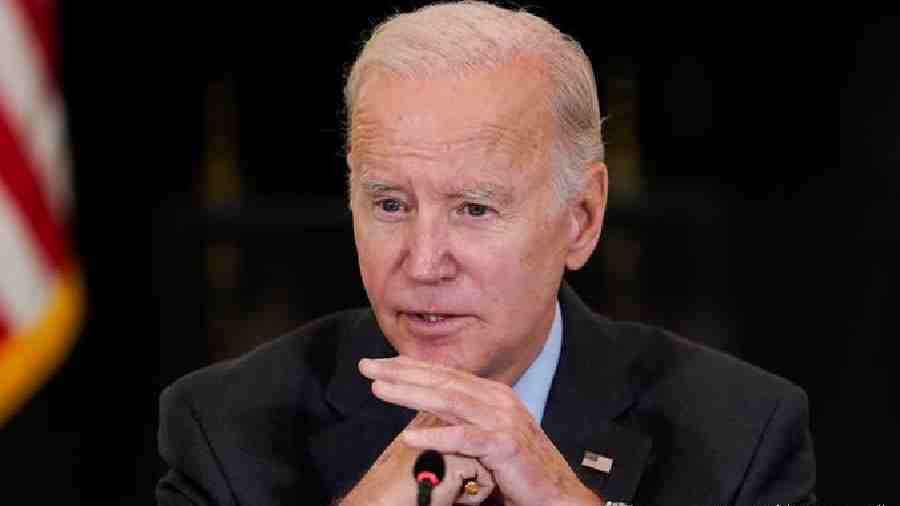 ---
Washington
|
Published 03.12.22, 01:05 AM
|
---
President Biden on Thursday said he would talk with President Vladimir Putin if the Russian leader expresses a desire to end his invasion of Ukraine, but Biden said he would only do so in consultation with Nato allies.
"I'm prepared if he's willing to talk to find out what he's willing to do," Biden said during a news conference at the White House following a three-hour meeting with President Emmanuel Macron of France. "But I'll only do it in consultation with my Nato allies. I'm not going to do it on my own."
Biden, who has backed Ukraine's drive to win the war outright, made the statement after condemning Putin for the invasion, calling the Russian President's actions "sick". Dmitri S. Peskov, the Kremlin's spokesman, responded to Biden's remarks at a regular news conference on Friday, saying that Putin "remains open to contacts and negotiations".
"The preferable way to fulfil our interests is through diplomatic means," he said.
After their private meeting, Biden and Macron lavished praise on each other, playing down tensions about the handling of the nine-month war in Europe and French anger over what they see as unfair economic policies by the Biden administration.
In the news conference, Biden admitted that France and the US occasionally have "some slight differences, but never in a fundamental way." And he stressed the unity being shown by the two countries opposing Russia's invasion of Ukraine.
"Today, we reaffirm that, as I said, we're going to stand together against this brutality," Biden said.
"And we'll continue strong support for the Ukrainian people as they defend their homes and their families and their nurseries, their hospitals, their sovereignty, their integrity, and against Russian aggression."
For his part, Macron said that France would continue tosupport Ukraine and allow its leaders to set their own terms for ending the war. "We will never urgeUkrainians to make a compromise which will not be acceptable for them," he said in English.
He added, "If we want sustainable peace, we have to respect Ukrainians to decide the moment and the conditions in which they will negotiate about their territory and their future."
More than a year after feuding over submarines, Biden and Macron honoured their alliance with lobsters and cheese. The first official state dinner of Biden's presidency marked the latest step in the return of post-pandemic normalcy.
"Vive la France and God bless America," Biden said in his toast, as some 300 guests clinked glasses. 
Macron also raised his glass, saying, "We come from the same values, principles." "Long live the United States of America, long live France and long live the friendship between our two countries," the French President said.
The evening began as the Bidens and the Macrons followed members of the military down the Grand Staircase of the White House before posing for a photograph and heading to dinner under a tented pavilion on the South Lawn.Jill Biden wore a navy, off-the shoulder gown by Oscar de la Renta, while Brigitte Macron wore an ivory Louis Vuitton gown with a high neck.
New York Times News Service