Japan observes 10th anniversary of Fukushima quake and tsunami
The tremors left survivors struggling to overcome the grief of losing families and towns to the waves in a few frightening hours on the afternoon of March 11, 2011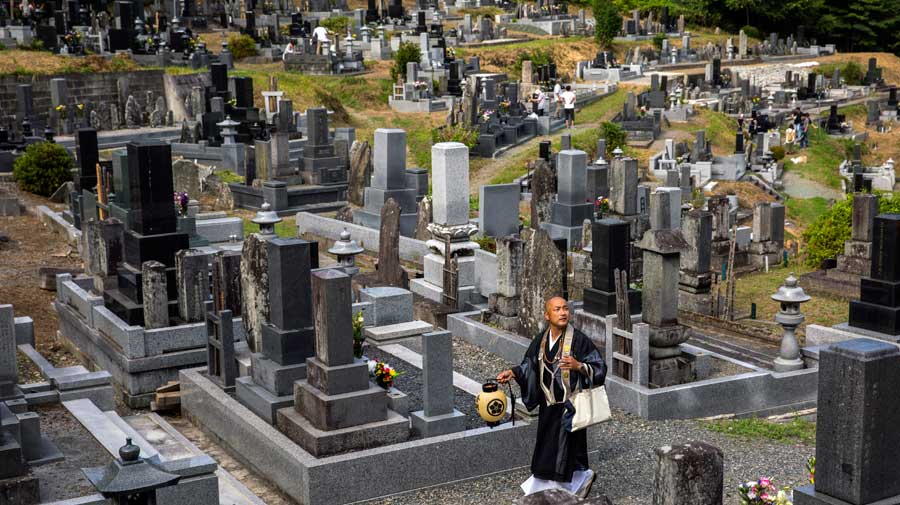 Nobuo Kobayashi, a Buddhist monk, visits the graveyard associated with Kongoji Temple in Kesen, Japan, on Aug. 13, 2019, more than eight years after the earthqauke and tsunami that nearly destroyed the village in 2011.
NYTNS
---
Iwaki, Japan
|
Published 12.03.21, 01:45 AM
|
---
With a moment of silence, prayers and anti-nuclear protests, Japan on Thursday mourned about 20,000 victims of the massive earthquake and tsunami that struck Japan 10 years ago, destroying towns and triggering nuclear meltdowns in Fukushima.
Huge waves triggered by the 9.0-magnitude quake — one of the strongest on record — crashed into the northeastern coast, crippling the Fukushima Dai-ichi power plant and forcing more than 160,000 residents to flee as radiation spewed into the air.
The world's worst nuclear disaster since Chernobyl and the tremor have left survivors struggling to overcome the grief of losing families and towns to the waves in a few frightening hours on the afternoon of March 11, 2011.
 About 50km south from the plant, in the gritty coastal city of Iwaki, which has since become a hub for labourers working on nuclear decommissioning, restaurant owner Atsushi Niizuma prayed to his mother killed by the waves.
"I want to tell my mother that my children, who were all close to her, are doing well. I came here to thank her that our family is living safely," said Niizuma, 47. Before setting off for work, he quietly paid his respects at a stone monument at a seaside shrine with carvings of his mother's name, Mitsuko, and 65 others who died in the disaster.
On the day of the earthquake, Mitsuko was looking after his children. They rushed into a car but Mitsuko was swept away.