Israel launches intense air and ground assault on Gaza Strip
An Israeli military spokesman said that the 40-minute assault targeted an underground network of tunnels used by Hamas militants to evade airstrikes and surveillance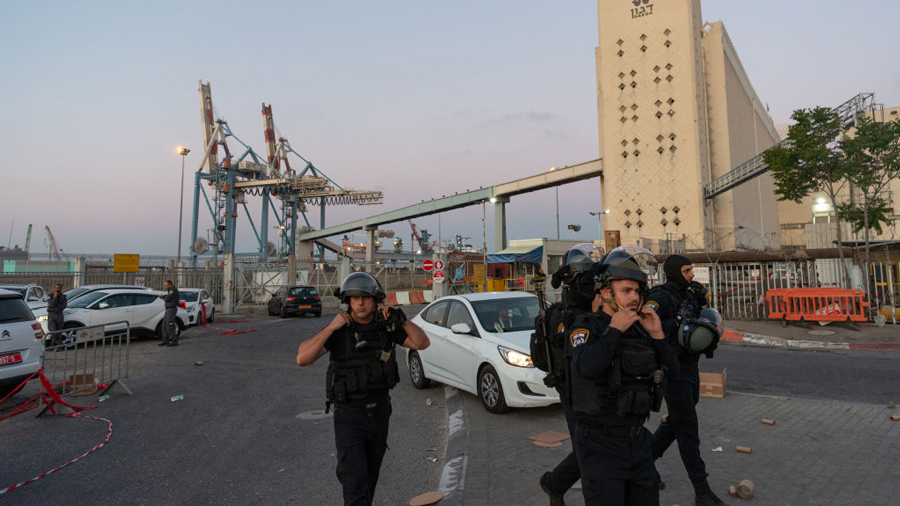 Police officers prepare and get final orders before going out to enforce riots on May 13, 2021 in Haifa, Israel. Several Israeli cities have experienced clashes between Jewish and Arab mobs in recent days, with hundreds of people being charged with rioting offenses. The violence follows days of cross-border fighting between militants in the Gaza Strip, who have fired hundreds of rockets into Israel, and Israeli airstrikes that have killed dozens across the Palestinian coastal enclave.
Daniel Rolider/Getty Images
---
New York
|
Published 15.05.21, 01:10 AM
|
---
Israel launched an intense air and ground assault on the Gaza Strip early Friday, pounding targets with warplanes, artillery and tank fire in the largest single operation of a four-day conflict with Palestinian militants that had been waged by airstrikes from Israel and rockets from Gaza.
An Israeli military spokesman, Lieutenant Colonel Jonathan Conricus, said that the 40-minute assault targeted an underground network of tunnels used by Hamas militants to evade airstrikes and surveillance. Colonel Conricus initially said that ground troops were "attacking in Gaza", but he later clarified that Israeli troops had not entered the territory.
Residents of Gaza reported a terrifying barrage of explosions that shook buildings across the densely populated territory, where many fled their homes for UN-run schools on Friday morning.
The Israel military called it "the largest focused operation against a focused target that we have conducted so far".
The surge in fighting highlighted the unprecedented position Israel finds itself in — battling Palestinian militants on its southern flank as it seeks to head off its worst civil unrest in decades.
It followed another day of clashes between Arab and Jewish mobs on the streets of Israeli cities, with the authorities calling up the army reserves and sending reinforcements of armed border police to the central city of Lod to try to head off what Israeli leaders have warned could become a civil war.
Taken together, the two theatres of turmoil pointed to a step change in the grinding, decades-old conflict between Israel and the Palestinians. While violent escalations often follow a predictable trajectory, this latest bout, the worst in seven years, is rapidly evolving into a new kind of war — faster, more destructive and capable of spinning in unpredictable new directions.
In Gaza, an impoverished coastal strip that was the crucible of a devastating seven-week war in 2014, Palestinian militants fired surprisingly large barrages of enhanced-range rockets — some 1,800 in three days — that reached far into Israel.
Israel intensified its campaign of relentless airstrikes against Hamas targets there on Thursday, pulverising buildings, offices and homes in strikes that have killed 119 people including 31 children, according to the Gaza health authorities.
Seven civilians and a soldier have been killed by Hamas rockets inside Israel.
Egyptian mediators arrived in Israel Thursday in a sooner-than-usual push to halt the spiralling conflict.
Most alarming for Israel, though, was the violent ferment on its own sidewalks and streets, where days of rioting by Jewish vigilantes and Arab mobs showed no sign of abating.
The unrest in several mixed-ethnicity cities, where angry young men stoned cars, set fire to mosques and synagogues, and attacked each other, signalled a collapse of law and order inside Israel on a scale not seen since the start of the second Palestinian uprising, or intifada, 21 years ago.
The violence follows a month of boiling tensions in Jerusalem, where the threatened eviction of Palestinian families from their homes coincided with a spate of Arab attacks against Israeli Jews, and a march through the city by Right-wing extremists chanting "Death to Arabs".
The jarring violence this week caused Israeli leaders, led by President Reuven Rivlin, to evoke the spectre of civil war. "We need to solve our problems without causing a civil war that can be a danger to our existence," Rivlin said. "The silent majority is not saying a thing, because it is utterly stunned."
Prime Minister Benjamin Netanyahu visited Lod, a working-class city with a mixed Arab-Israeli population that has emerged as the centre of the upheaval. Hulks of burned-out cars littered the streets where, a few nights earlier, Arab youths burned synagogues and cars, threw stones and let off sporadic rounds of gunfire, before gangs of Jewish vigilantes counterattacked and set their own fires.
On Thursday, a Jewish man was stabbed as he walked to a synagogue there, but survived.
Dhaka anger
Thousands led by activists from an Islamic party demonstrated in Dhaka on Friday to denounce attacks by Israel against Palestinians.
New York Times News Service