Indonesia crash probe focuses on small tube
Before Lion Air Flight 610 lost contact, the plane displayed erratic changes in its speed, altitude and direction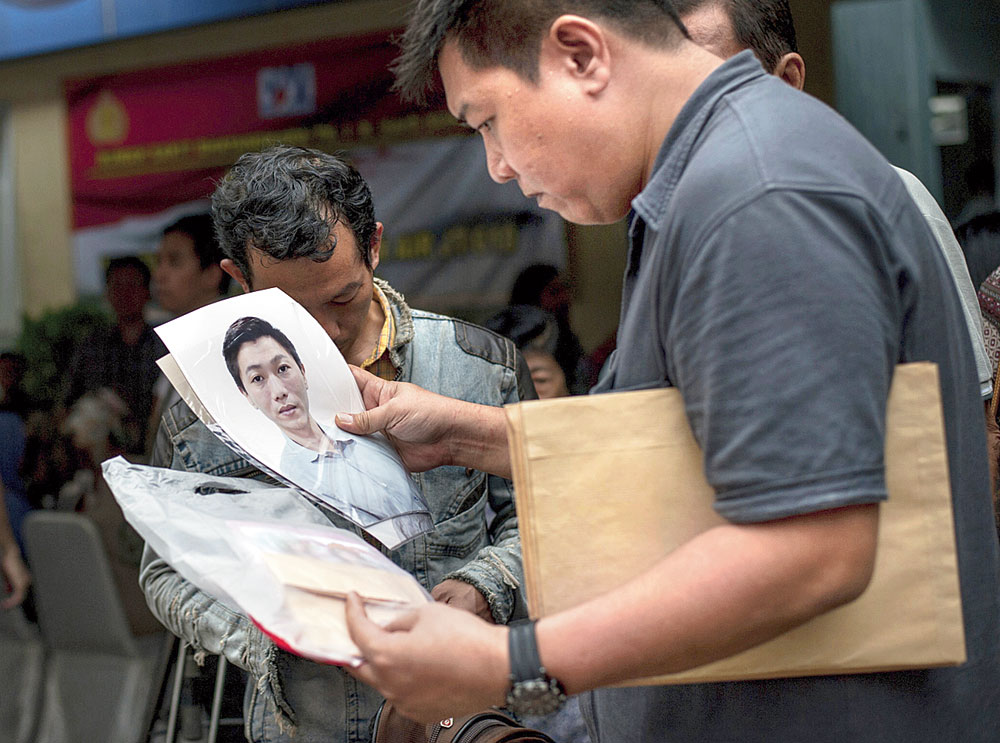 A relative holds a photo of a passenger of the crashed Lion Air flight at the police hospital in Jakarta.
AP
---
New York
|
Published 30.10.18, 08:20 PM
|
---
Divers scoured the Java Sea on Tuesday looking for clues that could explain why a brand new airliner fell out of the sky just moments after takeoff, killing all 189 people on board.
Before Lion Air Flight 610 lost contact on Monday, the plane displayed erratic changes in its speed, altitude and direction, causing experts to speculate that a problem with the aircraft's instruments used to calculate airspeed and altitude may have contributed to the crash.
Those indicators, or pitot tubes, have been implicated in previous aviation disasters, but experts said that determining the cause of the crash would ultimately require the recovery of the plane's flight data recorders.
Flight 610 departed Jakarta, Indonesia, on Monday at 6:20am (local time).
Soon after takeoff the plane reached an altitude of 2,100 feet before falling precipitously to around 1,475 feet, according to satellite data transmitted from the airplane and collated by Flightradar24.
Moments later, the plane climbed to altitudes varying between 4,500 and 5,350 feet. The data then shows a steep decline, until contact was lost at 6:32am (local time).
In a normal flight, the lines in the chart above representing speed and altitude would level off into a smooth plateau, but on Monday's flight they fluctuate erratically.
"The erratic flight path makes us suspect a problem with the pitot-static system," Gerry Soejatman, an Indonesian aviation expert, told The New York Times.
Pitot tubes, slender perforated tubes on the wings or fuselage of an aircraft, are used to determine airspeed, a measurement vital to controlling the plane: Too slow and the aircraft can stall, too fast and it can break apart.
Each tube has two holes in it: a hole in the front into which the airstream flows and a hole in the side. By measuring the differences in the "stagnation pressure" at the front and the "static pressure" at the side, one can calculate airspeed. The tube is named for Henri Pitot, an 18th-century French scientist who invented the tool to measure the speed of flowing rivers. Malfunctioning pitot tubes contributed to the infamous disappearance of Air France Flight 447 over the Atlantic in 2009.